No Charges Likely for October 1 Shooting Ammo Supplier Douglas Haig, Says Counsel
Posted on: January 31, 2018, 12:00h.
Last updated on: January 31, 2018, 01:29h.
Update Jan 31, 1:15 pm PT: Marc J. Victor, the attorney representing Arizona-based ammunitions dealer Douglas Haig, said on Wedneday that he does not expect any charges to be filed against his client in the matter of the Stephen Paddock October 1 shooting at Mandalay Bay in Las Vegas.
—————————————————————————————————————
Douglas Haig, an Arizona-based ammunition supplier, has been identified by the Las Vegas Review-Journal as the additional "person of interest" in the investigation into October's Las Vegas shooting.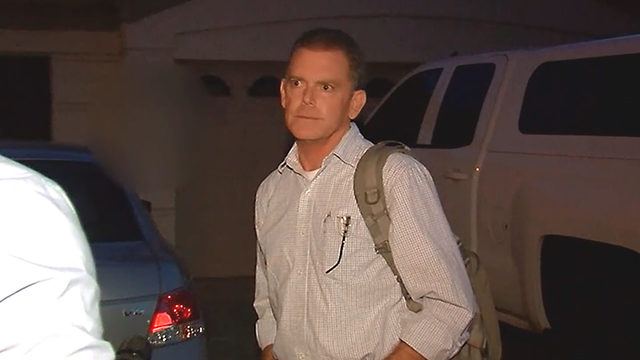 Haig's name was redacted in a cache of search warrant documents released to various media outlets under the Freedom of Information Act on Tuesday. But on one single page of the 270 sent to the Review-Journal, Haig's name had inadvertently not been blacked out.
"Until the investigation can rule otherwise, Marilou Danley and Douglas Haig have become persons of interest who may have conspired with Stephen Paddock to commit Murder with a Deadly Weapon," read the document, which was drawn up in October.
Who is Douglas Haig?
Danley was Paddock's girlfriend who was in the Philippines at the time of the shooting and is not expected to face charges, but the existence of an unknown second person of interest had fueled theories that the gunman was not acting alone.
"I'm the guy that sold ammunition to Stephen Paddock," Haig said, as reporters swarmed to his Arizona home.
He said he had met Paddock once, but refused to answer further questions, indicating that he would address the media at a press conference on Friday.
As has been reported, Paddock bought 1,000 rounds of tracer ammunition from a private seller he met at a Phoenix gun show. Haig's company, Specialized Military Ammunition LLC, sells such ammunition, or at least it did. The company website says it is currently "closed indefinitely."
Task Force Established
Meanwhile, four months on from the massacre, Nevada officials have formed a task force to assure casinos have efficient emergency response programs in place. The move follows a Review-Journal investigation last month that accused state officials of not doing enough to ensure resorts comply with a 2003 law, enacted in response to the 9-11 attacks, that requires them to file emergency plans with the state.
The Review-Journal found that most properties in Las Vegas, including Mandalay Bay, had not updated their plans since 2012, while over two dozen – including Caesars Palace, MGM Grand and The Mirage – had not since 2008.
"We recognize that there was a deficiency here, and we have an aggressive plan to make sure we have the most up-to-date and best quality plans possible," said Nevada Division of Emergency Management (DEM) chief Caleb Cage this week.
Cage added that the DEM had written to casinos to demand their revised emergency plans. Those that failed to respond would be referred to the Gaming Control Board for possible disciplinary action, he said.