VEGAS MYTHS RE-BUSTED: You Don't Have to Pay Resort Fees
Posted on: September 15, 2023, 08:04h.
Last updated on: October 28, 2023, 07:52h.
EDITOR'S NOTE: "Vegas Myths Busted" publishes new entries every Monday, with a bonus Flashback Friday edition. Today's entry in our ongoing series originally ran on March 17, 2023. 
---
All major resorts on the Las Vegas Strip now charge resort fees — even those, like Planet Hollywood, that once proudly advertised not doing so. According to a growing chorus of consumer advocacy websites, paying these fees is unnecessary because they're illegal.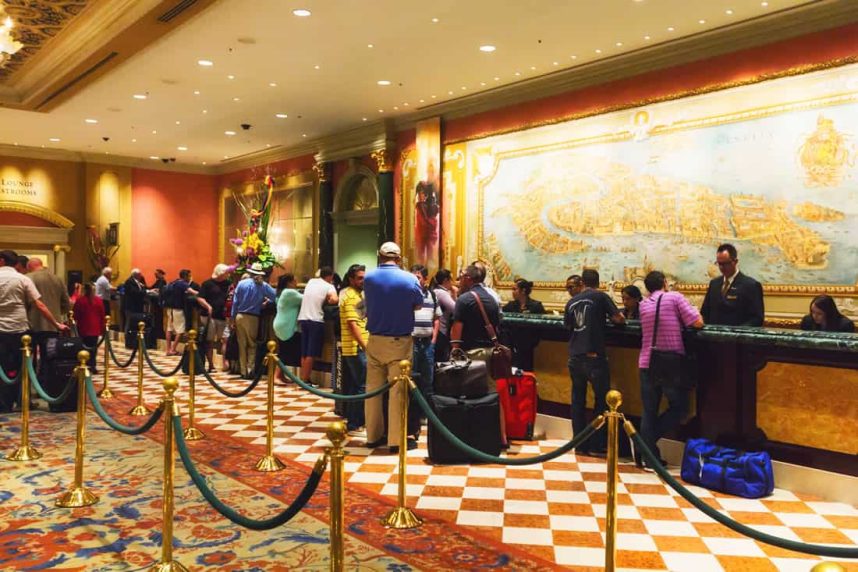 "You do not legally have to pay any hotel resort fee," claims killresortfees.com. Resort fees violate Nevada's Deceptive Trade Practices Law, the website proclaims, so you may refuse to pay them at check-in.
Tell the manager you already paid the published rate for the room and all necessary taxes," killresortfees.com advises, encouraging you to stand your ground.
Is this good advice? Only if you don't mind running a serious risk of having your reservation canceled, being charged a cancellation fee, and getting escorted out of the hotel by security.
Moreover, many hotels won't even allow you to raise a stink about resort fees at check-in. Unless you specifically remember to inquire about hidden charges, they will only be revealed after you check out and your credit card has already been billed for them.
Hidden in Plain Site
The first resort fees went unnoticed because only a few dollars per night were charged by only a few hotels 25 years ago.
Now, according to a Nerd Wallet analysis of more than 100 hotels around the US in January 2023, they average $42.41 per night or about 11% of the overall cost of a hotel stay.
Only four hotels on the Las Vegas Strip don't charge them: Travelodge by Wyndham Center Strip, StripViewSuites at Jockey Club, Hilton Garden Inn Las Vegas Strip South, and Best Western Plus Casino Royale.
To check if a hotel charges a resort fee and how much, visit resortfeechecker.com.
Why Resort Fees Exist
According to hotels, they're a convenience for their guests, who demand only one price for a bundle of amenities rather than be billed separately for things like Wi-Fi, gym access, and local phone calls.
Because all travelers use the hotel phone to make local calls in 2023.
The real reason resort fees exist is the introduction of online travel agencies (OTAs) in 1996. The first resort fees were rolled out one year later, allowing hotels to compete on Expedia, Travelocity, and Booking.com.
That's because OTA users almost always search for the "best value" or "lowest price" parameters on these platforms. And the only way for resorts to show up higher in these searches is to offer lower daily room rates. The most economically efficient way to accomplish this is by disguising a portion of their rates as undisclosed fees.
Now that 41% of all booking comes through OTAs versus 29% via hotel websites and 29% through travel agents, according to hospitality.net, the cost of not appearing on the first page of OTA results has increased, too.
And resort fees provide other economic benefits. Hotels pay commissions to OTAs for every room booked — commissions based only on room rates, not separate fees. Additionally, resort fees contribute to revenue per available room, an important performance indicator. And according to the analyst firm OTA Insight, resort fees offer tax advantages.
But the biggest incentive for hotel corporations to continue charging resort fees is because it's a revenue stream their stockholders have grown accustomed to. According to Consumer Reports, U.S. hotels collected a whopping $2.9B in resort fees in 2018, triple their 2004 take.
Not Illegal … Yet
You can certainly challenge resort fees, for instance, by filing a dispute with your credit card company or a complaint with your state's attorney general. But even if you can (somehow) waive them, you'll still need to pay them first.
If resort fees truly were illegal, President Biden wouldn't currently be calling on Congress to make them illegal, along with "junk fees"  for concert ticket "services," bringing bags on airplanes and canceling your cable, internet, or phone service.
By the way, you shouldn't take advice from avoidincometax.com, either. (Yes, it's a real website.)
Look for "Vegas Myths Busted" every Monday on Casino.org. Visit VegasMythsBusted.com to read previously busted Vegas myths. Got a suggestion for a Vegas myth that needs busting? Email corey@casino.org.