UK Gambling Commission Comes Out Fighting for In-Play Betting
Posted on: September 7, 2016, 10:00h.
Last updated on: September 7, 2016, 07:49h.
The UK Gambling Commission published a paper this week outlining its support of in-play betting. The paper concluded that no regulatory adjustments were necessary, noting that the controls of the current framework were sufficient.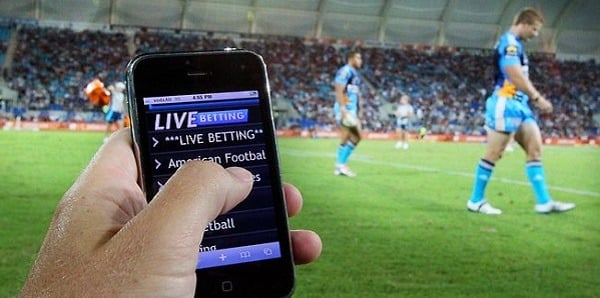 The UKGC stated that in-play betting does not cause unacceptable risks to fairness, but warned that bettors should be sufficiently made aware of their own positions in comparison with other bettors and operators.
It added that it is the operator's responsibility to ensure that customers are made aware of any information deficit or built-in time delay to the systems they are using.
"We are aware that some countries have taken a more prohibitive approach towards in-play betting, for example, by restricting the markets that are available or the means by which in-play bets can be placed," said the UKGC. "However, in exercising our functions under the Gambling Act 2005 we are obliged to permit gambling in so far as it is conducted in a manner that is consistent with the licensing objectives."
Other Jurisdictions Still Not Onboard
Several jurisdictions have looked to restrict the ability of bookmakers to offer in-play betting during matches, where consumers make real-time wagers while a game is in play.
In April, Australia banned the practice, which may have prompted the UK regulator to initiate a review, as in-play betting now accounts for more than 60 percent of betting volume at major sports books in the country.
Among the concerns voiced by opponents of in-play betting in Australia is the perceived edge gained by bettors who are "court-siding," or literally placing bets while watching a tennis match or soccer game.
Detractors argue that bettors may have a split-second advantage over those watching games via a live stream.
They also argue that the integrity of the games themselves may be placed at risk by those seeking to exploit in-play betting for criminal gain.
Match Fixing Risk Minimal
The UKGC did not believe that it was necessary to ban the use of technology that some bettors use to gain an edge if operators provided clear and sufficient information that such systems may be in use. An example of such technology would be software that increases internet speeds.   
In terms of betting integrity the regulator acknowledged that there was indeed potential for criminals to exploit in-play betting, but felt that other forms of betting also have potential for exploitation. The UKGC ruled that it was unnecessary to tighten integrity controls beyond its wider efforts to combat match-fixing.   
The UKGC also acknowledged that in-play betting allows gamblers to place a larger volume of wagers in a shorter space of time, because it offers more opportunities to bet, which could potentially increase chances of problem gambling. Once again, the onus is on the operator, as a condition of its licensing, the organization said.
"Some studies have shown that placing a high number of bets can be an indication that a bettor may be at risk of harm from gambling," it said. "We do not consider that someone who bets in-play is automatically at increased risk of harm from gambling, but expect that licensees will monitor all bettors for signs of risk as required by our [licensing conditions]."