UFC, Bud Light Announce Multiyear Partnership, Ignite Boycott Calls
Posted on: October 25, 2023, 04:46h.
Last updated on: October 25, 2023, 04:52h.
Bud Light will become the "Official Beer Partner of UFC" effective Jan. 1, 2024. Financial terms of the six-year deal were not disclosed.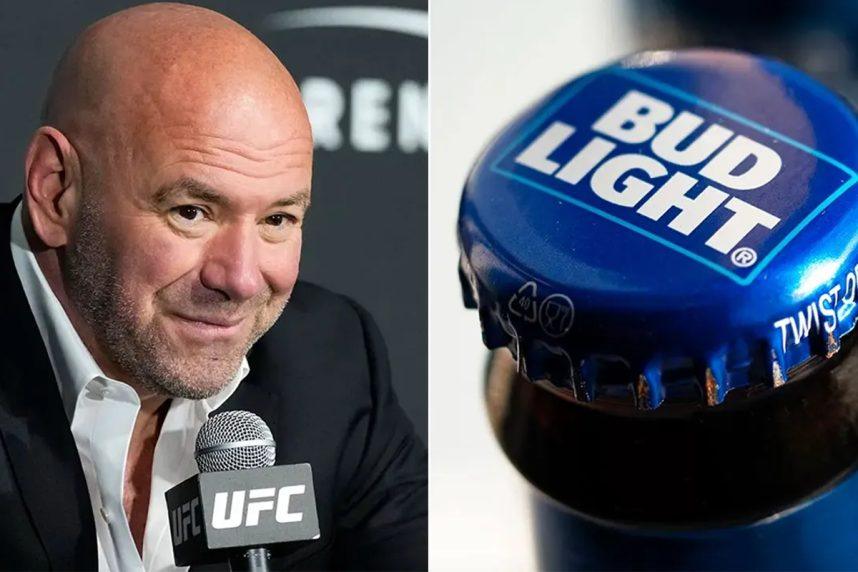 Anheuser-Busch and the UFC, a division of TKO Group Holdings, announced the sponsorship agreement on Tuesday. The news is already generating a flurry of pushback.
Bud Light is trying to revitalize its brand after it faced a mountain of criticism from drinkers earlier this year when the beer debuted a marketing spot with TikTok personality Dylan Mulvaney. Bud Light's loyal drinkers scolded the brand for partnering with Mulvaney, a transgender woman and activist, during the March Madness men's college basketball tournament.
Conservatives led the revolt, with celebrities like Kid Rock also getting in on the Bud Light boycott. The controversy cost Anheuser-Bush InBev, the Belgian-based multination drink and brewing giant, many billions of dollars in lost sales and market capitalization.
Bud Light also lost its stronghold on the US beer industry, with Modelo Especial now holding the status as the top-selling beer in the US. Bud Light had held that honor for 20 years.
Modelo became the Official Beer Partner of the UFC in 2017 after Bud Light ended its sponsorship that began in 2008. Modelo's deal terminates at the end of 2022, and UFC President Dana White decided to renew the UFC's pact with Bud Light after Anheuser-Busch expressed interest.
UFC to the Rescue
The UFC and its marquee events and fights generate considerable handle and revenue for sportsbooks across the country. The Nevada Gaming Control Board includes mixed martial arts into its "other" category along with boxing. The "other" category won nearly $52.7 million for books last year, with the UFC dominating the class.
The UFC continues to grow in popularity. White, the president and face of the UFC, said the decision to partner with Bud Light wasn't only about money.
"They were the first beer company that we did business with," White, a conservative himself and major backer of former President Donald Trump, told Fox News' Sean Hannity. "They were our first real big sponsor when we were getting started, and now we're back with them."
I know all the controversy … but I want to be with somebody that I'm aligned with. They employ 65,000 Americans. They have thousands of vets who work for them. They spend $700 million a year with US farmers using their crops to make their products," White continued in comments that Anheuser-Bush executives will be glad to hear.
Brendan Whitworth, CEO of Anheuser-Busch, added, "As one of the largest and longest standing sport sponsors, we are excited to work with UFC to celebrate our passionate fans while always making a positive impact in communities across America."
Fans Revolt
Many UFC fans were quick to express their displeasure over the league partnering with Bud Light. Some fans canceled their UFC Fight Pass memberships, while others said they're done purchasing UFC pay-per-view events.
. @danawhite @ufc @budlight
Thanks to your new sponsorship I #CancelFightPass plus Im going to save $80 a month on PPV. Know your audience. pic.twitter.com/CHkMurCHk0

— Matt Allen (@thew92) October 24, 2023
Others, however, said the partnership makes sense, at least for Bud Light.
If there's ONE brand that can save Bud Light, it's @ufc. https://t.co/0dZNydFxLk

— Patrick Bet-David (@patrickbetdavid) October 25, 2023
While neither the UFC nor Bud Light confirmed the price of the sponsorship, a source not authorized to speak publicly reportedly told Bloomberg that the deal marks the league's "largest sponsorship ever." The UFC's richest sponsorship to date that's been revealed publicly is a $175 million deal with Crypto.com in 2021.
Most Read