U2 Returns to Downtown Las Vegas to Shoot New Video
Posted on: September 17, 2023, 10:02h.
Last updated on: September 18, 2023, 03:45h.
U2 shot a video early Sunday morning in downtown Las Vegas. The Irish band filmed itself performing a new song, "Atomic City," from a makeshift stage on a flatbed truck, starting at around midnight.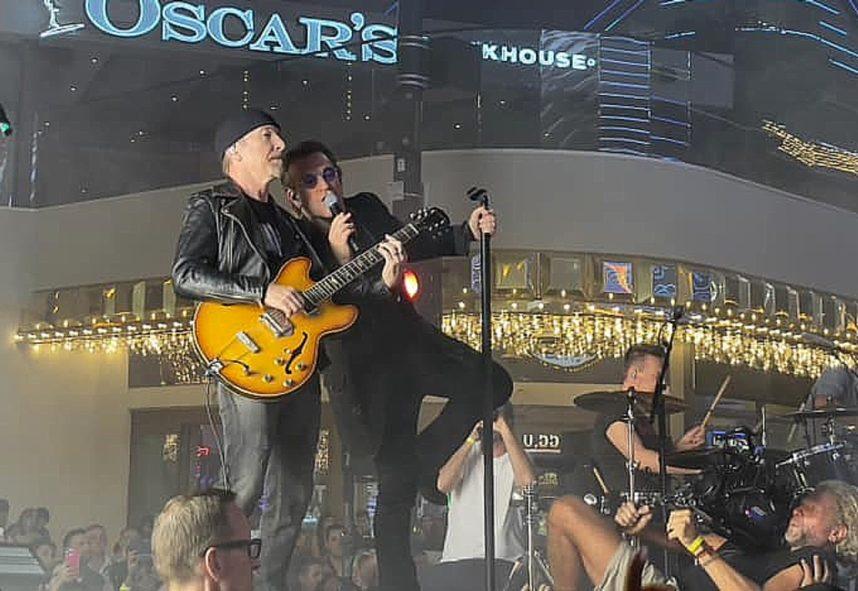 The Irish rock band is in town rehearsing for its "U2: UV Achtung Baby Live" residency at the MSG Sphere, whose kickoff also opens the $2.3 billion venue on Sept. 29.
"This is a new song written about you," singer Bono explained to the VIP crowd gathered under the Fremont Street Experience canopy. He described the song as "a rock n' roll 45 in the tradition of late-'70s post-punk."
"Atomic City" celebrates the history of Las Vegas ("Sinatra swings, a choir sings") while at the same time pandering to some of its more popular (and dated) stereotypes, such as the stage it provides to has-beens ("Come all you stars falling out of the sky") and its popularity among extraterrestrials ("All UFOs come on your way home").
Bono sang along live to a playback of the song, which U2 recorded last week in L.A. It is expected to feature in its Sphere setlist, most of which is already taken up by a track-for-track run-through of the band's 1991 album, Achtung Baby.
Check out a video posted by YouTuber mfb1962.
U2's moving stage — shades of a promotional stunt staged by the Rolling Stones down New York's Fifth Avenue in 1975 — shuttled it between two shooting locations: behind the 3rd Street stage and in front of the Plaza Hotel and Casino.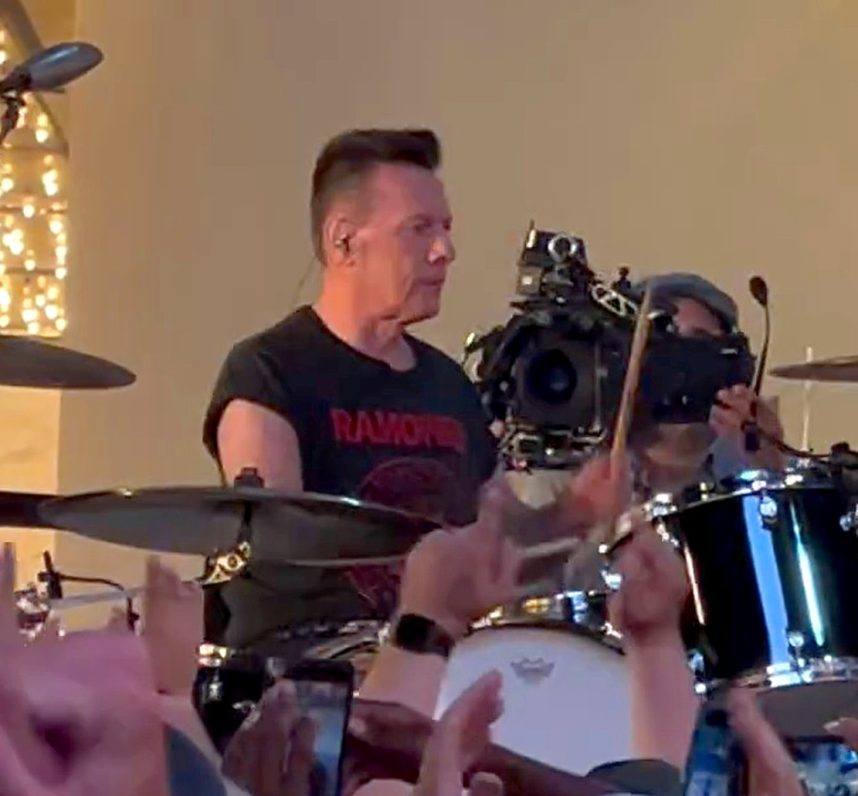 Big Surprise
Other than U2's appearance itself, the big surprise was Larry Mullen Jr.'s return to the drum stool. The group's founding drummer was reportedly forced to sit out the Sphere dates as he continues recovering from surgery for longtime neck and elbow problems.
Drumming with the band live will be Bram van den Berg, a virtually unknown musician from The Netherlands.
Bono explained how Mullen could be well enough to drum during the video shoot, saying, "He doesn't follow doctor's orders."
A Sort of Homecoming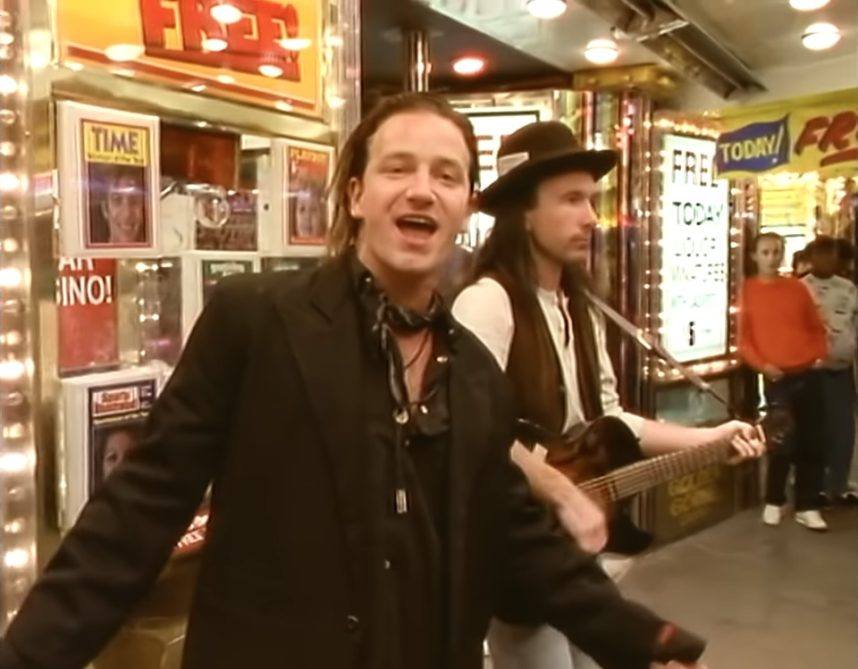 Setting a video about Las Vegas history at the Plaza was appropriate on several levels, as the casino resort sits on the site of the first railroad stop in Las Vegas — the one responsible for the city's birth in 1905. (Though the original depot was demolished in 1970 to make room for the Plaza, the train tracks — now used exclusively for freight — still run behind the casino hotel.)
The setting was also a homecoming for U2, whose smash 1987 video for "I Still Haven't Found What I'm Looking For" was filmed on a pre-canopied Fremont Street. In the clip, U2 clowned around while imitating Elvis and surprising tourists who didn't expect to bump into the most famous music act in the world at the time.
As a nod to the connection, the only other song U2 performed live on Sunday morning was a stripped-down, country-tinged rendition of "I Still Haven't Found What I'm Looking For," which featured minimal timekeeping from Mullen.