Vegas Vic Sign Comes Slowly Back to Light
Posted on: May 17, 2023, 03:42h.
Last updated on: May 19, 2023, 01:18h.
The second–most famous sign in Las Vegas is slowly glowing back to life. According to an ordinance in the downtown casino district, all classic neon signs must be lit from dusk to dawn. And no sign there is more classic than Vegas Vic.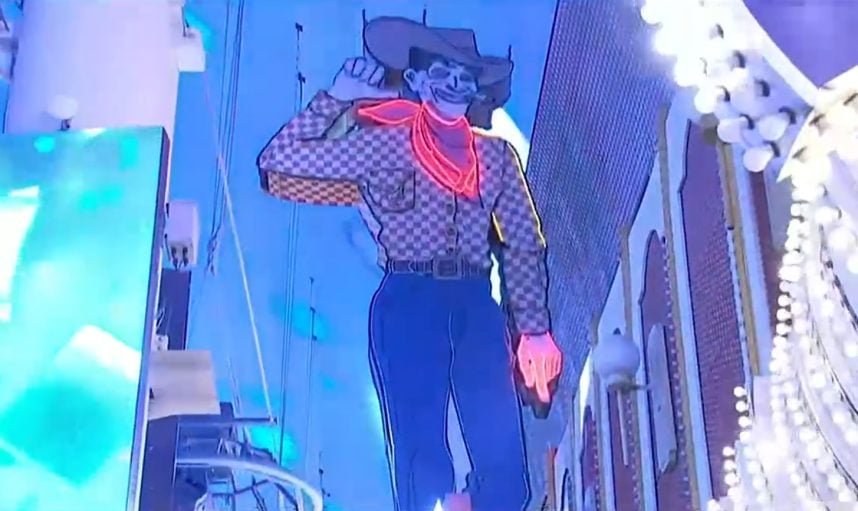 The owner of Vegas Vic, a neon sign portraying a smiling cowboy, was cited by the city of Las Vegas last month for going dark. Schiff Enterprises, the Atlantic City, New Jersey real estate firm that somehow found itself owning the sign, also found itself owning the citation, which the city issued on April 24.
Obviously, it worked because about a quarter of the sign is now shining again. KVVU-TV/Las Vegas reported that Schiff is working with Utah-based Young Electric Sign Company (YESCO), which restores and maintains much of Sin City's neon.
Turns out, a broken power source was only the first of Vic's modern problems. Once YESCO restored that and juiced him back up, 75% of his neon was still dark and needed restoration.
If the rest of his neon tubing cannot be restored, according to KVVU, new glass will be blown and bent into place. A full relighting isn't expected for at least a few more weeks.
Sign of the Times
Vic was created in 1951, eight years before the "Welcome to Fabulous Las Vegas" sign. Designed by illustrator Pat Denner for a New York ad agency, the 40-foot sign was commissioned by the Las Vegas Chamber of Commerce to promote the city. Vic was originally installed on The Pioneer Club to direct traffic to the casino.
Vic is still perched above 25 E. Fremont St., a Fremont Street Experience souvenir shop since 1995. Long ago, his arm stopped swinging, the cigarette in his mouth stopped moving, and he stopped shouting
"
Howdy, Partner!" every 15 minutes. He also lost a few feet from the brim of his hat in 1995 to fit underneath the Experience canopy.
But one thing he's done every night since 1951 is shine — until a few months ago. Dozens of tourists reportedly complained to the city of their disappointment.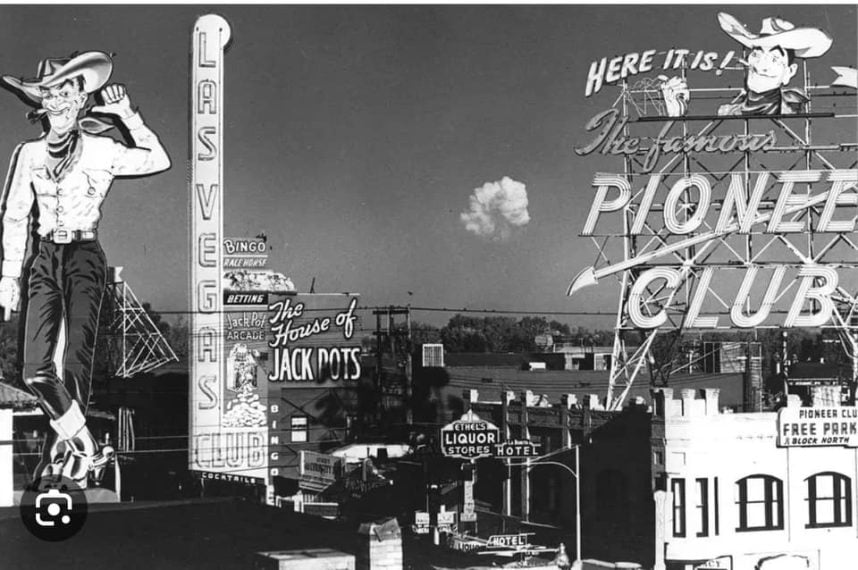 Sister Sign
Vegas Vic also has a wife, for anyone who doesn't remember. A neon cowgirl named Vegas Vickie was created in 1980 by Jack Dubois and Charles Barnard of the Ad Art sign company. Vickie was installed across the street from Vic, above the Girls of Glitter Gulch strip club owned by hotelier and poker player Bob Stupak.
In 1994, during the Fremont Street Experience construction, the two signs were "married" in a publicity stunt.
In 2017, Vickie was removed in preparation for the strip club's demolition. She now resides inside the Circa Resort & Casino, which opened on the same spot in 2020.
Appropriately, she advertises Vegas Vickie's Lounge.