Trump Taj Mahal Fights to Retain Trump Brand in Atlantic City
Posted on: October 25, 2014, 08:50h.
Last updated on: October 24, 2014, 01:51h.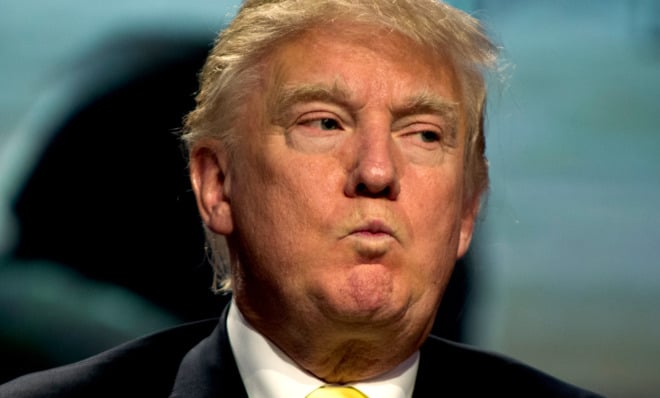 The Trump Taj Mahal in Atlantic City will not be removing the Trump brand from its name. Or at least that's the position of its lawyers, who are arguing that such a move would be "destructive" for a casino property that is desperately trying to avoid Chapter 11 bankruptcy.
Yes, the original Taj Mahal, in Agra, India, may be one of the most heart-stoppingly beautiful visions on earth, but its namesake is involved in some pretty ugly legal wranglings at the moment. Meanwhile, the Trump Taj Mahal's namesake, Donald Trump, is hopping mad.
The source of The Donald's ire, of course, is the "Trump" bit in front of the "Taj Mahal" on the casino's signage. In short, he wants it taken off. Trump has already successfully litigated to have his name removed from the shuttered Plaza, formerly the Trump Plaza, asserting that Trump Entertainment, which presumably will soon have to change its name to "Entertainment," has dragged his good brand name through the mud.
"I want it off both of them," fumed Trump recently. "I've been away from Atlantic City for many years. People think we operate [the company], and we don't. It's not us. It's not me."
Trumpery Claims
And he'd be right.
Perhaps smelling an ill wind, Trump got out of Atlantic City in 2009, selling Trump Entertainment to a group of hedge funds. He has had nothing to do with the management of the company's two Atlantic City properties since, although he was able to negotiate a 10 percent stake in the company in return for continued licensing rights to the Trump brand name, something he clearly now regrets.
While the Plaza (formerly the Trump Plaza) was forced to close on September 15 this year, the Taj (still the Trump Taj) is battling to stay open and is currently seeking concessions from the bankruptcy courts in order to avoid Chapter 11.
Several weeks ago, Atlantic City was brought to a standstill as members of the Unite Here 54 Union blocked traffic at the busy downtown intersection of Missouri and Arctic Avenues in a show of organized "civil disobedience," protesting at Trump Entertainment's requests to cut the pensions and benefits of its workers in order to stay afloat.
Meanwhile, billionaire investor Carl Icahn, who holds most of the Trump Taj Mahal's $286 million debt, has said he is willing to take over the property by converting that debt into ownership, as well as investing $100 million, but only if the concessions are granted and state aid is forthcoming. A recent request to cut ties with the existing union contract was granted by a federal judge.
Cautious Optimism
It's all a little too distasteful for the Trumps. Daughter Ivanka Trump said this week that Trump Entertainment was "in default of the standards for both the Plaza and at the Taj.
"They had a similar benchmark, and they did not live up to the standards we agreed to. Both the standards were not met," she added.
Trump Entertainment is refusing to budge on the name-change, however, calling The Donald's litigation "baseless and value-destructive."
"The debtors face many challenges, and the last thing these Chapter 11 cases can afford is the significant expense, distraction and uncertainty of state court litigation over whether the debtors can preserve the very name under which they do business."
So, while the original Taj Mahal was built by a grief-stricken prince as a memorial to the beauty of his dead Persian princess, the building that may have been inspired by The Donald's hopeless love for a Czechoslovakian ski instructor (now a distant memory as Wife #1 of three) remains open, for now. And there has been some cause for cautious optimism this week, as the Taj's owners announced that the property will not be closing on the previously slated date of November 13, but will, in fact, remain open throughout the month of November.
And a  scheduled gig by recently reformed eighties band Culture Club will go ahead as planned on November 28, Trump Entertainment has assured what's left of its audience.