Trump Taj Mahal Protests Create Atlantic City Gridlock
Posted on: October 12, 2014, 08:00h.
Last updated on: October 11, 2014, 07:28h.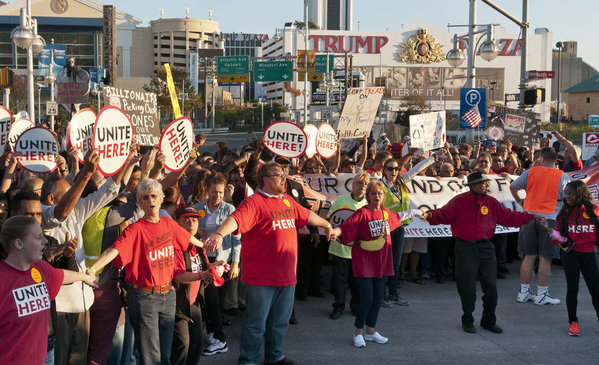 Trump Taj Mahal workers reduced Atlantic City to gridlock this past week, blocking roads in protest against Trump Entertainment's plans to cut pensions and benefits. The embattled company is seeking permission from a bankruptcy court to break contracts with workers in an effort to keep the Taj Mahal open and avoid Chapter 11.
Twenty-four people were arrested as hundreds of members of the Unite Here 54 union blocked traffic at the busy downtown intersection of Missouri and Arctic Avenues in a show of organized "civil disobedience."
No one was reported injured during the protests and none of the protestors who were arrested attempted to resist. While Unite Here said that 750 people attended the demonstration, police estimated the numbers at around 300.
Trump Entertainment has said it will be forced to close the Taj on November 13th unless the employment concessions are granted. It is also demanding $25 million in aid from state government, along with a significantly reduced tax assessment. Trump Entertainment has also requested permission to be taken over by billionaire investor Carl Icahn, the major holder of its debt, by converting that debt into ownership. As owner, Icahn would then invest $100 million to keep the Taj alive, but that is "if and only if" the concessions are granted.
Protestors Blame Icahn
Significantly, the demonstrations took place close to the Tropicana, which is owned by Icahn, rather than the Taj, and it's clear that many workers blame him for the threat to their benefits; many held placards featuring images of Icahn, emblazoned with the slogan, "Billionaire picking over our bones."
This week's protest took place on the 10th anniversary of a similar labor dispute that saw members of Unite Here 54 walk out of seven Atlantic City casinos, effectively closing them down for a month.
"When they were rolling in money, they wanted to take it all away from us 10 years ago," said union president Bob McDevitt.
Workers are now concerned one casino cutting benefits could trigger a domino effect. "Casino gambling, when it came here 38 years ago, promised middle-class jobs," said the Rev. John Scotland, a local Presbyterian minister and one of those arrested. "If we allow the Taj to take away benefits, all the casinos will do away with them."
Trump Name Removed
Earlier in the week, the Trump name was removed by workers from the front of the Taj. Donald Trump launched a lawsuit several months ago for breach of the licensing agreement he signed with Trump Entertainment five years ago. While the Taj Mahal, along with the recently shuttered Trump Plaza, was once one of "The Donald's" pet projects, he left the casino business in 2009, negotiating a deal with Trump Entertainment to retain a 10 percent stake, in return for continued use of the Trump brand name. Since then he has had nothing to do with the management of the Trump properties, and has been fiercely critical of its owners.
"This represents a great victory for us," said Ivanka Trump, who confirmed the removal of the name from casino signage. "This has been an ongoing struggle and we've been litigating it for some months."
Latest Casino Stocks:
Retrieving stocks data...
Retrieving stocks data...
Retrieving stocks data...
Retrieving stocks data...
Retrieving stocks data...