Toronto Raptors Take 2-1 NBA Finals Lead, Series Odds Even Against Golden State Warriors
Posted on: June 6, 2019, 08:00h.
Last updated on: June 6, 2019, 08:00h.
The Toronto Raptors won Game 3 of the NBA Finals to take a 2-1 series lead. Las Vegas oddsmakers say the championship is now either team's to win.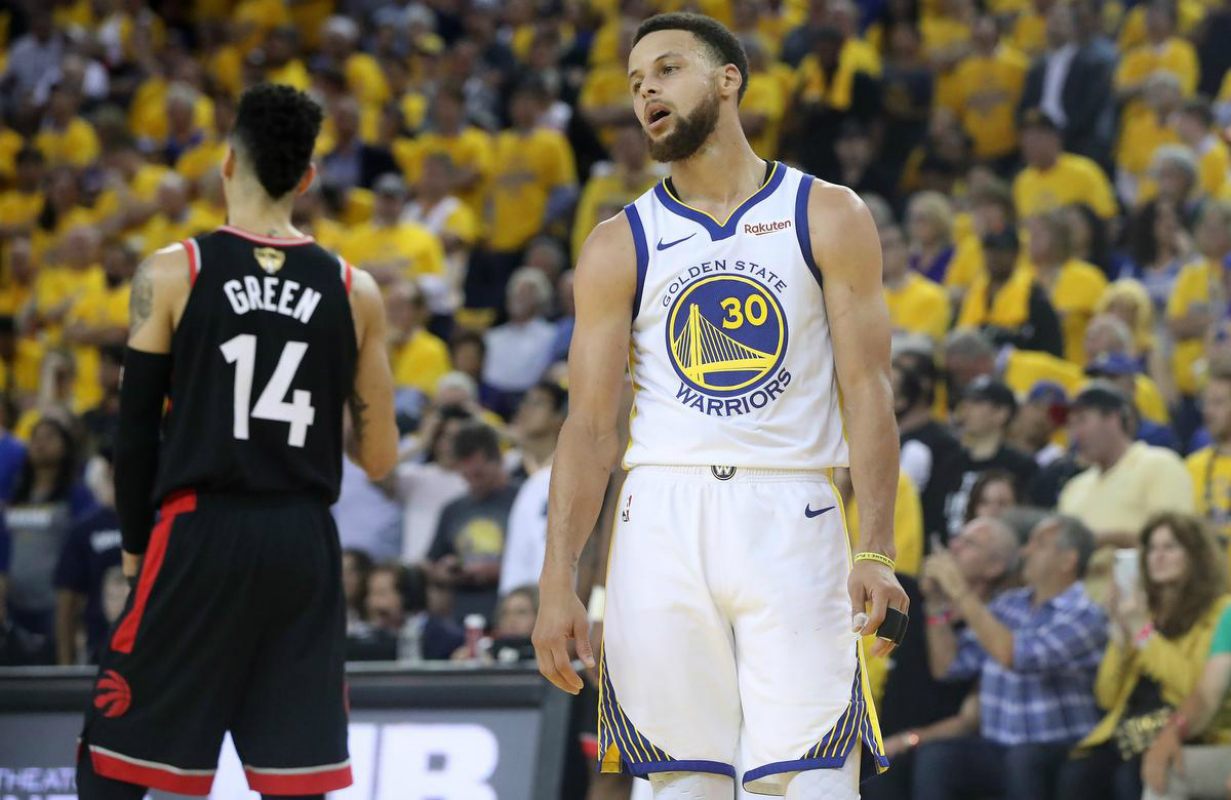 The Westgate SuperBook has the updated series price at Warriors -110, and the Raptors -110. The line gives each team a 52.38 percent chance of winning, with a $100 wager netting $90.91.
The Raptors took advantage of an injured Warriors team that was without two of its star players – Kevin Durant and Klay Thompson. Oracle is one of the most difficult arenas for a visiting team to come into and win. In fact, Golden State fans watched their home team lose just 11 times on their court during the regular season.
Every time we made a run or got the crowd into it they either made a tough three or there was a tough foul call and they slowed the tempo down or something went their way," Warriors superstar Steph Curry said afterwards. "You have to tip your cap to all the guys who made pivotal plays in the right times."
Toronto fended off a 47-point performance from Curry. Kawhi Leonard led the Raptors with 30, but he got plenty of help, as all five Toronto players scored at least 17.
Game 4 Odds
Golden State will host Game 4 of the NBA Finals on Friday. Tipoff is scheduled for 9:00 pm ET.
The SuperBook has the Warriors favored at -240 (implied odds 70.59 percent). A $100 bet and a Golden State win nets just $41.67. Toronto is at +190 (implied odds 34.48 percent), with a $100 wager returning $190.
The point spread is Golden State spotting the underdogs 5.5, and the over/under 216 points.
The Warriors hope to have both KD and Klay back for Game 4. Thompson (hamstring) was a game-time decision last night. The five-time NBA All-Star campaigned to play, but coach Steve Kerr kept him on the bench.
The whole point was to not risk a bigger injury that would keep him out of the rest of the series," Kerr explained. "So that was the decision we made, and I feel very comfortable with it."
"Never would have forgiven myself if I played him tonight and he had gotten hurt. So, you live with the decision you make, you make a wise decision, the wisest one you can, and then you live with it and move forward," the coach concluded.
Side Bets
Along with the traditional series and game odds, the SuperBook has additional lines to entice even more betting action. The casino is taking bets on which team will be leading after the first half in Game 4 (Warriors -185, Raptors +155), as well as the over/under through two quarters (105.5 points).
Odds also remain on the exact series outcome. Warriors in six or seven is the favorite at +275. Raptors in seven is next (+325), in six (+450), and five (+500).
If Toronto can win the next two games, gamblers who take that line will net $500 for every $100 bet.
Similar Guides On This Topic