Tioga Downs Casino Arson Suspect Charged, 30 Horses Died in Blaze — Video
Posted on: November 14, 2023, 09:03h.
Last updated on: November 14, 2023, 08:11h.
A man is behind bars after allegedly setting fire to a barn at New York's Tioga Downs Casino Resort. Thursday's blaze reportedly killed 30 horses and left one person injured.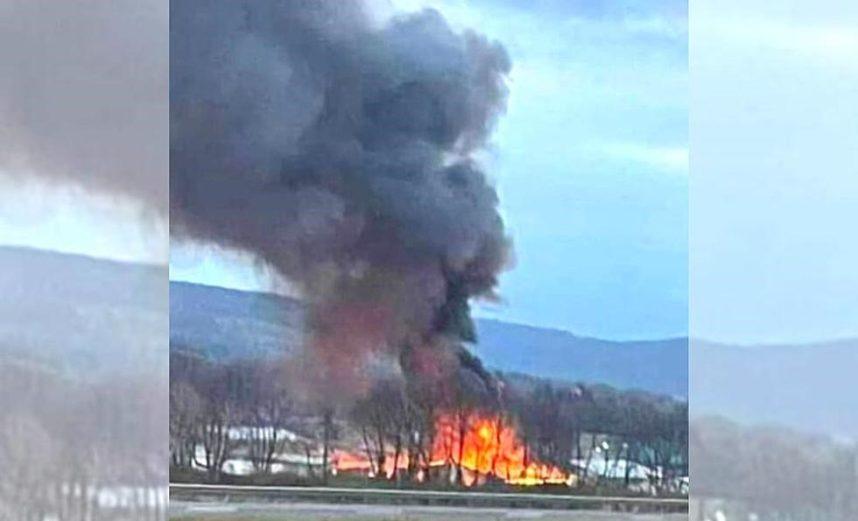 The suspect, Boyd H. Fenton, 32, of Athens, Pa., was apprehended soon after the blaze. He was charged with third-degree arson, third-degree burglary, second-degree criminal mischief, and second-degree assault.
Fenton was arraigned in local court. He's being held in the Tioga County Jail. Police didn't reveal his motive for the crime.
The fire started early Thursday, and terrified horses were seen kicking and screaming as the flames spread, according to The New York Times. None of the horses survived. Initial police estimates said 24 horses died, but an online publication, Harnesslink, later revealed that the number of horses who perished was 30.
Edgar Clarke, 68, a horse trainer, grabbed a fire extinguisher immediately after spotting the flames, but the fire was too extensive.
"I couldn't get in the barn," Clarke told The Times. "It was totally engulfed."
Clarke suffered second-degree burns on his face and was taken to Pennsylvania's Robert Packer Hospital, where he underwent treatment for his injuries.
Horses Lost in the Fire
Kayla Morris lost 12 horses in the blaze, all of which she either trained or owned.
I tried to get in the barn, but I just couldn't because the fire was just so hot and I just screamed and screamed," she recalled in an interview with The Times. "I sat for four hours and watched it burn and just hoped — hoped — that one of them would come out."
Among the horses who died was Better Call Saul, an 11-year-old. Owned by Lee Morris, he had 24 career trips to the winner's circle with earnings of $267,202.
He was the absolute love of my life," Kayla Morris told Harnesslink. "He was cheeky, funny, and always hungry. He just wanted to be loved."
"We are deeply saddened by (this) tragedy, it was a loss no one could have imagined or expected," Jeff Gural, owner of Tioga Downs, said in a statement posted on Facebook. He praised the efforts of the first responders but declined to comment further because of the active investigation.
Gural is chairman of American Racing & Entertainment, which owns the casino and the racetrack.
Tioga Downs Casino Resort is located in Nichols, N.Y., near the border with Pennsylvania. It provides casino gaming featuring 890 slot machines and harness racing. Many of the horses that perished in the blaze were used for harness races.
Fundraising Campaign
A GoFundMe campaign was set up to benefit horsemen impacted by the fire. As of Tuesday morning, it had raised $157,531 from 1,200 individuals. The initial goal was $50K.
Gural pledged to match up to $100K in contributions.
Tioga Downs "suffered an unimaginable loss this morning as many … lost horses, belongings, and years of memories in a tragic barn fire," the organizers of the fundraising effort said on the website.
New York State Police (NYSP) revealed the fire was "intentionally set" and led to "thousands of dollars' worth of damage." The NYSP offered "condolences to affected individuals and families that lost their beloved animals during this tragic incident."
Multiple fire departments rushed to the complex to battle the fire, including crews from the Nichols, Tioga Center, and Waverly Barton fire departments in New York State. Also assisting were crews from Wyndham Township, Athens Fire and Athens Borough Fire, Greater Valley EMS, and Bradford County Rehab in Pennsylvania.