Tioga Downs Fire Kills At Least 24 Racehorses, Arson Suspect Arrested
Posted on: November 9, 2023, 06:10h.
Last updated on: November 10, 2023, 11:40h.
A barn fire at the Tioga Downs Casino Resort complex killed at least two dozen racehorses during the early morning hours of November 9. New York State Police say a suspect has been arrested for arson.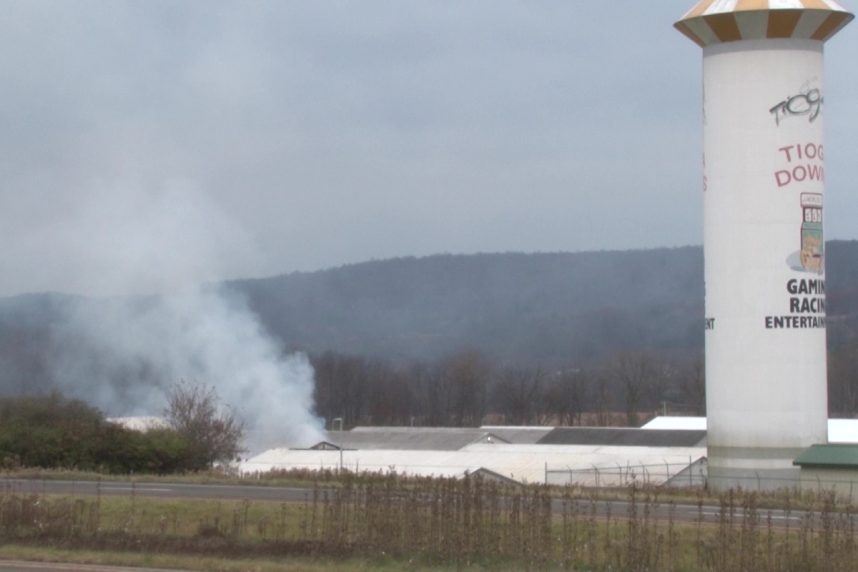 Law enforcement responded on Thursday morning to a barn engulfed in flames at Tioga Downs, located in the upstate New York town of Nichols. Numerous racehorses were found dead on the scene. A man who tried to rescue the animals was transported to an area hospital with second-degree burns.
In an update Thursday evening, New York State Police reported that 32-year-old Boyd H. Fenton of Athens, Pa., had been arrested in connection with the fire, which was determined to have been deliberately set. Fenton has been charged with four felonies, including arson in the third degree, burglary, criminal mischief, and assault.
An investigation revealed that Fenton entered the barn and intentionally set a fire, causing thousands of dollars' worth of damage," the New York State Police statement explained.
Police said Fenton was arraigned before a judge on Thursday afternoon and remanded to the Tioga County Correctional Facility.
Suspect Has Lengthy Rap Sheet
Law enforcement didn't specify a motive for what prompted Fenton to allegedly set fire to the Tioga Downs stable. Police said they "would like to offer condolences to affected individuals and families that lost their beloved animals during this tragic incident."
Athens is a small town in Pennsylvania just south of the New York border. The drive north to Tioga Downs is less than 10 miles.
Tioga Downs is one of four upstate New York casinos with approximately 890 slot machines, 30 table games, and a FanDuel Sportsbook. New York real estate developer Jeff Gural is the controlling stakeholder of the complex.
Gural also owns Vernon Downs in upstate New York, a racino with video lottery terminals (VLTs), and holds an ownership position in the Meadowlands Racetrack in New Jersey.
Fenton has a lengthy rap sheet in his home state. A court records search by Casino.org turned up several cases, including driving under the influence of a controlled substance, criminal trespassing, criminal mischief resulting in property damage, and possessing a small amount of marijuana.
In June, court records show Fenton pleaded guilty to a second-degree felony charge for the criminal trespassing charge, and spent eight days in prison. He was placed on probation for 18 months following his release.
Tioga Downs Backstory
Located in the heart of the Southern Tier, horse racing began in Nichols in 1976, with the facility at the time called Tioga Park. Tioga Park was a financial disaster, however, and closed after only three years of quarterhorse racing.
Gural agreed to purchase the shuttered facility in 2005 after New York lawmakers legalized VLTs at state-licensed racetracks and off-track betting facilities. He built a new standardbred racetrack (5/8 mile) and opened the racino in June 2006.
After New York expanded gaming in 2013, Gural obtained one of the four Las Vegas-style casino licenses allocated for the upstate region. VLTs were replaced with slots and table games were brought in when the commercial casino finally opened in late 2016.
Gural a year later opened a 160-room hotel. Sports betting arrived in 2019.
The 2023 Tioga Downs harness racing reason season ran from early May through the end of September. The calendar was highlighted by the $500K Empire Breeders Classic Finals on August 27.