'Thursday Night Football' Finds San Francisco 49ers Hunting For Division Title
Posted on: December 15, 2022, 09:00h.
Last updated on: December 20, 2022, 01:51h.
The San Francisco 49ers and the Seattle Seahawks meet on Thursday Night Football, and the Niners have one goal in mind: win the NFC West. The team by the Bay has a real shot as Week 15 of the NFL season gets underway.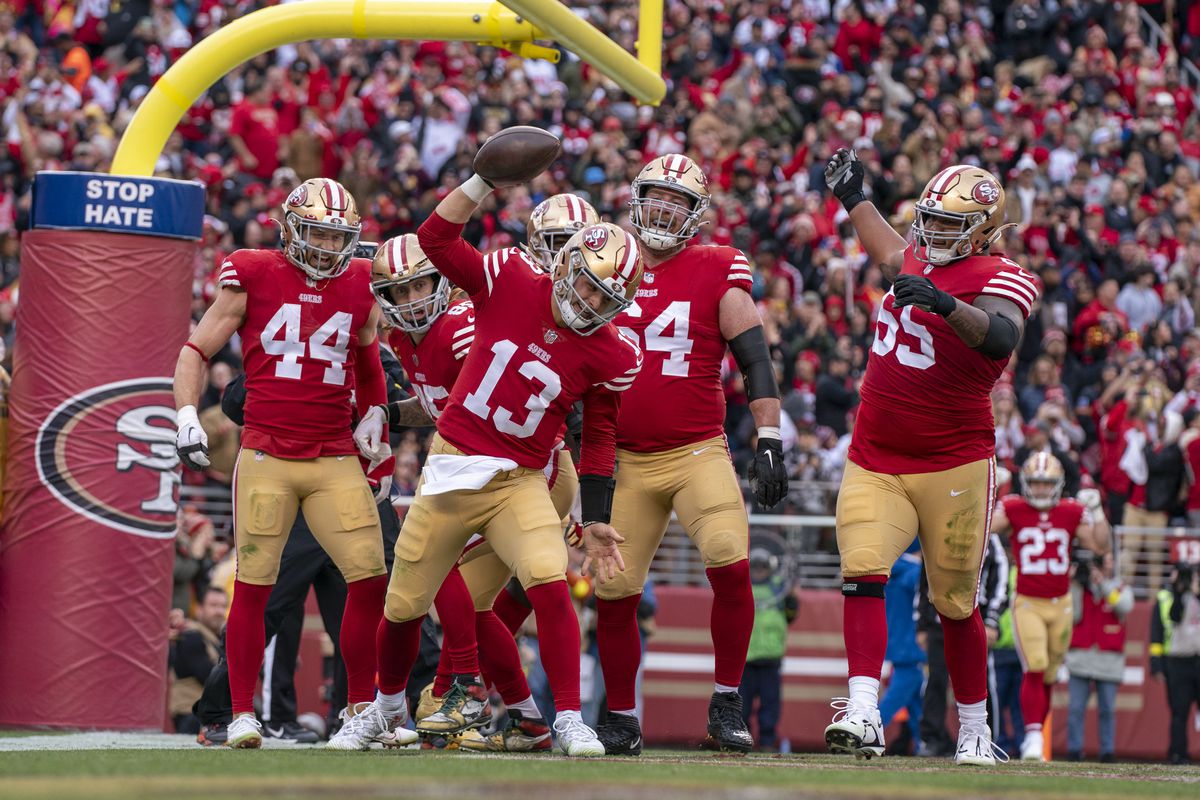 San Francisco (9-4) is out in front of their division rivals, having won their last six games. Another win tonight against the Seahawks (7-6) will make them the undisputed champions. The Niners and Seahawks each have only one division game remaining, against the Arizona Cardinals and LA Rams, respectively.
Should the Seahawks pull off an upset tonight, it would be a huge coup. It's a legitimate possibility, as the Niners are dealing with recent injuries that could hurt their chances on Thursday night.
The San Francisco Treat
The Niners showed last Sunday that there's life after Jimmy Garoppolo. Previously their starting quarterback, he went down hard in Week 13, paving the way for 22-year-old rookie Brock Purdy.
| | | |
| --- | --- | --- |
|   | 49ers | Seahawks |
| Moneyline | -175 | +150 |
| Spread | -3 (-115) | +3 (-105) |
| Over/under | O43 (-109) | U43 (-112) |
|   | Courtesy of BetRivers |   |
The Niners' investment in Purdy paid off, as he went on to beat the Miami Dolphins in that game. He followed up his debut with another strong performance in Week 14, as the Niners made easy work of QB Tom Brady and his Tampa Bay Buccaneers. The rookie had two touchdown passes, a rushing touchdown, and a 76.2 completion percentage.
That put San Fran within a game of becoming the NFC West champs. They lead the division and are looking for one more win in what is one of the toughest games of the remainder of the season.
A victory on Thursday is achievable, but not guaranteed. Losing Garoppolo hurt somewhat. But losing wide receiver Deebo Samuel last week hurt worse. Even Purdy is having difficulty, and could be a game-time decision. If he's out, San Fran will be putting in their fourth starting QB of the season with Josh Johnson next in line.
The Seahawks are coming off one of their worst performances of the season. They stumbled hard last week against the Carolina Panthers, as Geno Smith put up two game-changing interceptions.
Similar mistakes aren't likely today, and the Seahawks have the advantage of playing in front of their boisterous fans. In addition, they have wide receivers DK Metcalf and Tyler Lockett, and they'll both be ready to work some magic.
Heads or Tails
There's a lot at stake in this game for both sides, and either could easily win. The Niners have some strength in running back Christian McCaffrey and Jordan Mason, but too much pressure on them will wear them out quickly.
Seattle can take control early. If it does, this game could be the next in a growing list of underdog wins this season.
Seattle, despite being 6-7 against the spread, could take the game by seven points or more to cover. Both sides will be pushing the chains, so bettors can expect the over, 43, to hit. Seattle has taken down the Niners seven times in their last 10 meetings, and could do so again today.
NFL Continues to Go Soft
It sometimes seems as though the NFL's leaders sit around with a spinning wheel through which they determine how to further mess up the game. Their latest move comes through yet another questionable rule change that isn't going to sit well with anyone.
This would be significant: Troy Vincent says there was discussion among owners today about whether a hit on a QB or other defenseless player should 1) Be reviewable; and/or 2) Be an automatic ejection.

Any change would go through the normal process and vote at the March meeting.

— Tom Pelissero (@TomPelissero) December 14, 2022
The league is taking an increasingly strict stance on player safety, at least on paper. As a result, according to NFL insider Tom Pelissero, NFL brass are contemplating a change that would make roughing the QB a violation that results in ejection.
It seems ridiculous, especially given the lack of ability on the part of referees to consistently and evenly call QB sacks during games. Over the past couple of weeks, there have been clean hits that resulted in personal fouls for roughing the passer.
A single penalty can completely alter the course of a game. When it's called incorrectly, the impact is even greater.
Team owners will have to vote on the recommendation when they meet next March. Between now and then, there will undoubtedly be a lot of chatter going on in team offices and locker rooms.