Poker World Adds New Events in Andorra, Asia, and on the High Seas
Posted on: April 26, 2023, 07:07h.
Last updated on: April 26, 2023, 11:39h.
Live poker events took a break because of COVID-19's impact on consumerism and travel, but things are finally returning to normal. The arrival of new poker tournaments in Europe and Asia, as well as on the high seas, will help the recovery continue.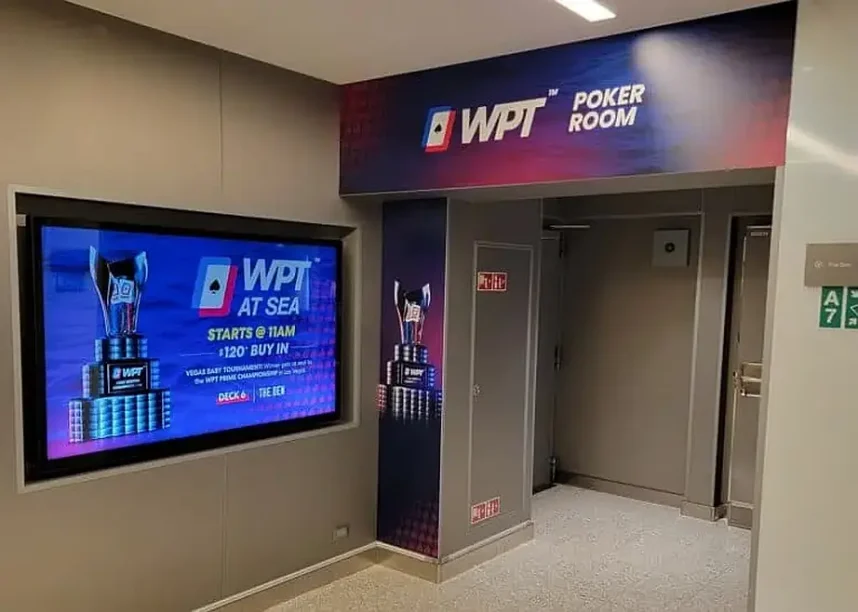 In 2020, COVID-19 forced the cancellation or delay of numerous poker events and the transition of some to an online format. While the latter option was a viable alternative for some, the inability to properly read opponents kept some players away.
From Vegas to the Czech Republic and Singapore, poker events were off the table. They're back now, and players are getting more live options than ever.
Poker Comes to Andorra
Andorra, the microstate that borders Spain, recently opened a new casino that can host international poker tournaments with up to 800 players. Now, the Unnic Integral Leisure Center will test those capabilities by hosting the first Gran Casino d'Andorra Poker Tournament this weekend.
The event has a buy-in of €200 (US$220) and participants will receive 50K chips at the start of the Day 1 flights. These flights will be held on Friday and Saturday from 6:00 p.m. Day 2, the day of the final table, will begin Sunday at 5:00 p.m.
Players who scratch can rebuy to continue participating in the tournament up to level 10. After that, they'll only be able to catch the action from the rail. Registration begins Friday afternoon, although the casino has left out one element that might entice more people to play. As the casino confirmed with Casino.org, there doesn't appear to be a guarantee, which means the prize pool may be small if the turnout isn't that great.
This is just the first of many events the casino has planned. The goal is to organize them in the low season to boost tourism when traffic is typically slower.
WPT Takes to the High Seas
The World Poker Tour (WPT) already knows how to navigate at-sea poker tournaments thanks to its WPT Cruise events, and is now adding new options for players who like to travel. Virgin Voyages is set to launch a new WPT experience on its Scarlet Lady cruises.
Departing from Miami on four- and five-night sails, the vessel will offer a permanent WPT at Sea Poker Room, boasting eight poker tables manned by expert dealers and offering various activities for poker enthusiasts, such as training, bonus games, and satellites. There will also be WPT tournaments, with buy-ins ranging from $80 to $320. A WPT at Sea main event with a $320 buy-in will take place during every cruise.
There will be a WPT Prize Package valued at $5,000 in the main event, which can be used for any WPT event or a Virgin cruise. However, there's a catch – the package won't be available unless the event draws enough participants. A press release on the launch didn't specify the minimum required.
Southeast Asia Gets New Events
PokerStars took its Asia Pacific Poker Tour (APPT) to Cambodia for the first time last year, where the series proved to be highly successful. Competing for players is the long-standing Asian Poker Tour (APT), which announced new stops this year as it continues to enjoy success in the region as well.
The APT, which will hold its Taipei series beginning this weekend, announced three new stops this year, giving it six on the schedule. The new stops include two in Vietnam — the APT Summer Series Hanoi at Grand Loyal Poker Club from May 26 to June 4, and the APT Summer Series Da Nang at Furama Resort. The latter runs from July 21-30.
Joining these will be a stop in South Korea at the Paradise City resort. The APT Incheon event will take place from August 25 to September 3.
Vietnam proved to be a success for the APT last year, and the tour hopes to build on its previous experience.

The APT said new additions to its schedule will replace the APT Ho Chi Minh 2023 event. The organization said it had to postpone that series "until there is greater clarity on the regulatory climate," but didn't provide clarification.