Tennis Launches Major Review of Anti-Match Fixing Measures in Wake of Leaked Reports
Posted on: January 28, 2016, 07:11h.
Last updated on: January 28, 2016, 09:16h.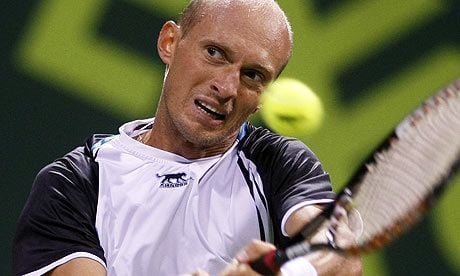 Tennis' top brass has launched an investigation into the effectiveness of the sport's anti-corruption measures, after damning documents were leaked recently that allege widespread match-fixing problems at even the highest levels of the industry.
Documents passed to the BBC and Buzzfeed News two weeks ago by anonymous whistleblowers reported that 16 top-level players, who remain unnamed by both media outlets, are strongly suspected of throwing matches over the past decade.
These players have all ranked in the top 50 in the world, among them Grand Slam title winners, said the BBC.
The Association of Tennis Professionals (ATP), World Tennis Association, International Tennis Federation and Grand Slam Board are all behind the initiative, which seeks to reaffirm tennis' commitment to integrity, while examining the efficacy of the Tennis Anti-Corruption Programme.
It will also review the processes and resources of the Tennis Integrity Unit (TUI), a body that came under criticism from the BBC and Buzzfeed. The leaked reports claimed the players in question had been repeatedly flagged to TUI, but no punitive action appears to have been taken.
Davydenko vs. Arguello
The documents provide details of a 2008 investigation into the link between players and various international gambling syndicates at the behest of the ATP. Investigators identified 28 players in all, who they suspected had links to three syndicates that had made hundreds of thousands of dollars betting on games.  
It came out last week that the 2007 investigation had been sparked by a suspicious match between Russian Nikolay Davydenko and Argentine Martin Vassallo Arguello.
So suspicious, in fact, that Betfair took the unprecedented measure of voiding all bets on the game, including the millions that had been bet on the overwhelming underdog, Arguello, from a Russian account. Large bets were still being placed on Arguello, even when he was two sets down.
Recalling the incident to the BBC, Mark Davies, managing director of Betfair, said that he had just left for a meeting with a top UK politician when his phone rang.
"It was our legal director," Davies recalled, "and he said to me, 'We have got the worst tennis match that we have ever had on the site.' "
Ten Times Usual Amount Wagered
Sure enough, Arguello won the match, after his opponent developed a sudden injury and bowed out in the final set.
Some $7 million had been wagered on the match via Betfair, over ten times the amount the betting exchange would have anticipated.  
"Tennis remains one of the leaders in integrity," read a statement from the sport's governing bodies this week. "We have a zero-tolerance approach to all aspects of corruption and all of us are absolutely committed to rooting out corruption whatever it takes.

"The environment for all major sports, including tennis, has changed dramatically over the past eight years and combined with issues raised in the media, we believe now is the right time to review how we continue to fight corruption in the game."