Table Games Beat Out Baccarat as Nevada Revenues Drop for February
Posted on: April 2, 2014, 05:30h.
Last updated on: April 1, 2014, 10:18h.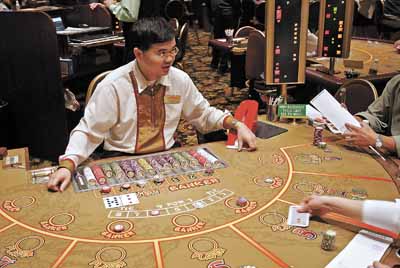 It's hard to beat a record – and once you do, it's even harder to do it a second time. That was the problem facing the state of Nevada in February, as they had set an all-time record in baccarat revenue in the same month last year, leading to the highest revenues the state had seen in any month over the last five years. It was a difficult target to hit again, and in the end, nobody was surprised when they fell short.
Nevada casinos saw year-over-year revenues fall 13.7 percent in February, as they simply couldn't keep up with the pace they set in 2013. After last year's record baccarat take, this year saw the Chinese New Year crowd find better luck at the high-end tables, which was enough to ensure that the state wouldn't be setting a second consecutive record for that usually popular high-roller game.
Downward Dip
Overall, the state brought in $926 million via casino gaming in February, compared to $1.073 billion last year. The Las Vegas Strip alone took a larger dip, going from $696.1 million down to $555.7 million this February, a decline of over 20 percent.
While the casinos still managed to win at baccarat – that's no surprise – both the hold percentage and the total win were down significantly. A total of $1.3 billion was wagered on the game during the month, down 19.1 percent from last year.
While the decline may seem ominous, experts say that the numbers are actually strong as long as they're not compared to last year's amazing haul.
"All in all, it was a good revenue month," said Michael Lawton, senior research analyst for the Gaming Control Board. "But it was just a tough comparison.
First Online Poker Figures Released
With a third online poker site opening recently in Nevada, the state finally reached the threshold for reporting revenues from the sites separately from overall land gambling revenues (until now, they had simply been part of the final numbers). The Gaming Control Board reported that casinos made $824,000 in revenue from online poker in February. In total, the sites have generated about $8.5 million over the ten months since the first site (Ultimate Poker) opened. It's a small amount, but not a surprising one for a state with a small population that has just started offering the online games, and only poker at that.
"It's in its infancy," Lawton said. "We'll see what happens."
Macau Revenues Continue to Rise
While Las Vegas may be struggling to keep up with their 2013 numbers, Macau continues to enjoy strong results. This week, it was announced that the region took in $4.4 billion in gambling revenues during March, the third-highest figure ever recorded there. That was good for a 13 percent year-over-year increase, higher than expected by most analysts.
The March revenues for Macau were actually down from February. Like Nevada, Macau benefits from the Chinese New Year holidays – and obviously even more so given their mostly Chinese gambling base – and casinos there took in a total of $4.8 billion in February, once again exceeding the expectations of analysts who thought growth in the region might finally start slowing down.
Macau's continued growth has been fueled by increased gambling by China's ever-growing middle class, as well as many transportation improvements, making access from mainland China much easier for the masses. That has helped casinos there achieve a more balanced customer base, as they had previously relied almost entirely on VIP clients to drive profits.