DraftKings, FanDuel Benefit from Taylor Swift-Inspired Kelce Prop Bets
Posted on: October 3, 2023, 10:45h.
Last updated on: October 3, 2023, 06:55h.
Following two weeks of what feels like nonstop coverage of Kansas City Chiefs tight end Travis Kelce's new romance with pop star Taylor Swift, football fans are likely tired of Chiefs broadcasts bordering on episodes of Access Hollywood. But sportsbook operators are loving it.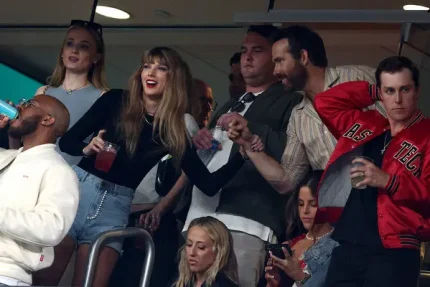 During week four of the NFL season, the Chiefs battled the New York Jets on "Sunday Night Football," a primetime slot ideal for more Swift chatter. She attended the game, her second in as many weeks, and FanDuel and DraftKings took advantage, offering a slew of Kelce prop bets, some drawing inspiration from Swift herself.
Standard player prop wagers on the NFL can include anything from anytime touchdowns, over/under on receiving yards, or whether or not a quarterback throws an interception. DraftKings hammed it up, offering a prop bet on Kelce to notch a reception of at least 22 yards, an ode to Swift's 2012 hit single "22."
Taking things a step further, the odds on that bet were +222 (bet $100 to win $222). It was a winner for DraftKings as Kelce's longest catch against the Jets was 16 yards.
Swift Effect is Real for DraftKings, FanDuel
In terms of non-quarterbacks, Kelce is one of the more recognizable players in the NFL. He's got a big personality, a well-documented personal life before Swift, and professional accolades, including two Super Bowl rings, to back it all up.
His relationship with Swift appears to be taking things to a new level, to the delight of sportsbook operators, including FanDuel and DraftKings. DraftKings reported that on Sunday, Kelce prop bets drew twice as much money as the prior two weeks combined. After the "22" prop, the most popular Kelce prop was to score a touchdown, which he didn't do.
FanDuel told Forbes that it saw a 149% week-over-week increase in wagers that Kelce would score a touchdown and that his props were 14% of the money bet on the platform on Sunday.
The tight end's fresh romance with the pop icon aside, the surge in betting action on Kelce on FanDuel and DraftKings is noteworthy because those are the two largest online sportsbook operators in the US, controlling about 70% of the market.
Swift Effect Part II
The Taylor Swift effect may be playing out in another way. Her legions of fans, known as "Swifties," appear to have newfound interest in wagering on the NFL because her current beau is a football star.
That could benefit gaming companies looking to draw more women to sports betting because most of Swift's avid fans are women, and 45% of them are in the 27-42 age range, meaning they can legally wager.
Gaming companies looking to capitalize on the Kelce/Swift romance might need to brace for a short shelf life. Dating back to 2008, she's had 17 documented relationships, including Kelce, most of which lasted a matter of months, according to Elle.