Sphere to Display F1 Las Vegas Grand Prix Real-Time Pole Positions
Posted on: November 15, 2023, 02:37h.
Last updated on: November 15, 2023, 07:20h.
Sphere Entertainment (NYSE: SPHR) announced on Wednesday that F1 will display real-time pole position during the race on Saturday night, in addition to driver helmets, and a "custom podium moment" that will celebrate the race's winner.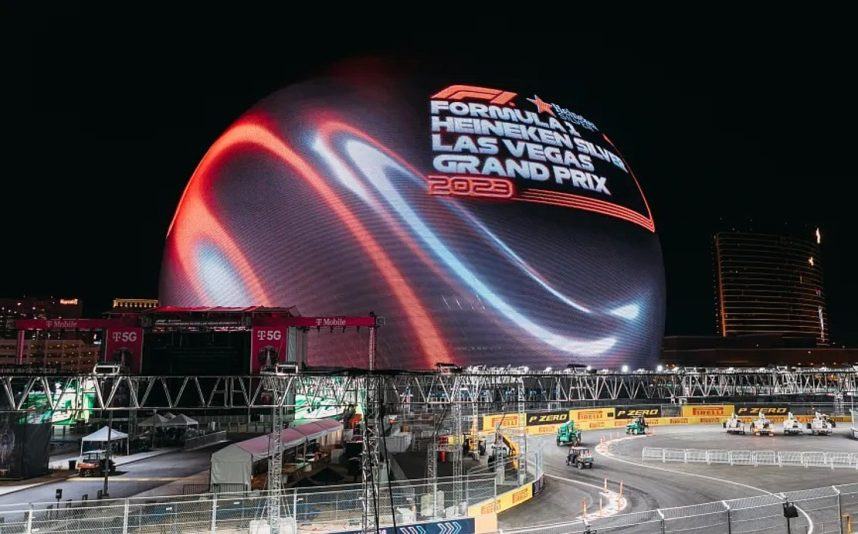 On Tuesday, the Sphere held a practice run displaying live cues in response to a sporting event when it displayed the Netflix Cup golf tournament, which was held in Las Vegas. It was also a practice run turning over control of the world's largest LED display to a third party.
Since the Sphere flicked on the Exosphere on July 4, it has controlled all of its content.
"Sphere's Exosphere doesn't just complement the Las Vegas Strip Circuit, it elevates it to new heights, turning every lap into a mesmerizing experience for fans in attendance and watching on TV globally," said Emily Prazer, chief commercial officer for Las Vegas Grand Prix, Inc., in a statement. "Picture real-time pole positions, thrilling podium celebrations, and a dynamic showcase of all 20 drivers and their iconic cars displayed larger-than-life. We are excited to have Sphere at the heart of race weekend."
Larger Than Life
According to F1, the display will show cards featuring all 20 drivers and their cars in a "larger-than-life form." The Sphere will also transform into helmets from each driver that can serve as selfie backdrops.
The company also announced that opportunities for fans to see their own faces projected on the Sphere will present themselves, though it did not get into specifics.
"This is one of the world's premier sporting events, and we are ready to showcase Sphere to our global audience via F1 — both in person in Las Vegas and watching around the world — demonstrating the unparalleled technological and creative capabilities of the Exosphere," said Joel Fisher, executive vice president of marquee events and operations for MSG Entertainment.