Soloviev Reworks East Side Manhattan Casino Plan to Include Affordable Housing
Posted on: October 19, 2023, 03:34h.
Last updated on: October 19, 2023, 04:01h.
The Soloviev Group has gone back to the drawing board for its proposed integrated casino resort on the East Side of New York City's Manhattan. Gone is the formerly suggested Ferris wheel and in is a pledge by the would-be developer to offer more than 500 affordable housing units that would be offered permanently below market-rate rents.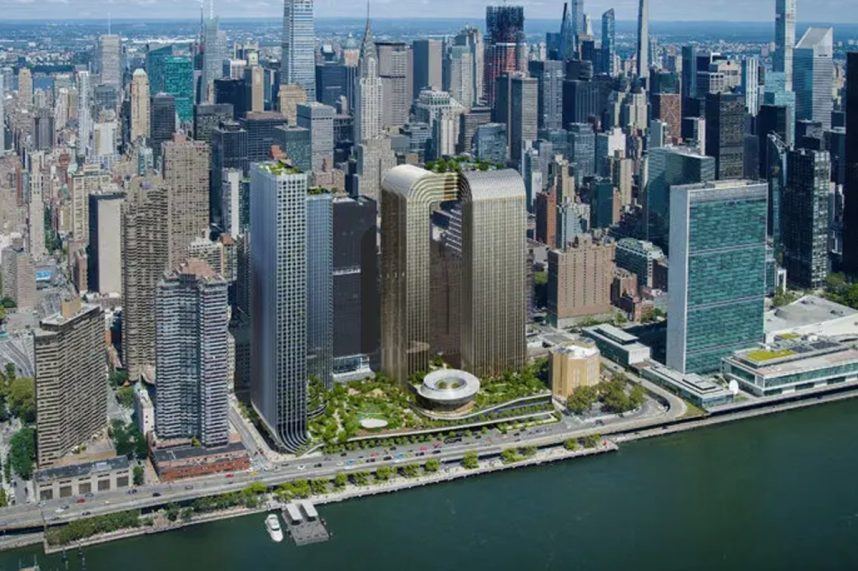 The Soloviev Group is controlled by billionaire Stefan Soloviev, who inherited his fortune from his late father, Sheldon Solow. The younger Soloviev opted to use his family's ancestral spelling.
Sheldon was a New York real estate tycoon. Along with the firm's 9 West 57th St. skyscraper that overlooks the Plaza Hotel and Central Park, Soloviev's inheritance included a 6.7-acre undeveloped piece of land just south of the United Nations Headquarters. Located between 38th and 41st streets between 1st Ave. and the FDR Drive, Soloviev has since been dubbed the land "Freedom Plaza."
Soloviev, who has enjoyed his own business successes through investments in real estate, railroads, and farming, wants to make his next bet in the US gaming industry. His firm is readying a casino pitch that will compete with nearly a dozen others to secure one of the three downstate gaming licenses that New York state officials will issue sometime next year.
New Concept
The Soloviev Group this week unveiled an updated scope of its casino pitch. The design is significantly different than the original blueprint, which included a large Ferris wheel as a focal point.
Following local feedback, Soloviev tossed the Ferris wheel and reconfigured the resort outline.
The latest design includes two champagne-colored hotel towers featuring 1,200 rooms. A slightly taller skyscraper would be a residential complex on the southern end of the property.
The residencies would number 1,325 units, with 513 reserved for affordable housing programs. Only renters making an average of 80% or less than the area's median income would qualify to rent the occupancies. The studios, one-, two-, and three-bedroom units would be permanently rented below the going rates of comparable apartments.
Soloviev Group CEO Michael Hershman told The New York Times that the affordable housing component would help ease the city's worsening housing crisis.
"We're not required to do it," Hershman said of the rent-controlled units. The Soloviev Group chief executive said a casino would allow the company to offer the affordable housing in a prime midtown location. But without a casino space, the offer would be rescinded, Hershman explained.
Along with the hotel towers and residential structure, the Soloviev casino plan includes a "democracy museum" and a public green space.
In the meantime, Soloviev is preparing a public art installation on the property. Internationally acclaimed artist Bruno Munro will soon place over 17K low-light, fiber-optic stemmed spheres to create "a painted landscape framed by the city's iconic skyline and the East River waterfront."
Wooing Residents, Government
Soloviev is presumably smart in offering affordable housing to sweeten the casino pitch in what's a crowded bidding pool. Soloviev is partnered with Mohegan, the gaming unit of the Mohegan Tribe in Connecticut, for his Manhattan project.
Soloviev certainly isn't the only bidder trying to lure over city residents and government officials with community benefit pledges. Many casino firms finalizing their resort plans have touted the economic and social benefits of allowing their visions to come to reality.
92-year-old billionaire Larry Silverstein has also included affordable housing in his Midtown casino plan. Silverstein has suggested building a casino on undeveloped land he owns located across from the Javits Center at 41st St. and 11th Avenue.
Silverstein's plan includes 1,000 hotel rooms in two 46-story hotel towers. If his project is greenlit, the billionaire has pledged to build at least 100 affordable housing units around the casino.