Singapore Summit Success: Donald Trump, Kim Jong Un Kiss and Make Up, Sheldon Adelson's Marina Bay Sands Hosts North Korean Leader in Singapore
Posted on: June 12, 2018, 08:55h.
Last updated on: June 12, 2018, 09:08h.
US President Donald Trump and North Korean leader Kim Jong Un held their historic face-to-face Singapore Summit Tuesday morning at Capella Hotel on Sentosa Island. Both sides said the meeting was successful.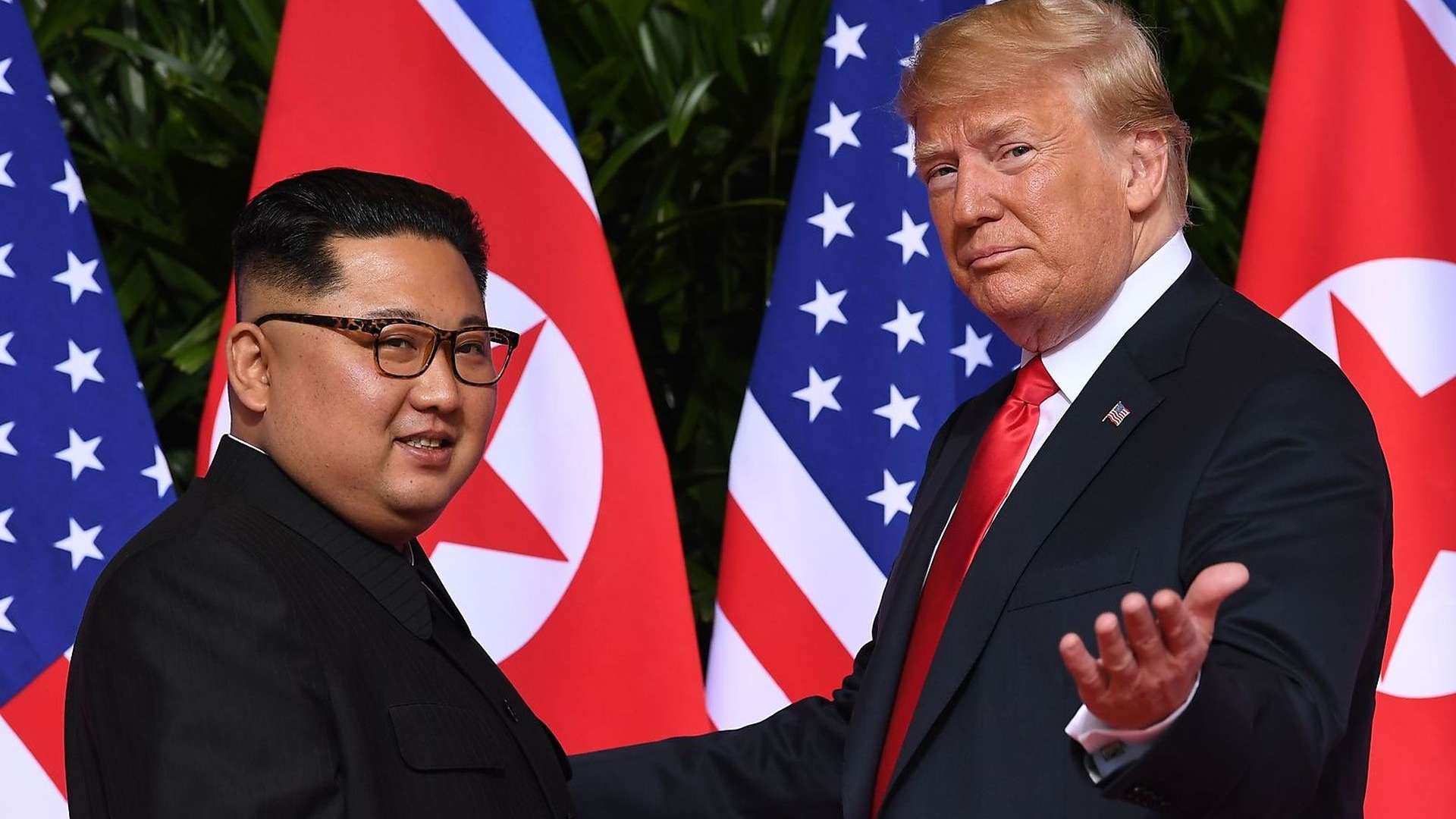 The man who had once said his nuclear button was "much bigger" than North Korea's seemed to back that up, as Kim — who just months ago was regularly testing missiles on an almost daily basis — seemed to back down substantially at the meeting.
And Trump — who just last November jeered at Un on Twitter while saying in the same tweet that "I try so hard to be his friend – and maybe someday that will happen!" — has apparently done just that, at least in the name of world peace.
We have developed a very special bond," Trump said of Kim on Tuesday, following their meeting. "I think our whole relationship with North Korea and the Korean Peninsula is going to be a very much different situation than it has been in the past."
Trump and Kim mutually signed an accord that indicated a major step forward between the two previously hostile nations.
New Directions
Trump had put a visa ban on Americans even setting foot in North Korea following the death of Otto Warmbier last year. The president said at a press conference today that the young Ohio student "did not die in vain" and that "I think without Otto, this would not have happened": the summit was scheduled to coincide with the one-year anniversary of Warmbier's release from a North Korean prison camp, albeit in a coma.
Warmbier never recovered, and died shortly after his return home. At Tuesday's summit, the two leaders agreed to new directives aimed at stabilizing the Korean Peninsula and working towards "complete denuclearization" of North Korea. Unspecified American aid in working towards a better economic landscape for the Hermit Kingdom was offered in return.
Kim's Marina Bay Sands Pit Stop
The evening before the summit, Kim — who famously almost never sets foot outside of North Korea and who brought everything from his own toilet to an air-shipped limousine to the meeting — went on a tour of downtown Singapore.
His trip included a stop at Marina Bay Sands, the multibillion dollar integrated casino resort owned by GOP mega-donor Sheldon Adelson's Las Vegas Sands Corp.
Several news outlets in both North and South Korea had previously reported that Kim hoped for assistance from the US in building a casino resort with the goal of creating a tourism base for his country's badly ailing economy. The Marina Bay is one of Sands' top-producing casinos, along with its Macau venues, so Kim got to see what a successful gaming venue looks like for perhaps the first time in his life.
Constructed at a cost of $8 billion — at the time, the most expensive casino resort ever built — Marina Bay Sands is a 2,561-room property that features over 1.3 million square feet of convention space, 800,000 square feet of retail shops, and casino with 1,600 slots and 500 table games.
One of the most popular and photographed areas of the resort is the rooftop infinity pool. Kim and his entourage enjoyed the "nocturnal bird's-eye view" from the "observation platform," as North Korea's Korean Central News Agency (KCNA) reported.
He said Singapore is clean and beautiful and every building is stylish," KCNA further explained. "He is going to learn a lot from the good knowledge and experience of Singapore in various fields in the future."
White House Invite?
Online betting shop Paddy Power had an assortment of novelty bets offered prior to the Singapore summit.
Trump wore a red tie, which was the odds-on favorite at 1/3. The meeting happened, which also went with the favorite against a question asking if the showdown would be abruptly canceled (12/1).
Shares on political betting market PredictIt are responding to the talks.
"Will Trump meet with Kim Jong Un at the White House in 2018" has gone from "Yes" shares at 28 cents on Monday, to 49 cents less than 24 hours later. The exchange's market on whether Kim will still be in power at the end of the year has ticked up one cent to "Yes" at 90 cents.