Sheldon Adelson Delivers Keynote at G2E Gambling Summit
Posted on: October 3, 2014, 07:48h.
Last updated on: October 3, 2014, 07:58h.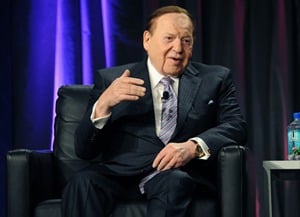 The G2E Expo in Las Vegas was a gaming industry celebrity hub this week, with Las Vegas Sands CEO Sheldon Adelson delivering the keynote address. Not surprisingly, he used the platform to reaffirm his position against online gambling, as well as discussing topics such as Macau, Atlantic City and casino expansion in the US in general.
With many members of the online gambling sector present, Adelson, who appeared to be answering scripted questions, reiterated his belief that online gambling cannot be effectively regulated to protect children and that it unfairly targets poor people.
"I just don't see any compelling reason to put a casino in 318 million hands," he explained, adding that the proliferation of mobile devices and tablets has made it too easy to access iGaming sites. His two- and three-year-old grandchildren, he said, "are better at operating mobile devices than he is.
"Just because it's happening now isn't a justification for legalizing Internet gaming," he continued. "It's not a states' rights issue; the Internet is all over the country."
Baazov in the House
Earlier in the week, PokerStars' new owner, Amaya CEO David Baazov was in town, but not to talk poker. Baazov took part in a panel discussion on the health of the slot machine industry, addressing concerns that the new generation of Las Vegas visitor eschews slot machines for other forms of entertainment. Baazov was positive about the industry, but felt that adaption and innovation were key to keeping the millennials interested.
"In terms of millennials, statistically, young adults are more likely to play slots," he said. "[But] there needs to be a healthy mix, and slots have to be more entertainment-centric. It's an increased demand from the customer that is driving us to innovate."
"We have to make products that are relevant to the players," agreed International Game Technology CEO Patti Hart. "We're the only industry that spends all our [research and development] dollars before a customer can play a game."
Words of Caution
Meanwhile, during a separate debate, Mark Yoseloff, former chief executive of gaming equipment maker Shuffle Master Inc and executive director of the Center for Gaming Innovation at the University of Nevada, cautioned the industry over the increasing cost to the customer of playing slot machines.
"Twenty years ago, the cost of playing a quarter slot machine; quarter video poker; or 10-dollar blackjack [machine] was all the same," he said. "It was roughly US$15 to US$20 per hour on average. That was the same cost as going to a movie then buying popcorn and having a soda; and the same cost as going to a family-style restaurant and having a meal. Now, fast forward 20 years… it would cost… maybe US$250 [for two hours] on average.
"We forget sometimes we're in the entertainment business. We're not in the blood-letting business, we're not in the 'Give me all your money as fast as possible business'…," he added.
Economic Impact Study
Elsewhere, the American Gaming Association (AGA) was on hand to deliver the results of a new study that attempts to quantify the economic benefits of the casino industry in America. In 2013, according to the study, US casinos had a $240 billion economic impact, employed 1.7 million people and paid $438 billion in taxes. The study included spending and revenue that might be indirectly connected to a casino, such as a tourist who visits an area for a casino, but also spends at a local gas station.