Scott Walker Announces Presidential Bid
Posted on: July 14, 2015, 03:39h.
Last updated on: July 14, 2015, 03:50h.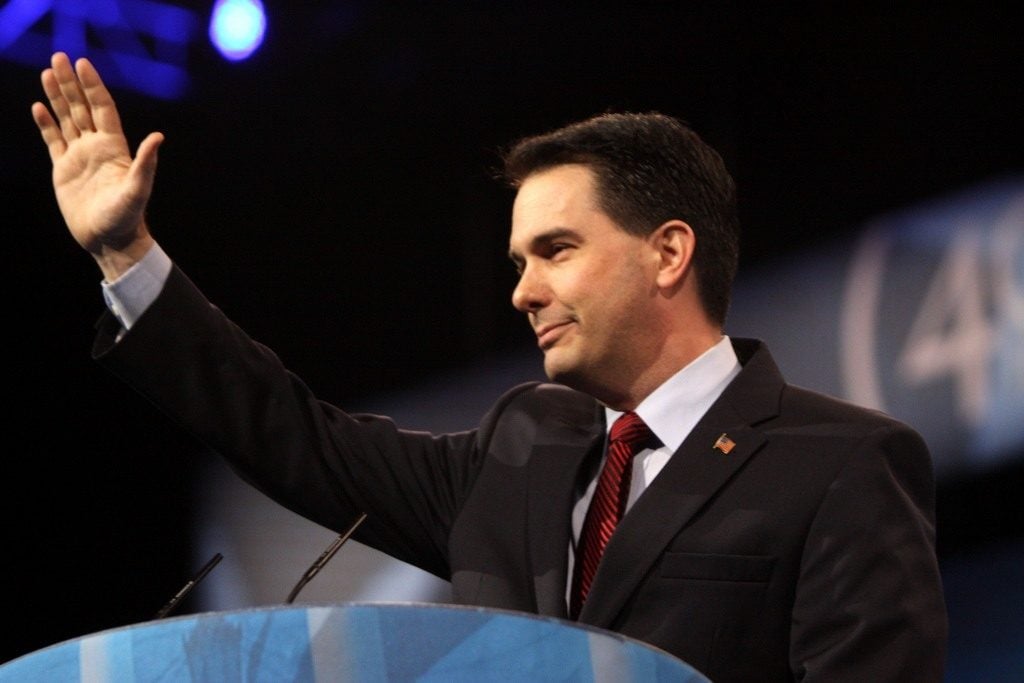 Scott Walker threw his hat into the Republican political ring on Monday, officially announcing that he will be seeking the GOP nomination for President of the United States in 2016.
Walker, currently serving as the governor of Wisconsin, made his announcement to a crowd of about 5,000 supporters in Waukesha, Wisconsin.
Walker is a polarizing national figure who has emerged from relative obscurity to become one of the better-known figures in the Republican Party over the past four years.
Much of his fame comes from a 2012 recall vote in which he nearly lost his position as governor after he took dramatic steps to fight unions in Wisconsin, a move that generated plenty of controversy in the blue-collar state as well as throughout the rest of the country.
Walker Focuses on Conservative Credentials
In his first campaign speech, Walker played up his battles against public unions, in which he took away much of their rights to collectively bargain.
He also made an effort to highlight his conservative credentials, talking about how he defunded Planned Parenthood, enacted voter identification laws, and brought concealed-carry gun laws to his state.
Walker also spent time on another topic sure to play well with GOP primary voters: his distaste for the federal government.
"I believe you can spend your money far better than the federal government," Walker said. "And when we do, the economy will get a whole lot better."
If former Florida governor Jeb Bush is the early leader in the Republican nomination race, then Walker is likely seen as holding the second position.
A post-announcement surge for Donald Trump aside, Walker has been near the top of most national polls; while Bush has opened a clear lead on the field, Walker is at the top of the pack of candidates chasing him, a group that includes Trump, Florida Senator Marco Rubio, Dr. Ben Carson, former Arkansas governor Mike Huckabee, and Senator Rand Paul of Kentucky.
Walker is Early Favorite in Iowa Caucus
But of all of those candidates, many believe that it is Walker who has the easiest path to the nomination. And to understand why, it is important not only to look at national polls, but also at where the candidates stand in the early caucuses and primaries.
Walker currently holds a significant lead in most Iowa polls, typically drawing about 18 percent of GOP voters, while Bush, Paul and Huckabee sit around 10 percent.
Bush holds the lead in New Hampshire, but Walker and Trump are in a close race for second. With most pundits doubting the long-term viability of the Trump campaign, that would leave Walker and Bush in the strongest positions, at least for now.
Online gambling hasn't been a particularly prominent issue for Walker, so it is hard to say exactly where he would stand on the Restoration of America's Wire Act.
However, he has had meetings with Las Vegas Sands chairman and CEO Sheldon Adelson (the leader of the efforts to ban online gambling in the United States), and has received campaign contributions from him in the past.
Perhaps Walker's highest-profile gambling decision came earlier this year, when he rejected a bid by the Menominee Tribe to build a Hard Rock Hotel & Casino in Kenosha.
Walker said the decision would protect Wisconsin taxpayers from having to compensate the Potawatomi Tribe for losses at their casino should a new facility be built, while casino supporters said that the new facility would have brought desperately needed jobs into the state.