Kentucky Wildcats Still Big Favorite Heading Into Sweet Sixteen
Posted on: March 26, 2015, 01:19h.
Last updated on: January 12, 2023, 11:40h.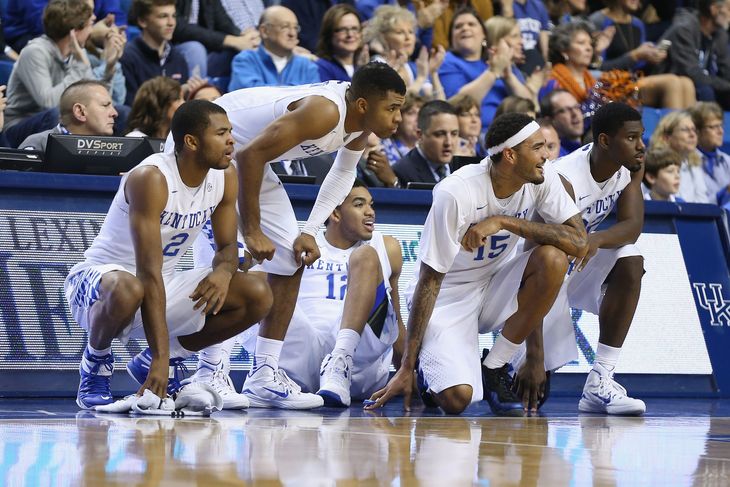 March Madness started with some major upsets and a few exciting buzzer beaters, but most of the favorites are still in the field heading into the second weekend of the NCAA Basketball Tournament.
That means that heading into the Sweet Sixteen, it's still the Kentucky Wildcats that are the odds-on favorite to walk away with a national title and an undefeated season when the tournament wraps up next weekend in Indianapolis.
True, the Wildcats didn't look their best in their second-round 64-51 victory over the Cincinnati Bearcats, a game that saw Cincinnati hold a lead for the first 17 minutes before Kentucky began to take control.
But a single reasonably close game against a decent team isn't going to move the needle much for bookmakers, and Kentucky is still considered an even money (give or take a bit either way) favorite to take down the title.
West Virginia Confident Heading Into Kentucky Clash
Of course, there are plenty of teams out there that think they can give Kentucky a game. The Wildcats' first test will come Thursday night, when they take on the West Virginia Mountaineers, the 5th seed in the Midwest region. And while Kentucky enters the game as a 13.5 point favorite, West Virginia certainly isn't counting themselves out yet.
"I give them their props," said West Virginia freshman Daxter Miles Jr. on Wednesday. "Salute them to getting to 36-0. But tomorrow they're gonna be 36-1."
Arizona, Duke, Gonzaga, and Wisconsin Among Remaining Contenders
At this stage of the tournament, nobody will get an opponent they can simply walk over, and the other favorites in the tournament will also face tests in the rounds to come. Arizona, a 13/2 second choice to win the championship with many bookmakers, takes on Xavier Thursday night. Should they win, they would then have to take on the winner of Wisconsin vs. North Carolina; Wisconsin is the top seed in the West Region, and an 8/1 pick to win the tournament.
Two other contenders are still alive in the South Region, where the next games will be played on Friday evening. Top seed Duke will take on Utah, while second-seeded Gonzaga will have to contend with traditional powerhouse UCLA. Duke is essentially a joint second-choice to win the tournament along with Arizona at about 13/2 odds, while Gonzaga can be backed at about 11/1.
Wichita State Could Get Rematch with Kentucky
Of course, March Madness is all about the surprising Cinderella stories, and there are still a couple of smaller schools with hopes of playing spoiler in the tournament. Perhaps the most compelling of these teams is Wichita State, which taxes on Notre Dame Thursday evening.
The Shockers are a two-point favorite heading into that matchup, and are considered a 25-1 underdog to win a national championship. Should Wichita State win, they'd get Kentucky in the quarterfinals: a rematch of a 78-76 win by Kentucky in the Round of 32 last year, in which Kentucky ended Wichita State's dream of an undefeated season.
For those looking for even more March Madness, the Women's National Championship is also heading into its Sweet Sixteen this weekend, though it had an even more dominant favorite than the Kentucky men. The Connecticut women's team is the overwhelming choice to win a national title this year: they'll enter their next game against Texas as a 28.5-point favorite, and FiveThirtyEight.com estimates that UConn has a 77 percent chance to win the entire tournament.