Sardi's Owner Says Times Square Casino Would Stack Odds Against Theater District
Posted on: January 3, 2023, 11:13h.
Last updated on: January 3, 2023, 01:07h.
Sardi's is a Broadway institution in Manhattan's Theater District. But the famed restaurant's owner, Max Klimavicius, doesn't want a casino coming to the district.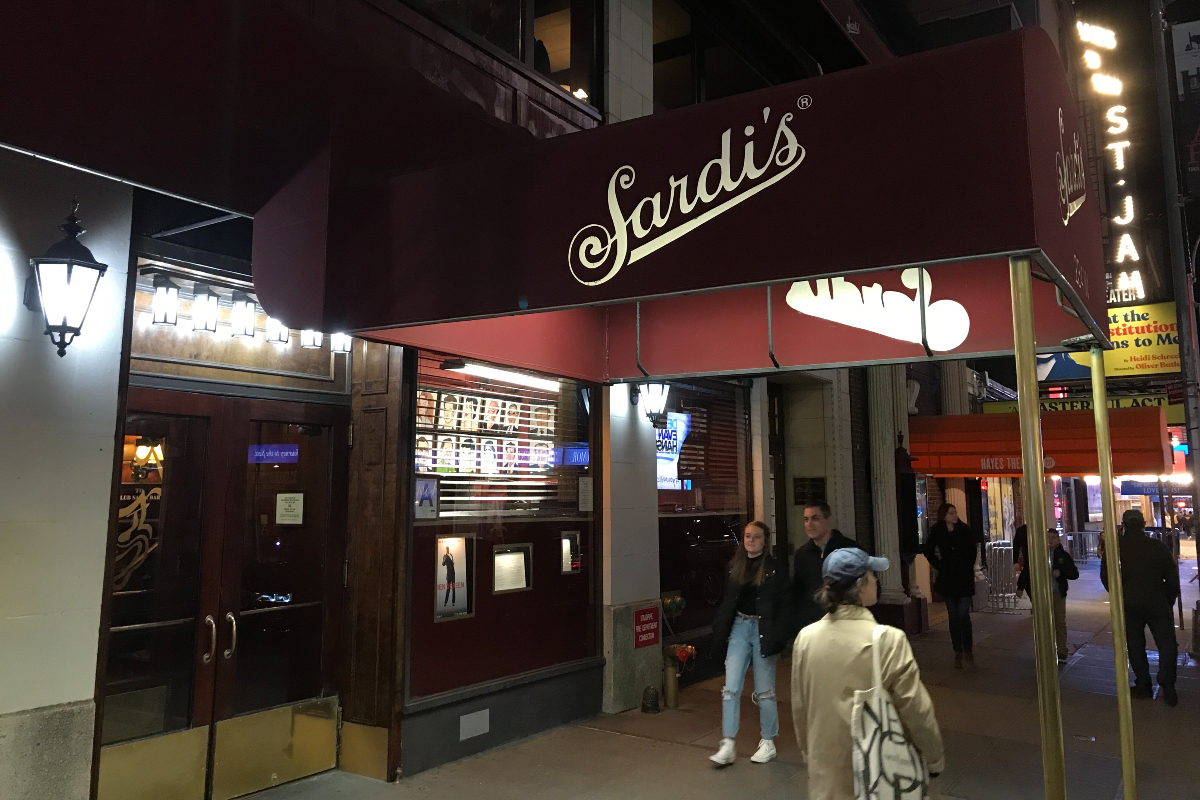 1515 Broadway in Times Square is being targeted for a casino development by Big Apple real estate giant SL Green in a partnership with Caesars Entertainment. Times Square — the "Crossroads of the World" — is within New York's Theater District in Midtown Manhattan.
Klimavicius says a casino is the last thing the Theater District needs. He opined in an op-ed published today in the New York Daily News that allowing gambling in Times Square would be "a losing bet."
Klimavicius says he's "still haunted" by the 648 days that his business was forced to shutter amid COVID-19. The man who has owned the iconic Theater District establishment since the 1990s says theater audiences are beginning to return following the pandemic.
But allowing a casino to open in Times Square in the coming years, Klimavicius opined, would threaten many small businesses, including restaurants. Klimavicius says these eateries are essential to the quintessential Broadway experience.
These restaurants are where families gather in joyful, pre-theater anticipation, where dates begin, and where dramas and musicals are discussed over dessert and a nightcap after the curtain comes down. 'Dinner and a show' are part of the lexicon of practically every New Yorker and visitor," Klimavicius wrote.
"No matter how much emphasis promoters try to place on glitz and glamour, a casino in Times Square has the potential to jeopardize the character of the Theater District and the fate of its restaurants," Klimavicius continued.
Casinos Self-Containing
Klimavicius says many backers of a Times Square casino frequently cite the jobs that such a resort would create. But the Sardi's owner reasoned that those jobs will be created whether the casino is built in Times Square or somewhere more remote.
"There are significant reasons why most casinos in the United States aren't located in the middle of heavily populated areas (and certainly not in an area as heavily populated as Times Square). For one thing, casinos clearly bring the most benefit to areas where there are no existing businesses to devour," Klimavicius stated.
By design, casinos are self-contained, with their own restaurants and shops to keep gamblers in the casino," he wrote.
"All restauranteurs understand that, even in the best of times, the odds of success are against them. But as we continue to get back on our feet in what is hopefully the aftermath of COVID, the last thing we need is to go against a house that plays with marked cards. And that's what the prospect of a casino in Times Square feels like," Klimavicius concluded.
Economic, Security Benefits
Supporters of a casino in Times Square believe such a development could help reenergize New York City's local economy. Former NYPD Commissioner William Bratton, who is consulting SL Green/Caesars on its development, also believes a casino could help reduce crime in Times Square, which escalated greatly during the pandemic.
The project has the backing of the "Coalition for a Better Times Square," which is comprised of theater workers, construction unions, hotels, and small businesses.
New York legalized seven commercial casinos in 2013, with four allocated upstate. The 2013 law provided the upstate casinos with an operating period free of downstate competition. That moratorium expires this year.
Two of the three downstate licenses are likely to go to Resorts World New York City in Queens and Empire City Casino in Yonkers. The racinos currently can only operate video lottery terminals and electronic table games.