Coney Island Community Board Opposes $3B Casino: 'We Don't Want It'
Posted on: May 1, 2023, 07:00h.
Last updated on: May 5, 2023, 05:07h.
Coney Island residents are mulling whether supporting a $3 billion casino resort proposed for the Brooklyn beach town is in the community's best interests. But a powerful group of government-appointed members says the development would diminish the quality of life in the neighborhood best known for Nathan's Hot Dogs' annual hot dog eating contest, the Wonder Wheel Ferris wheel, and the Cyclone roller coaster.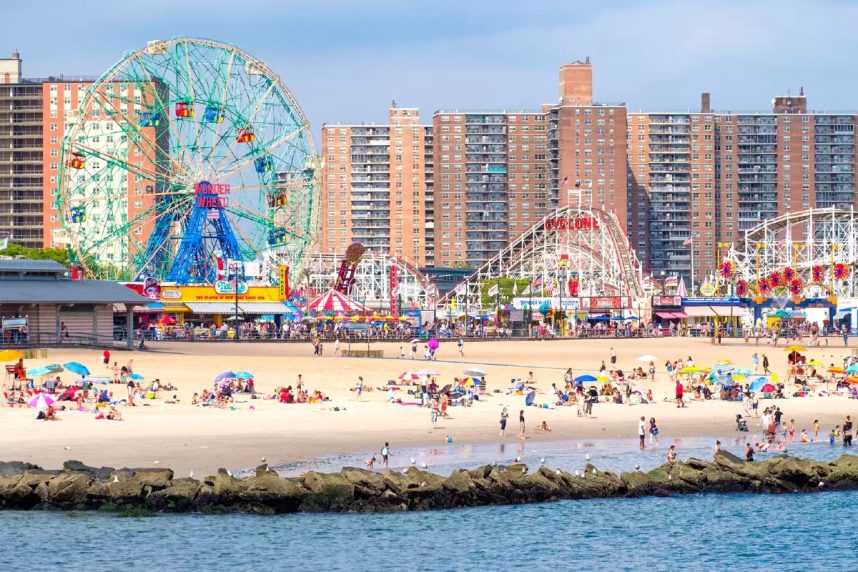 Community Board 13 is one of 59 community boards in New York City. Each local board comprises unsalaried members who borough presidents appoint in consultation with borough council members. Community board members must reside and/or work in the community they represent. Community boards serve borough districts in advisory roles and most often consult on land use and zoning matters.
Coney Island's Community Board 13 recently weighed in on the proposed $3 billion casino, a resort concept pitched by a consortium led by New York real estate giant Thor Equities. That group includes Saratoga Casino Holdings, the Chickasaw Nation, and Legends Hospitality.
Thor's casino consortium wants to construct a gaming resort called "The Coney" at Surf and Stillwell avenues on roughly five acres of land that Thor owns. But during a meeting last week, Community Board 13 members voted on a resolution that opposes the casino.
We're already drowning in traffic half of the year. Now, you want to bring more traffic in. We don't want it," said CB13 Chair Lucy Mujica Diaz.
The resolution passed by a vote of 23-8.
Community Opposition
The board's official nonbinding resolution cited typical concerns about legalizing casino gambling, including the potential for increased crime and other societal drains.
The Community Board's stance has no legal bearing, nor can it singlehandedly halt the casino. But at least one Brooklyn counselor shares CB13's opinion that a casino is best suited elsewhere.
"I completely agree with the overwhelming opposition from the community in Coney Island," commented Brooklyn Councilman Ari Kagan, who represents Coney Island. "I hear this is not just in Coney Island but all over southern Brooklyn. The overwhelming majority of people I talk to are against the casino."
Community Support
The casino developers say the CB13 resolution is premature. Officials with the consortium say they've canvassed the Coney Island community and have already garnered more than 3,300 signatures supporting the project.
New Yorkers know a good deal when they see one, and that's why after going door to door and business to business, we've received more than 3,300 signatures from the community in support of the gaming and entertainment venue," a statement from the consortium read. "A gaming and entertainment venue on Coney Island is going to bring year-round jobs, create economic opportunities, improve public safety, help small businesses, and revitalize an iconic community looking to build a brighter future."
The consortium added, "Any judgments about this project … before the full details and community benefits agreement are finalized  is premature, shortsighted, and leaves the community struggling with the very same issues around unemployment, infrastructure, and public safety that it currently bemoans."
Plenty of Competitors
New York's 2013 commercial gaming law authorized four upstate casinos and three downstate, defined as New York City, Long Island, and the Lower Hudson Valley. The 2013 law provided a 10-year delay for the state to issue the downstate licenses to give the four upstate properties time to build their customer bases and lure downstate residents north.
Numerous developers are betting big on securing one of the three coveted downstate licenses. But only one concession is considered up for grabs, as MGM Resorts' Empire City Casino in Yonkers and Genting's Resorts World New York City in Queens — currently racinos that can only operate electronic gaming tables and video lottery terminals — are heavy favorites for two of the permits.
With just one license presumably available, the competitive bidding is intense for the permit, with a one-time $500 million fee.
Along with Coney Island, Caesars Entertainment has proposed a casino in Times Square. Mets owner Steve Cohen works with Hard Rock for a casino pitch at his Citi Field MLB ballpark. Fellow billionaire Stephen Ross wants to build an integrated casino complex at his Hudson Yards in Manhattan. Las Vegas Sands is seeking a casino license to build a resort destination at the Nassau Hub.
Mohegan and Stefan Soloviev are also readying a Manhattan casino presentation on the East Side just south of the United Nations Headquarters. And the Bally's Corp. is partnered with The Trump Organization for a casino bid at the latter's Trump Golf Links at Ferry Point in the Bronx.