Sands New York Details Long Island Resort Plans Through Rezoning Application
Posted on: August 11, 2023, 09:33h.
Last updated on: August 11, 2023, 10:23h.
Sands New York, the proposed $4 billion development from global casino giant Las Vegas Sands, has unveiled specifics on its plans should its integrated resort bid win one of the state's three downstate gaming licenses.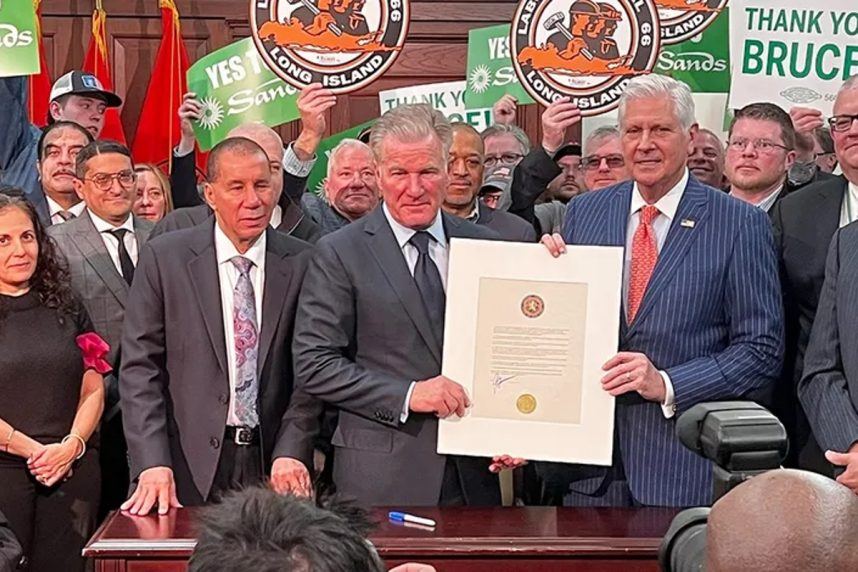 Sands is one of at least 10 possible casino developments expected to bid on the three casino opportunities for New York's downstate region, which is generally defined as New York City's five boroughs, Long Island, and Westchester County. Sands is targeting a 72-acre site on Long Island that entails the Nassau Coliseum, or "Nassau Hub."
Before Sands can submit its casino application to the New York Gaming Location Facility Board, the company must have local officials agree to rezone the Nassau Hub complex to allow commercial gambling to operate there should the state permit it. Sands this week filed the rezoning request with the Town of Hempstead.
The rezoning application provides the first detailed insights into what Sands hopes to bring Long Island. And according to the submission, the company seems intent on opening one of the largest casino spaces in the United States.
Expansive Casino
In responding to concerns from community members regarding the possible negative societal consequences that Las Vegas-style gambling might deliver to Long Island, Sands has said previously that the casino space would occupy less than 10% of the resort's overall indoor square footage.
While that sounds good for those who perhaps don't want a full-scale casino with slots, live deal table games, and a sportsbook, Sands' calculation includes the square footage from the complex's proposed 1,670 guest rooms in two separate hotel towers. In its rezoning bid, Sands officials also detailed that it hopes to allot nearly 148,000 square feet for food and beverage, meeting space of approximately 213,000 square feet, a 4,500-seat concert hall, three parking garages, and an undefined "public attraction" spanning 60,000 square feet.
A fitness center, spa and health retreat, and indoor and outdoor pools are also in the early blueprint. All of those resort features will allow Sands New York's casino space spanning 393,726 square feet to remain within the company's 10% pledge.
At nearly 400,000 square feet, the Sands New York casino would be among the world's largest, and the third-largest gaming venues in the US behind Oklahoma's WinStar World Casino & Resort and Mohegan Sun in Connecticut. Both of those resorts are tribal-owned and operated destinations.
Lease Accord Completed
Last month, Las Vegas Sands completed its 99-year lease agreement for the Nassau Hub after the Nassau County Legislature agreed to transfer the lease to the casino operator. Sands, in exchange, made a one-time $54 million payment to the county.
Sands New York is far from a sure thing. Along with needing local officials to rezone the property, the project must acquire New York State Environmental Quality Review Act (SEQRA) approval. The SEQRA requires all local, regional, and state governments to examine the environmental impacts, along with social and economic considerations, in approving substantial projects such as Sands' $4 billion pitch.
Sands' Long Island casino must also find favor from a newly formed Community Advisory Committee, which will be created for each application by the state Gaming Facility Location Board. Each committee will consist of the New York governor, applicable county executive, state senator, and state assemblyperson, plus the city's mayor and town supervisor. The advisory committees will review the casino application and be responsible for reporting to the Gaming Facility Location Board about local support for the undertaking.
If all goes in Sands' favor, the company would then need to win one of the three downstate casino licenses from the Gaming Facility Location Board through a competitive bidding process.