Champion Ruiz Adds 15 Pounds for Joshua Rematch as Bettors Back Him in Heavyweight Title Fight
Posted on: December 6, 2019, 11:48h.
Last updated on: December 9, 2019, 10:47h.
Heavyweight champion Andy Ruiz Jr. will enter his first defense of his four titles more than 45 pounds heavier than his challenger, Anthony Joshua.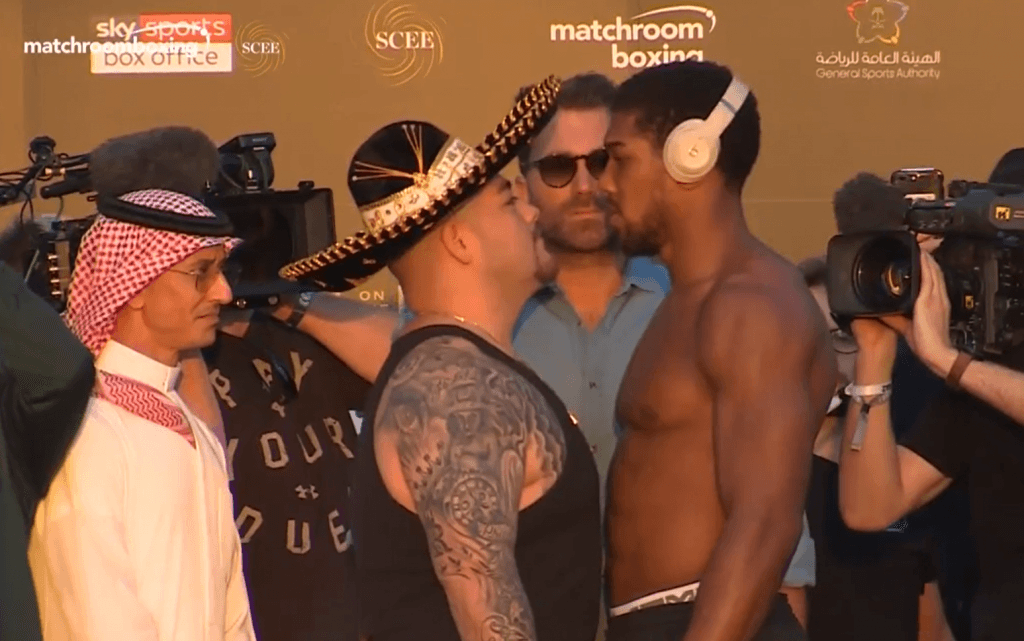 The two fighters weighed in Friday morning (US time) for Saturday's bout in Diriyah, Saudi Arabia. It's the first fight for both since Ruiz upset Joshua and took the IBF, WBA, WBO, and IBO belts in a seventh-round knockout at Madison Square Garden on June 1.
In that fight, the 6-foot-2 Ruiz won despite being four inches shorter than Joshua and giving up eight inches in reach (82 inches to 74). He also weighed 268 pounds to Joshua's 247.8.
On Friday, Ruiz tipped the scales at 283.7 pounds. The Mexican-American fighter did not strip down prior to stepping on the scale, leaving on his shirt, pants, and a sombrero. Joshua, meanwhile, slimmed down to 237.
The weights were a little more than surprising. As DAZN Boxing Reporter Chris Mannix noted on Twitter, Ruiz had wanted to come in closer to his June weight. Instead, he'll come in as the second-heaviest champ in history.
Nikolai Valuev weighed 328-pounds in 2006 for Monte Barrett. Valuev, though, was seven feet tall," Mannix noted.
The keys now will be whether the extra weight on Ruiz will slow down his quick hands or lead to stamina issues if the scheduled 12-round bout approaches going the distance. For Joshua, will his smaller frame be able to withstand the power behind the heftier champion's punches.
Solid Support for Ruiz
When Ruiz won in June, he did it as a massive underdog. FanDuel offered +1200 odds on him, while DraftKings had Joshua at -3335. Despite the heavy odds on Joshua, 96 percent of the money wagered on DraftKings went on the British boxer.
The odds on Ruiz as of early Friday afternoon ET are +215 at FanDuel. That's up from +200 on Wednesday. Joshua's odds have gone from -260 to -275 over the same time frame.
As of Thursday afternoon, FanDuel's bettors were largely behind the champion. FanDuel Publicity Director Kevin Hennessy told Casino.org 91 percent of the money had been placed on Ruiz by that time, and that included a $10,000 bet at +210 odds made at FanDuel's retail sportsbook at the New Jersey Meadowlands.
Over at DraftKings, the odds on Ruiz are +170. As of Friday morning, the sportsbook has written 64 percent of the moneyline bets on Ruiz, which accounts for 75 percent of the handle.
Stephen Miraglia, communications director for DraftKings, told Casino.org the sportsbook has already taken three times the handle on Ruiz than they did in June. He cautioned, though, that they typically see more bets placed on the day of the fight.
DAZN, BetMGM Announce Partnership
DAZN, a sports streaming service, will broadcast the fight Saturday, being billed as the "Clash on the Dunes," in the US. The expected time for Ruiz-Joshua 2 to begin is 3:45 pm ET.
On Friday, the company announced a partnership with BetMGM. They will co-produce a betting segment that will air prior to the title bout, and BetMGM will provide updated odds throughout DAZN's broadcast.
In addition, BetMGM is offering a couple of specials. For new users who sign up through DAZN in New Jersey, they will have the chance to earn $100 in free bets for a $1 bet on a knockdown. In addition, BetMGM users who sign up for DAZN to watch the fight will get $20 in free bets.
ROAR Digital, a partnership between MGM Resorts International and GVC Holdings, operates BetMGM.
A ROAR spokesperson told Casino.org that Joshua is a -250 favorite, with the champion's odds at +188. That gives Ruiz a 34.7 implied chance of winning. The sportsbook though doesn't expect the fight to go the distance.
BetMGM has the odds of this one being a draw at +3300, they said. As for the predicted length of time, the oddsmakers don't like this one going the full 12 rounds, which has +275 odds on it. Anything less than 12 is the heavily favored oddsmaker point of view, coming in at -400.