Money-Laundering Bust in Singapore Finds Ties to China
Posted on: September 4, 2023, 07:14h.
Last updated on: September 4, 2023, 12:54h.
The recent bust of a money-laundering gang in Singapore that resulted in the arrest of 10 people has turned into an international affair. The group was laundering funds tied to illegal online gambling.  Ongoing investigations have determined that it has strong ties to criminal elements out of China and Singapore real estate.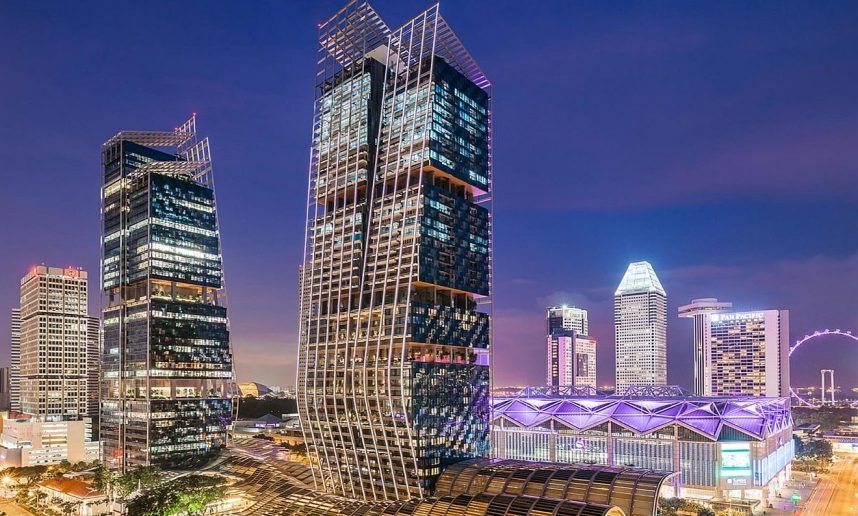 Although the authorities were able to arrest almost a dozen people, there are others who either got away or whose identity had yet to be uncovered. Investigators have reportedly determined that some of these are the owners of 23 opulent apartments situated in South Beach Residences, a grand condominium in Singapore.
Reports suggest that front companies registered in locations such as Malaysia, Hong Kong, and the British Virgin Islands may be behind the real estate transactions to cover their actual owners. Many of these individuals are Chinese nationals who could now face the loss of the properties.
A Haven for Laundering Millions
In September 2018, the anticipated launch of South Beach Residences attracted a lot of attention because of the luxury it promoted. Many of the units were eventually sold to Chinese nationals, many of whom paid cash without raising any red flags.
One buyer, according to local media reports, was a Chinese man who bought a penthouse unit for SGD26 million (US$19.2 million). He paid the full asking price in cash, with no source of funds check conducted prior to the sale.
Chinese buyers snapped up approximately 25 units within three months, dishing out exorbitant prices of over SGD$3,000 (US$2,215) per square foot. The range of these properties varied from SGD6 million to $8 million (US$4.4 million to $5.9 million), leaving no doubt about their exclusivity.
Fast forward to October 2021, and an unidentified Chinese billionaire raised the bar without raising any money-laundering flags. He purchased a lavish three-bedroom residence for a record-setting SGD18.5 million (US$13.66 million).
Since Chinese President Xi Jinping initiated an anti-corruption campaign in 2012, Chinese individuals have managed to evade the reach of the Chinese government and law enforcement. They have been working diligently to find new homes for themselves across Southeast Asia, including Singapore, seeking secure locations to safeguard and legitimize their fortunes.
This surge has been facilitated by a vast network of lawyers, as well as housing experts and local and foreign financial institutions. Investigations have now shed light on their actions, proving how, with the help of agreeable middlemen, they orchestrated fabricated money trails and executed real estate agreements.
Singapore Faces New Challenges
The mega-wealthy discreetly shifted their funds out of China to Singapore using unidentified private bankers, and potentially additional individuals. All purportedly evaded anti-money laundering regulations in exchange for substantial bribes.
The allure and greed attached to banking sector jobs has driven numerous individuals to flout the anti-bribery legislation. Consequently, this phenomenon has become pervasive in banks in SE Asia, endangering their overall integrity and reputation as people violate money-laundering prevention measures.
In Singapore, a private banker was a primary source for laundering illicit Chinese funds before being turned in by his own bank's covert agents. However, according to news accounts, he was undeterred by these events and continued to run his operations.
Although the bank fired him, he didn't face prosecution. He continued to use his credentials and licensing to conduct his affairs under the guise of a fresh financial advisory organization.
The fallout from the new money laundering scandal could bring repercussions, even though he has evaded criminal punishment for two years. Singapore is increasing its response to the ongoing embarrassment, and will likely use whatever it can to help it clean up its image.
Singapore's Council for Estate Agencies is reportedly helping. The government real estate watchdog is now investigating its licensed members to determine if any played a role in the money laundering scheme.
Last year, the Financial Action Task Force (FATF) named T Raja Kumar, the former head of Singapore's Casino Regulatory Authority, as its new president. His insight could be vital to the ongoing investigations.
Some authorities believe that the money-laundering gang may have ties to the casino junket segment, which has been significantly crippled in Macau. If that's true, then the case is going to be much larger than anyone thought.