Proposed Pennsylvania Mini-Casino Promises Large Economic Benefits, But Locals Outraged
Posted on: March 5, 2019, 05:04h.
Last updated on: March 5, 2019, 05:21h.
A planned satellite casino in Pennsylvania's Caernarvon Township from Penn National Gaming (PNG) was challenged on moral grounds this week, but backers assure locals it will add economic fuel to the region.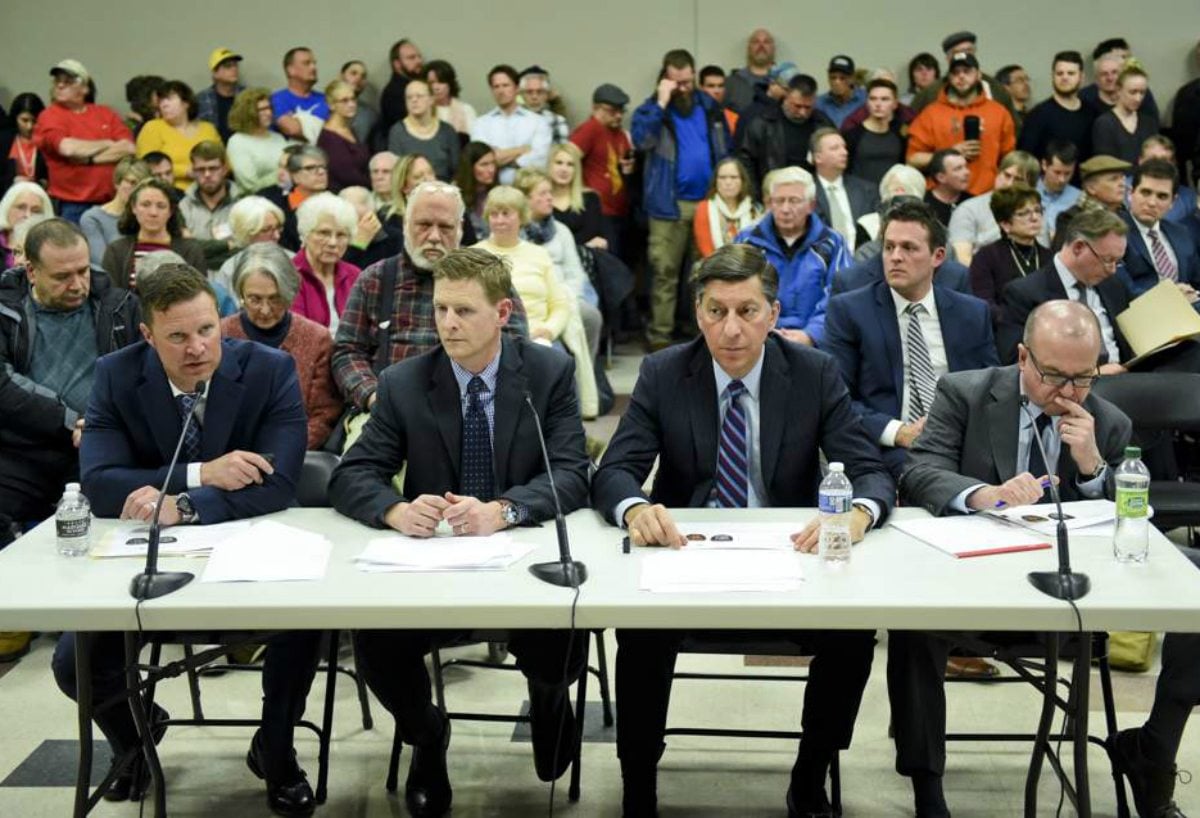 Hundreds crammed into a hearing on Monday — as opponents warned the Pennsylvania Gaming Control Board (PGCB) the casino could lead to social ills in a community known for conservative values.
Dozens of the detractors wore "CasiNO!" badges, and they presented a petition with 1,029 signatures.
Yet, some 53 of the 71 written comments submitted to the PGCB backed the casino. A supporters' petition so far had 156 signatures.
Moral, Religious Opposition
"The majority of the criticism is coming from those with a moral or religious opposition to gaming in general, and we appreciate and respect their opinions," Jeff Morris, vice president, Public Affairs & Government Relations at PNG, told Casino.org.
Penn National wants to build the approximately 86,000-square-foot Hollywood Casino Morgantown on a vacant 36-acre site off the Pennsylvania Turnpike for about $111 million. It will include 750 slot machines, 30 table games, sports and race book, restaurants, and entertainment stage.
Morris points to its economic benefits: creating about 275 construction jobs and an additional 250 jobs once open. ESI, a consultant hired by PNG, further estimates the casino will add $94.3 million a year into the local economy.
Casino Would Create Jobs, Procurement
"Local hiring and local procurement represent one of the most positive direct benefits associated with this project," Randy Peers, president and CEO of the Greater Reading Chamber Alliance, testified in support of the casino.
He also predicted the casino will generate a "significant amount" of indirect economic benefits — as well as increased tax revenue for the town and Berks County.
Our proposed facility will become an economic engine for Caernarvon and the surrounding communities, create hundreds of new local jobs, and — as is the case in all of the communities in which we operate — we will become actively engaged in local charitable and philanthropic activities," Morris said.
Caernarvon Township will get two percent of slot tax revenue and one percent of table game revenue from the casino — estimated eventually to be about $1.6 million a year.
Also, about two-thirds of the revenue created by the casino will come from people who live outside of Berks County, according to Peers. Its entertainment will also improve the quality of life in the region, he adds.
The casino, if approved by the PGCB, will be located 15 miles from Reading, a city of about 90,000 people. The casino will also be less than 50 miles from Philadelphia, the sixth most-populated city in the US with 1.58 million residents. Opening is slated for the fall or winter of 2020.
Satellites Orbiting
PNG won the rights to build a satellite casino after submitting a $10.5 million bid for the license. The casino is one of 10 satellite/mini casinos Pennsylvania officials paved the way for in a 2017 gaming expansion law. However, only five were successfully auctioned.
Penn National is also trying to open its Hollywood Casino York satellite in Springettsbury Township's York Galleria Mall. The bid for that license cost PNG $50.1 million.
Other gaming operators have submitted plans for their own mini-casinos.
Greenwood Gaming and Entertainment wants to build a satellite in Shippensburg, which is west of Harrisburg. Mount Airy Casino is developing Mount Airy Pittsburgh, proposed for 30 miles north of the Steel City. And The Cordish Companies' Stadium Casino LLC is working on a satellite at the Westmoreland Mall some 45 minutes east of Pittsburgh.
The 12 Pennsylvania casinos in operation last year collectively won more than $3.248 billion, the state's record since commercial gambling was legalized in 2006. The PGCB reports the state's share was about $1.38 billion.