Presidential Candidate Gary Johnson High on Everything But the Polls
Posted on: September 29, 2016, 06:00h.
Last updated on: September 29, 2016, 03:38h.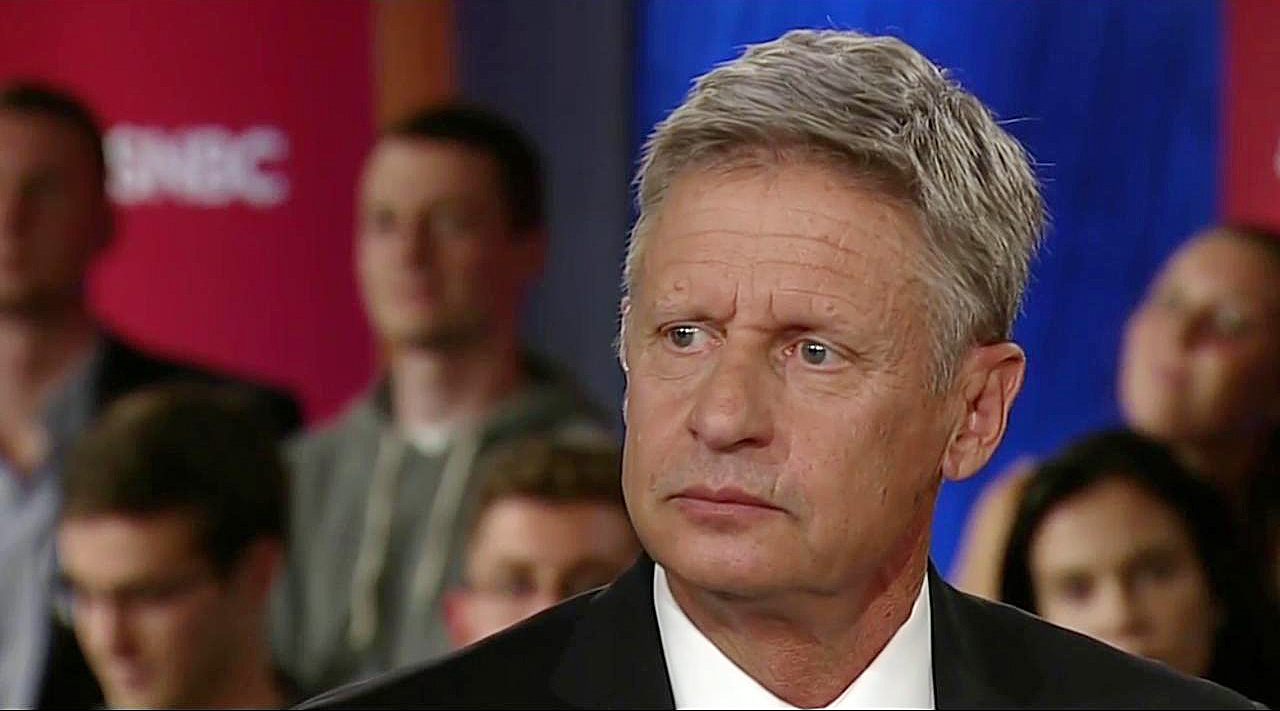 Perhaps his slogan should just be "Say What Now?"
And while Gary Johnson's views for legalizing online and on land gaming may be supportive (he once said that "online gambling should be legal for adults"), we're betting his stand on cannabis legalization is a tad more potent.
Yes, Libertarian presidential candidate Johnson had another "Aleppo" moment this week, when he couldn't come up with the name of a single foreign leader that he admires while being interviewed on a cable news show on Wednesday.
Left out of the marquee presidential debate between Donald Trump and Hillary Clinton, Johnson got his chance to reach voters during a special town hall hosted by Chris Matthews on MSNBC.
When Matthews pointedly asked, "Who's your favorite leader?" Johnson failed to conjure a name. "I guess I'm having an Aleppo moment," the now-infamously befuddled candidate replied.
During an appearance back in early September on the same MSNBC network, political commentator Mike Barnicle had asked Johnson about Aleppo, the Syrian city currently engulfed in a brutal civil war. "What is Aleppo?" Johnson asked ingenuously at the time. The incident brought him a ton of publicity, but probably not the kind he might have wanted.
On Wednesday's interview, Matthews pressed Johnson during the exchange.
"Name one foreign leader that you respect and look up to," Matthews continued. "You got to do this, anywhere, any continent, Canada, Mexico, Europe, over there, Asia, South America, Africa. Name a foreign leader that you respect."
"I'm having a brain freeze," Johnson replied, without any particular appearance of embarrassment for his lack of fingertip world-leader knowledge.
Trump and Clinton are two of the most unpopular and disliked candidates vying for the presidency perhaps in the history of the United States. That's given fuel to third-party candidates like Johnson, but his recent foreign policy shortcomings might have disqualified him from being seriously considered.
Tongue Twister
Johnson, who served as the governor of New Mexico between 1995 and 2003, has the support of 7.2 percent of likely voters, according to the Real Clear Politics average. His backers wanted him to have a spot on the stage alongside Trump and Clinton during the first presidential debate, but his second "Aleppo moment" likely won't help his chances of receiving an invite for the next go-round.
MSNBC hasn't been Johnson's best for enhancing his reputation, although it's certainly garnered him plenty of press. Just last week, Johnson gave a bizarre interview to the network's political correspondent Kasie Hunt, regarding being included in the Trump-Clinton debate.
Halfway through the interview, while sitting on a park bench with Hunt, Johnson stuck out his tongue and mumbled almost unintelligably that ". . . I think I could stand up there for the whole debate and not say anything, and emerge as the leader."
Hunt visibly recoiled when he first stuck out his tongue at her.
Third "Party" Candidate
Johnson is undeniably an outsider who has little-to-no chance of becoming president.
At PredictIt.org, an online real-money prediction betting site, shares of Johnson winning the 2016 election are being sold at a penny apiece. Meanwhile, Clinton is going for 72 cents and Trump is trading at 32 cents.
The presidential election has been one of the most entertaining in recent decades. Trump, between years as a tough businessman and his born-and-bred New Yorker status, is prone to unedited and often pugnacious commentary on almost everything, and his off-the-cuff remarks have landed him in plenty of hot water.
Clinton also comes with her fair share of controversy and baggage. From her private email server scandal to her handling of Benghazi and alleged "pay-to-play" Clinton Foundation, the former secretary of state has plenty of blemishes.
Johnson has admitted to regularly using marijuana in the past, something many critics credit for his recent memory lapses. And unlike former President Bill Clinton, we're guessing he may have inhaled once, or 30,000 times.