Presidential Betting Odds Say Election a Foregone Conclusion, but Final Debate Remains
Posted on: October 19, 2016, 12:00h.
Last updated on: October 19, 2016, 09:53h.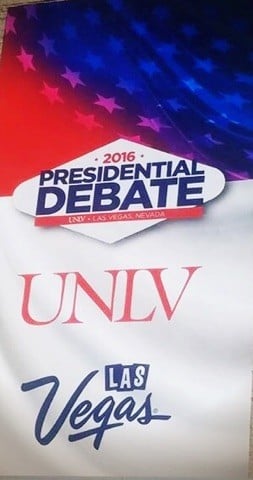 Presidential betting odds on the 2016 election say the race for the White House is essentially over, and former First Lady and Secretary of State Hillary Clinton will become the 45th president of the United States.
Bovada lists Clinton at -500 to win the presidency, meaning a bettor will need to wager $500 to win just $100. Trump's posted at +350, which equates to a $100 bet netting $350.
Libertarian Gary Johnson, the former governor of New Mexico, is also still technically in the race. His line comes in at +2500.
With only 19 days until Americans head to their voting centers, the Trump train seems to have been derailed by a bus. His comments made off-camera to Billy Bush in 2005 during an "Access Hollywood" taping appears to be Trump's own "you're fired" moment from politics.
If the game were poker, Trump would be down to his last big blind. And while the odds are against the billionaire, every poker player knows he or she isn't completely out of the game if they still have chips on the felt.
Today, Trump will wager that final bet in Las Vegas, as he squares off against Clinton for the third and final presidential debate before November 8.
Trump Gets Fair & Balanced
For the first time in presidential general election debate history, the moderator will come from the Fox News Channel (FNC). Veteran journalist and "Fox News Sunday" host Chris Wallace has the honor, and no one is more excited about that than Trump.
The Republican nominee has voiced his frustrations with previous moderators including NBC's Lester Holt and CNN's Anderson Cooper. The left is, of course, none too excited that someone from Fox News will hold court for the final showdown.
However, Wallace, who previously hosted NBC's "Meet the Press," is actually a registered Democrat.
The third debate will run 90 minutes in length and mimic the format of the first presidential debate. Six major topics selected by Wallace will be presented to the candidates, with each given two minutes to answer and an opportunity to respond.
Power Pay
PredictIt.org, the online market that allows users to buy shares of candidates, has Clinton an even heavier favorite than Bovada. Clinton is selling at 83 cents per share to win the White House, while Trump costs just 21 cents.
Irish bookmaker Paddy Power, notorious for its outrageous prop bets, is tired of playing the presidential game. The bookmaker, which is part of the Paddy Power Betfair enlarged entity, is already paying out on Clinton bets.
In a blog post tilted "A Woman's Place is in the House, the White House!" Paddy Power says, "With national polls showing a healthy lead for the Democratic candidate and Donald Trump's campaign running into scandal after scandal, Paddy Power believes it's a done deal and that Hillary is a nailed-on certainty to occupy the Oval Office."
Paddy Power says it believes Trump has about an 18 percent chance of beating Clinton next month, and it's ready to take those odds.