Preet Bharara Under Review for Next US Attorney General
Posted on: October 4, 2014, 10:00h.
Last updated on: October 3, 2014, 01:28h.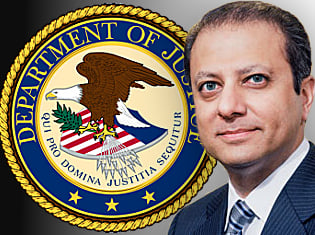 Preet Bharara, the man who brought online poker to its knees in America, could be the next US Attorney General. Bharara, who, as US Attorney for the Southern District of New York, was the driving force behind the Black Friday indictments of 2011, is one of four candidates being touted by the media as a successor to Eric Holder, who tendered his resignation from the post this week.
Poker players will be hoping, though, that the job will go to another candidate under consideration, California AG Kamala Harris. She recently opted to reject pressure to sign a letter to Congress that demanded a federal ban on online gaming in solidarity with her state's efforts to legalize online poker.
While Harris has denied an interest and reaffirmed her commitment to her duties in California, her name remains heavily linked to the position. The official appointer for the US AG job will be her long-time friend and supporter, President Obama, before being ratified by the Senate. Other names in circulation are Massachusetts Governor Deval Patrick and Solicitor General Donald Verrilli.
World's 100 Most Powerful People
Bharara could be the ideal candidate, however. Although he, too, has yet to officially confirm an interest, his passion for fighting corporate crime embodies what many felt Holder lacked during his tenure. Bharara was named in TIME Magazine's "World's 100 Most Powerful People" issue in 2012, and his success rate in prosecuting insider traders has been formidable, bulldozing through an extraordinary 85 convictions in a row.
He is also the man who, with devastating effect, announced that Full Tilt Poker was not a legitimate poker business but a "global Ponzi scheme," as he issued indictments against Full Tilt, PokerStars and Cereus, as well as the financial payment processing companies that facilitated online poker transactions for US players.
While the legality of online poker was a gray area before Black Friday, Bharara painstakingly built a case against the three biggest operators in the US, which he pursued as zealously as he did his rogue Wall Street traders. Of course, it may be that Bharara has no problem with the new regulated US poker companies, and was inspired in his crusade by the law as he saw it, rather than online poker itself, but the revamped PokerStars, itching to return to the US probably doesn't want to have to find out.
Questions Deflected
In contrast, while Holder said he felt that the Black Friday indictments were "appropriate measures," he didn't seem to share Bharara's enthusiasm for dismantling online poker in America. He once said that it was up to Congress to clarify the laws on poker, and that it was "beyond his capabilities to determine whether poker was a game of skill or luck."
"I am not sure I know who Phil Ivey is," he said, when asked if he thought the world's best player was simply lucky, "but I am sure there is some degree of skill that is involved, some degree. I am not a poker player myself."
This week, speaking at a gathering in New York, Bharara deflected questions about his ambitions by thanking his "very proud Indian mother" for calling the newspapers and asking them to include him on the shortlists of possible candidates, a quip that drew laughs from the assembled crowd.