Pennsylvania Casinos Oppose Gambling Expansion Package on Governor Wolf's Desk
Posted on: October 27, 2017, 10:00h.
Last updated on: October 27, 2017, 08:34h.
It might not come as a surprise that Pennsylvania casinos aren't too thrilled to learn that the state General Assembly passed a wide-reaching gaming expansion measure that will authorize up to 10 satellite gambling venues, place slot machines in truck stops, and expand gambling to online websites.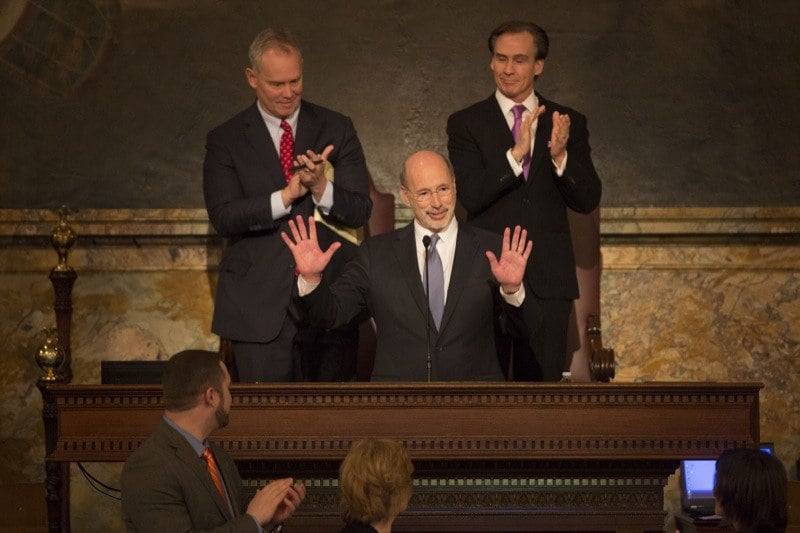 Penn National Gaming, the first commercial operator in Pennsylvania that owns the Hollywood Casino near the state capital of Harrisburg, was first to fire back at the expansion bill that now sits on Governor Tom Wolf's (D) desk.
"We are beyond disappointed by the legislature's ill-conceived and hasty gaming expansion plan," Penn National Senior VP for Public Affairs Eric Schippers said in a statement. "We will be studying the entirety of the 970-page bill, which many in the legislature did not have the benefit of prior to voting."
The State Senate passed the gambling expansion measure late Wednesday night 31-19. The House, which received the bill Thursday morning, passed the bill 109-72 just hours later.
Wolf Position Unknown
It's unclear where Wolf stands on the legislature's latest gambling effort. But the governor has stated in the past that he doesn't want Pennsylvania casinos to suffer from any gaming-related expansion.
On June 30, the General Assembly passed a $32 billion spending plan that was underfunded by $2.2 billion. Wolf allowed the budget to become law without his signature 10 days later.
Since then, the GOP-controlled legislature has been trying to come up with ways to fund the fiscal plan. The governor has called for a 6.5 percent severance tax on natural gas production to help cover the funding hole, something he's been advocating for since his gubernatorial campaign back in 2014.
Republicans haven't been so keen on raising any sort of tax, which is why many conservatives have looked to gambling expansion. But Wolf said earlier this summer he wants "real revenue" that doesn't take "from one bucket called gambling to another."
That's precisely what Penn National believes would happen with satellite casinos. In an October editorial, the company declared, "Ancillary casinos are certain to take business from existing casinos and are not likely to increase overall gambling revenue."
After receiving the gambling expansion measure on Thursday, Wolf's administration said the governor would take the appropriate time to review the bill. However, he also reaffirmed his position that a severance tax on natural gas is a better funding solution.
"I am calling on the House Republicans to get back to work, finish the job, get us that severance tax," Wolf told reporters. "I don't understand why it's a heavy lift."
At Stake
The gambling bill now in Wolf's office would allow each of the state's 10 commercial non-resort casino operators to apply for a satellite venue permit for $10 million. The facilities would need to be placed at least 25 miles from a current land-based casino, and would be able to house up to 750 slot machines and 30 table games.
Online gambling and daily fantasy sports would also become legal, as would internet lottery ticket sales. Airports would be able to partner with licensed casinos to create interactive gaming lounges, and sports betting regulations would be laid out should there be a change to the current federal law that bans Pennsylvania from authorizing such activities.
Should the law be signed by Wolf, the state's fiscal office estimates it would collect $200 million in new revenue in the first year through licensing fees and gross gaming taxes.
Similar Guides On This Topic