Penn Entertainment Mintzy-Induced Decline 'Overblown,' Say Analysts
Posted on: May 5, 2023, 10:30h.
Last updated on: May 5, 2023, 05:15h.
Penn Entertainment (NASDAQ: PENN) stock slumped more than 13% on Thursday, and its lost market capitalization in dollar terms wasn't far from what it paid for Barstool Sports. That's as the regional casino operator delivered tepid first-quarter results while enduring a controversy at its media arm.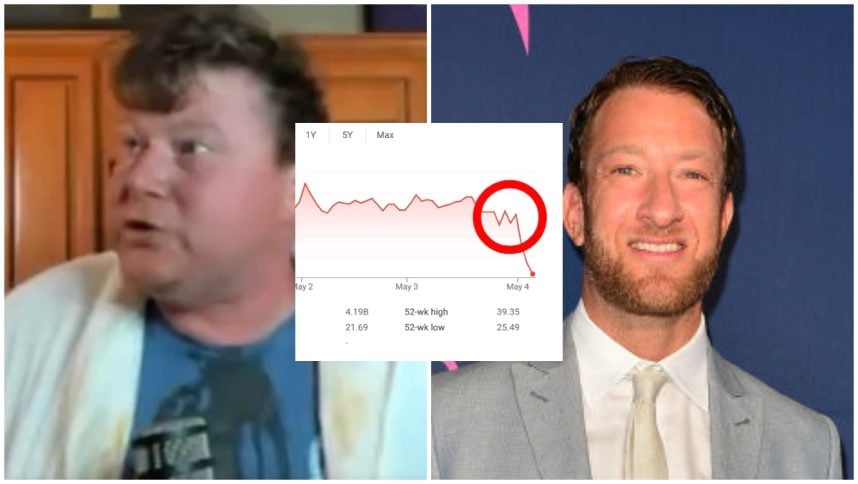 Barstool Sports, founded by David Portnoy, fired Poker player Ben "Mintzy" Mintz earlier this month for using a racial epithet while reciting a rap song on air. In February, Penn shelled out $388 million for the 64% of Barstool it didn't previously own, bringing its total purchase price for Portnoy's company to $551 million. The casino giant uses Barstool as the brand for its online and retail sportsbook and its internet casino platform.
Portnoy and Barstool Sports CEO Erika Nardini decried the decision to fire Mintz, which was apparently made by Penn. The often short-tempered Portnoy said it's an instance of the parent company bowing to regulators that act with "impunity."
While the Mintz situation may have played some role in the May 4 slump experienced by Penn stock —  and serves as a reminder of a potentially awkward cultural fit between the casino operator and Portnoy's media entity — analysts believe the decline was overblown.
Penn Investors Take Good, Bad with Barstool
Penn has realized benefits from its affiliation with Barstool Sports, including gaining traction with younger, hipper, more tech-savvy generations. There's also speculation that the operator could eventually look to monetize that interest via a spin-off or sale.
As Stifel analyst Steven Wieczynski put it, Penn investors take the good with the bad regarding Portnoy and Barstool's cadre of other colorful personalities.
On the one hand, shareholders benefit from Portnoy's outspoken support for PENN, while building a brand with deep loyalty from sports fanatics often entails outspoken, and at-times controversial, personalities," he wrote in a report to clients. "On the other hand, the gambling industry is hyper-regulated, and operators cannot afford to invite scrutiny from state gaming regulators."
In his note, the analyst quipped he didn't realize Mintz was worth $4 to Penn's share price. He reiterated a "hold" rating on the stock with a $32 price target, down from $38. Macquarie analyst Chad Beynon said there are online tailwinds for Penn and didn't mention Mintz or Portnoy in his note.
"PENN remains well positioned given its operating and recession-resilient history. We believe the thesis rests on Online momentum in both the US and in Canada, where it has double-digit share potential. PENN migrated to its proprietary in-house tech platform in Ontario and is seeing noticeable improvements in hold and engagement, and is on track for its US migration in mid-2023," according to the analyst.
Penn Stock Situation About More than Mintz
Simply put, Thursday was a forgettable day for Penn investors because news of Mintz's firing coincided with the lukewarm first-quarter print and downbeat macroeconomic news. That's to say, Mintz was far from the only reason the shares tumbled.
As Deutsche Banks' Carlo Santarelli pointed out, seven of Penn's regional casinos in the Midwest and the South face headwinds from new competition, which could pinch earnings this year and in 2024.
Given the staggering of the openings, we expect the impact to spread across 2023 and 2024," Santarelli noted. "As a percentage of our 2023 property earnings before interest, taxes, depreciation, amortization, and restructuring or rent costs (EBITDAR) forecast for PENN, the cumulative annual $95-100 million impact equates to 4.8% of property level EBITDAR, or 9.8% of our 2023E EBITDA, post-corporate expense, digital EBITDA, and rent."
Three years ago, Portnoy blasted Santarelli for his then bearish call on Penn stock. The analyst rates the shares "hold" with a $30 price target. He added that Penn's interactive unit should turn profitable late this year and that Barstool's advertising sales should rebound in the back half of 2023.