New England Patriots Shopping QB Mac Jones on Trade Market
Posted on: April 5, 2023, 10:18h.
Last updated on: April 5, 2023, 12:21h.
The New England Patriots attempted to trade quarterback Mac Jones during the off-season, according to a report by Mike Florio from "Pro Football Talk."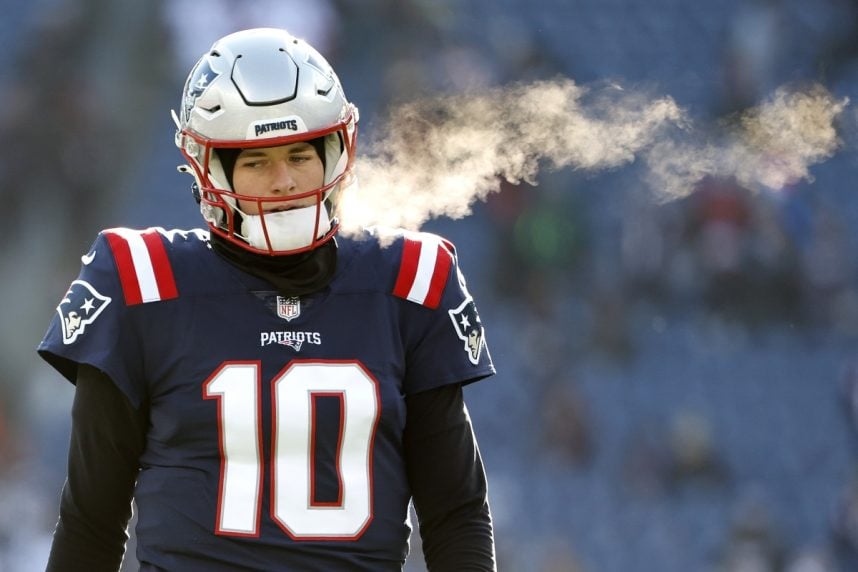 The Patriots discussed a potential Jones trade with the Las Vegas Raiders, Houston Texans, Tampa Bay Buccaneers, and Washington Commanders.
The Patriots selected Jones with the #15 pick in the 2021 NFL Draft. Before he even arrived in New England, there was a tsunami of pressure thrust on his shoulders as the heir apparent to Tom Brady. Brady won six championships with head coach Bill Belichick and the Patriots before he won a seventh Super Bowl in his first season with the Tampa Bay Bucs.
The Patriots were 8-9 last season and missed the playoffs. The outlook for this upcoming season isn't good, according to DraftKings, and only six teams have longer odds. The Pats find themselves ranked #12 out of 16 teams in the AFC to win the AFC championship at +3000 odds.
As expected, the Jones trade rumor generated a seismic reaction from Patriots fans all over New England.
Mac Jones Goes to Washington?
The Bucs need to find a quarterback to replace Brady, who retired at the end of the season. They signed Baker Mayfield, but they're open to other ideas at quarterback.
The Texans have the #2 pick in the upcoming NFL Draft, and new head coach DeMeco Ryans said they're interested in drafting a quarterback like CJ Stroud or Bryce Young.
The Raiders recently added former San Francisco 49ers quarterback Jimmy Garoppolo to their roster via free agency. Before he took over as head coach of the Raiders, Josh McDaniels was the offensive coordinator with the Patriots. McDaniels and Jones worked together during his rookie season, which is why the Patriots contacted the Raiders about a potential trade. The Raiders decided to sign Garoppolo instead.
The Commanders are in the market for a quarterback after they moved on from Carson Wentz and recently lost backup Taylor Heinicke to the Atlanta Falcons. Of all the teams mentioned in Florio's report, the Commanders seem like the most logical landing spot for Jones.
The Commanders currently have Jacoby Brissett and Sam Howell on their roster, but both are better suited as backup quarterbacks. They were also linked in another trade rumor involving Baltimore Ravens quarterback Lamar Jackson. Jackson demanded a trade after contract extension negations fell apart with the Ravens because he sought a 100% guaranteed contract.
Belichick Misfires with Judge/Patricia as OC
During Jones' rookie season, he led the Patriots to a 10-7 record and a postseason berth, but they were eliminated in the AFC wild card. Jones completed 67.6% of his passes and tossed 22 touchdowns with 13 interceptions while playing under McDaniels as the offensive coordinator. After McDaniels took the Raiders job, Belichick made a controversial decision, promoting assistant coaches to share duties running the offense.
Joe Judge and Matt Patricia were named co-offensive coordinators, but neither former assistant coach had a specialty in offense. Judge spent five seasons as a special teams coach with the Patriots and Patricia was the defensive coordinator for six seasons.
Judge and Patricia had recently returned to New England after disastrous stints as head coaches. An inept Judge went 10-23 with the New York Giants and was fired after two losing seasons. The Detroit Lions dismissed an acerbic Patricia midway through his third season after he posted a 13-29-1 record.
Despite their failures as head coaches, Belichick remained loyal to his former assistants, and welcomed both back to his staff. However, he severely miscalculated their ability to run the offense. As a direct result, they failed to qualify for the playoffs.
I'm a big fan of Mac," team owner Robert Kraft told The Athletic. "He quarterbacked his rookie season and did a very fine job. We made the playoffs. I think we experimented with some things last year that frankly didn't work."
Even Kraft threw some shade on Belichick's decision to let Judge/Patricia run the offense.
Belichick Sours on Jones
Jones and multiple veterans, including longtime backup quarterback Brian Hoyer, clashed with Judge/Patricia, who were out of their depth at offensive coordinator. When players had legitimate questions about the offense, both coaches shined them on.
Jones struggled in his second season, and took a step back in his development. He was hindered by a high ankle sprain and went 6-8 as a starter. He threw 14 touchdowns and 11 interceptions in 14 games.
Rookie backup Bailey Zappe went 2-0 as the starting quarterback after replacing Jones for two games. Jones probably should have sat out for a month or longer, but he rushed back to rejoin his team.
During an ugly performance in a "Monday Night Football" loss against the Chicago Bears in Week 7, fans booed Jones. They began chanting for Zappe to enter the game, and got their wish after Belichick benched Jones.
For the rest of the season, Patriots fans split their loyalty between both quarterbacks. The locker room was also split, with some players backing Jones, and others wanting Zappe to finish the season as the starter.
Jones irked Belichick when he contacted former coaches at Alabama, including offensive coordinator Bill O'Brien, and asked for help on how to run the confusing new offense.
That really pissed Bill off," said Tom Curran from NBC Sports Boston.
Jones further invoked the wrath of Belichick after multiple sideline outbursts with his inept offensive coordinators during games that were captured by TV crews. Belichick takes an old-school approach and believed Jones was out of line with his behavior.
During a recent interview, Belichick didn't commit to Jones as a starter in 2023. He said that both Zappe and Jones will compete for the job in training camp.
Bill O'Brien Hired to Fix Offense
O'Brien returns to the Patriots as their new offensive coordinator, which fans all over New England welcomed after last season's failed experiment. Belichick tasked O'Brien to fix the Pats' lackluster offense that averaged only 21.4 points per game and ranked #26, averaging 314.6 yards per game last season.
O'Brien has close ties with Belichick. He spent five seasons as an assistant coach with the Patriots in the 2000s, and took over as the quarterback coach and offensive coordinator in 2011. He left to pursue a head coaching job with Penn State in 2012, before he took over as the head coach and general manager with the Houston Texans in 2014.
After butting heads with the ownership in Houston, O'Brien took a break from the NFL. He returned to the collegiate ranks and joined Nick Saban's staff at Alabama, where he spent the last two seasons as their offensive coordinator.
Although Jones left Alabama before O'Brien took over as offensive coordinator, the two developed a special bond. While Jones was preparing for the 2021 NFL Draft, he took time to explain Alabama's offense to the incoming O'Brien.
Mac Jones, when he was working out for the draft, helped me a little bit, which was great," said O'Brien. "So, I'm really thankful."
Jones sought out O'Brien's guidance early in the 2022 season when he struggled with a new playbook designed by the Judge/Patricia brain trust.
In a weird twist of fate, Belichick hired O'Brien to return to New England as the offensive coordinator to clean up the mess after the Judge/Patricia experiment blew up in their face.
If the Patriots decided not to trade Jones, at least he will have a chance to succeed under someone he trusts and respects in O'Brien.