Patriots QB Tom Brady Spotted Hanging With Las Vegas Raiders Owner Mark Davis
Posted on: January 20, 2020, 08:56h.
Last updated on: January 20, 2020, 11:22h.
New England Patriots quarterback Tom Brady was seen over the weekend in Sin City chatting with Las Vegas Raiders owner Mark Davis at the Mayweather vs. Cerrone UFC fight.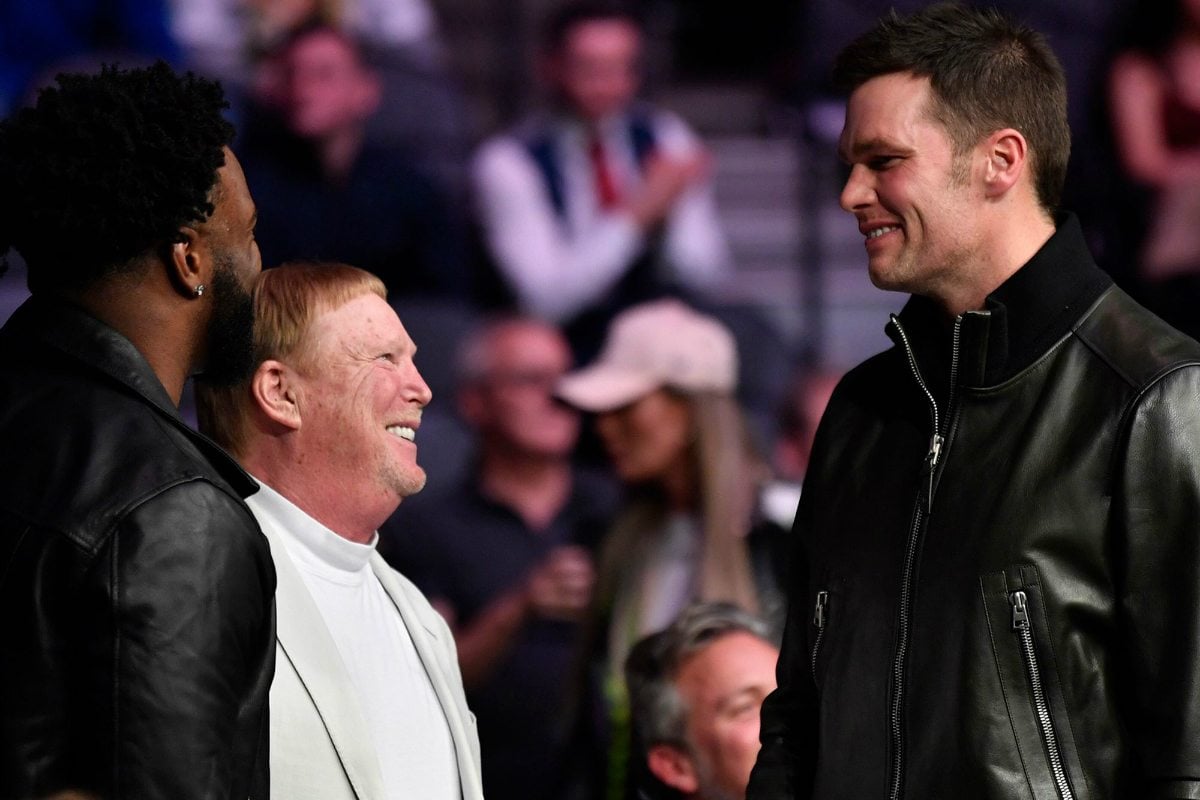 The public meeting naturally prompted speculation that the 42-year-old Brady, who is a six-time Super Bowl champion, might consider joining the Raiders for their inaugural season in Las Vegas. Brady is set to officially become a free agent when the NFL's 2019 year formally ends on March 17, 2020.
After a disappointing ending to the Pats' year, Brady says he wants to return for a 21st season. While the odds heavily favor staying in Boston, there's a chance he could go elsewhere.
If that dude isn't playing for Boston, he's playing here," said UFC President Dana White, a longtime close pal of the football great.
Along with Brady and Davis, Raiders coach Jon Gruden and defensive end Maxx Crosby were also in attendance at the McGregor spectacle, which lasted all of 40 seconds.
Odds Favor New England
Online sportsbooks are taking action on where Brady will play in 2020. The Patriots are the obvious favorite at 1/3 – a $100 bet netting just $33.33 on those odds.
Pats owner Robert Kraft said it's his "hope and prayer" that Brady returns with his organization. Brady has spent his entire NFL career with the franchise.
However, for the first time in his career, Brady is set to become a free agent. "He is so special that he's earned the right to do what's best for him. But I just hope and pray we fit into his plans," Kraft explained.
If he decides to skip town and join another team, the Los Angeles Chargers are favored at 2/1. The Dallas Cowboys and Las Vegas Raiders are next at 7/1.
White said it makes "too much sense" for Brady to join the Raiders, should he opt to leave New England.
Brady explained this week on Westwood One radio, "I'm open-minded about the process. I love playing football and I want to continue to play and do a great job. I'm looking forward to what's ahead."
He continued, "Whatever the future may bring, I'll embrace it with open arms."
Team Odds
The Brady-Davis meeting and his potential move to Sin City isn't yet having an impact on next season's Super Bowl odds.
The Raiders remain long at 80/1 – implied odds of 1.23 percent. A $100 bet would win $8,000. That line would instantly shorten should Brady actually join Las Vegas.
The New England Patriots are at 14/1. The shortest 2020-21 NFL title odds are on the Kansas City Chiefs, a team that will play in its first Super Bowl in 50 years in less than two weeks against the San Francisco 49ers.
The longest odds are on the Miami Dolphins and Washington Redskins, both organizations at 200/1. A $10 bet would win $2,000.   
Similar Guides On This Topic