Cuomo Ignores Online Sports Betting in Budget, But New York Lawmakers Hold Out Hope
Posted on: January 23, 2020, 06:38h.
Last updated on: January 24, 2020, 10:18h.
Gov. Andrew Cuomo took a perceived jab at online sports betting when unveiling his proposed budget on Tuesday. But some state lawmakers think there's still a chance to get the expansion they want this year.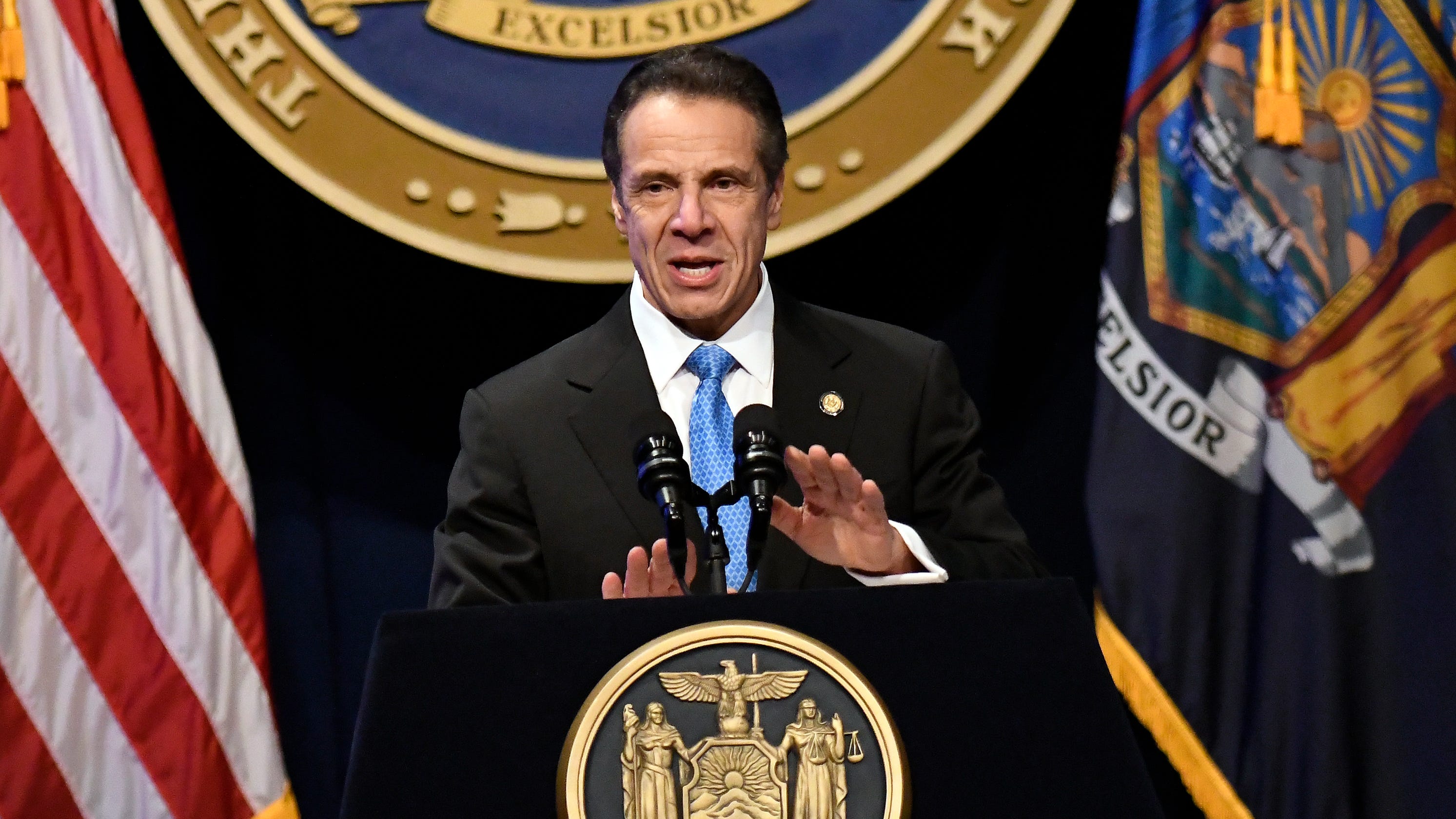 Cuomo included only the smallest possible expansion of sports betting in his budget proposal, while also blasting what he called "irresponsible" plans to close New York's budget deficit.
Cuomo Grants Token Sports Betting Expansion for Casinos
At the moment, four commercial upstate casinos offer sports betting, as do some Native American casinos in the state. However, they can only do so in specially designated sportsbook areas known as lounges.
The proposed Cuomo budget expands this availability, though only slightly. Now, resorts would be allowed to offer sports betting anywhere on the casino floor, a chance that could allow operators to place kiosks or tellers at other points to provide more convenience to customers.
That's not a major change, and one that won't do much to improve the paltry revenues New York sports betting has generated. The start generated less than $1 million in tax revenue from sportsbooks in 2019, with betting going live in July. Meanwhile, New Jersey – which generates most of its handle online – added more than $40 million to the state and Atlantic City coffers.
Nonetheless, Gov. Cuomo remained steadfast in his opposition to online sports betting, and seemed to make a reference to such proposals in his presentation to the state legislature.
"There's no gimmicks. There's no new casino revenue," Cuomo told lawmakers. "This is not the time to come up with creative, although irresponsible, revenue sources to solve a problem which doesn't really exist."
That's bad news for New York gamblers, who frequently travel to New Jersey to place their bets online in the Garden State. But the governor's proposal is not the final word on the budget, and some lawmakers think there's still time to get online sports betting passed this year.
Addabbo: New York Should Lead, Not Follow
One legislator leading the charge is State Sen. Joseph Addabbo (D-Queens), who introduced a bill to the Senate last year that would have legalized online sports betting.
We're New York," Addabbo said, via The Post Star. "We're the ones who should be out front. Instead, we let Jersey do it. And we're just sitting on the sidelines and watching Jersey basically take our money."
Even casinos in the state, which should benefit somewhat from the relaxed rules on sports betting included in Cuomo's budget proposal, appear to be in favor of taking bets online.
"To maximize the potential role legalized sports betting can play in closing New York's budget deficit, we strongly urge state leaders to consider taking action legalizing mobile betting in the final budget package," Del Lago Resort & Casino CEO Brent Stevens said in a statement. "New Jersey is already reaping the benefit of mobile sports, and 25 percent of the wagering is coming from New York residents."
Addabbo says it is unclear why Cuomo is dead set against online sports betting, other than a concern that it may take an amendment to the state constitution to allow it, something disputed by proponents of the expansion. Still, he remains hopeful that the governor's mind can be changed before the next budget is finalized.
"We have until March to convince the governor that mobile sports gambling should be in our state," Addabbo told The Action Network. "People have to get out and let it be known that they want mobile sports gambling here in New York."