Oakland Raiders Relocation to Las Vegas Increases NFL Franchise Value by Nearly $1B
Posted on: September 26, 2018, 01:30h.
Last updated on: September 26, 2018, 08:42h.
The Oakland Raiders are winless at 0-3 to start the 2018 NFL season, but for owner Mark Davis, he's on a very successful winning streak.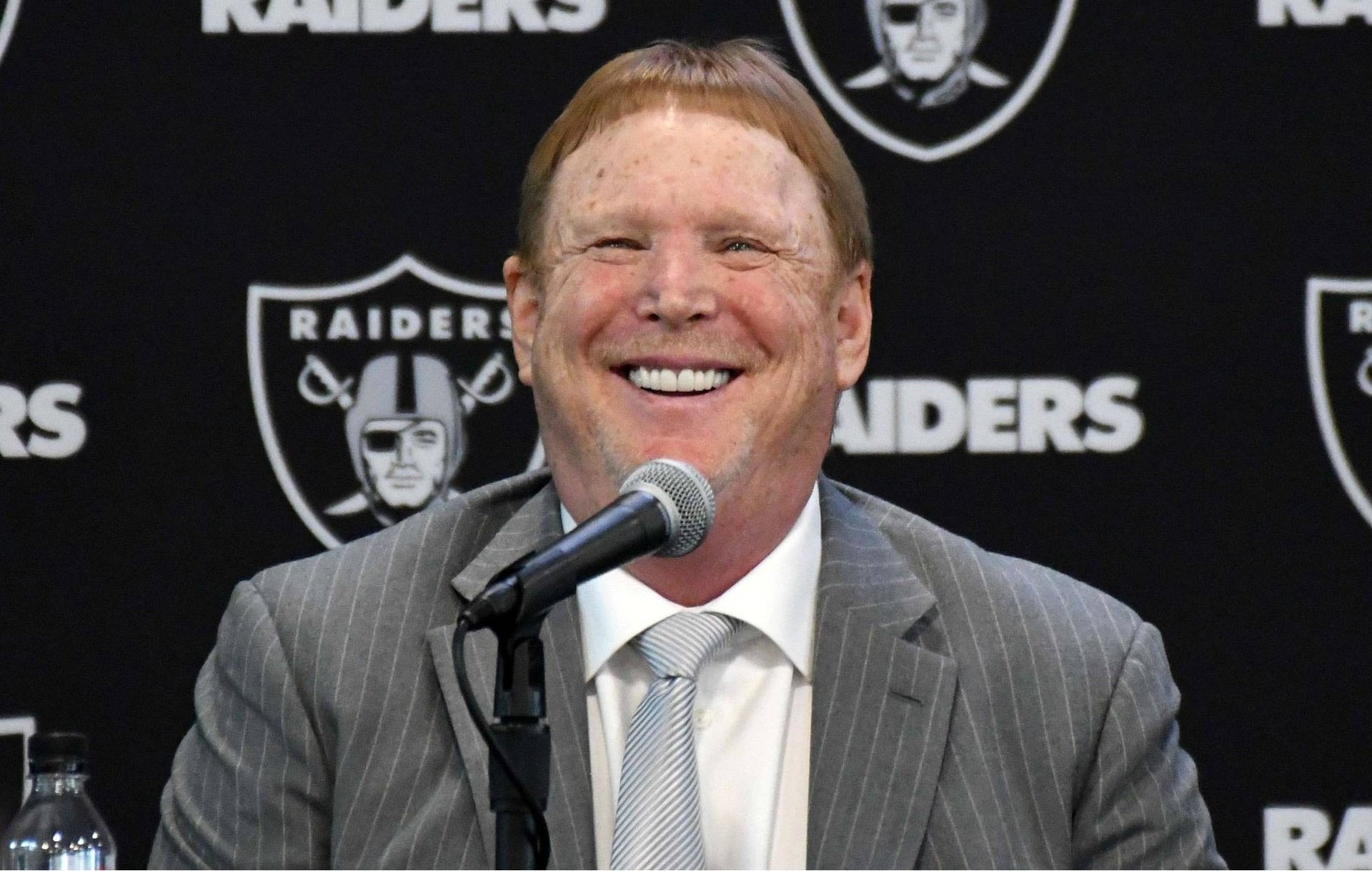 Since meeting with Las Vegas Sands billionaire Sheldon Adelson in January 2016 to explore possibly relocating his NFL team to Sin City, Davis' franchise has increased in value by nearly $1 billion. According to Forbes' 2018 NFL Valuations, the Raiders rank No. 18 of the league's 32 teams at $2.42 billion.
On the same rankings in 2015, Forbes valued the Oakland team at $1.43 billion, or $990 million less. The numbers represent an increase of nearly 70 percent. The Dallas Cowboys are the highest-valued team at $5 billion, and the Buffalo Bills the cheapest at $1.6 billion.
The Raiders are expected to call Las Vegas home for the start of the 2020 season. Their $1.8 billion stadium remains under construction just west of the Strip at I-15 between Hacienda Avenue and Russell Road.
Corporate Raider
Davis inherited the Oakland Raiders in 2011 following the death of his legendary father Al Davis who owned the team since 1972.
Though the Raiders played in Los Angeles between 1982 and 1994, the franchise has always called California its home. Davis faced plenty of criticism from lifelong fans when he filed to relocate the team to Las Vegas.
My father used to say that the greatness of the Raiders was in its future," David said in defense of his decision. "The opportunity to build a world-class stadium in the entertainment capital of the world will give us the opportunity to achieve that greatness."
Along with backlash from fans, Adelson faced opposition from NFL Commissioner Roger Goodell, who said he would prefer the Raiders to stay put in Oakland. Las Vegas' legal widespread sportsbooks were another concern to league officials, as the Supreme Court had not yet overturned the federal sports betting prohibition.
However, with funding in place, which includes $750 million in public money generated through a hotel occupancy tax in Clark County, 31 of the league's 32 owners signed off on Davis' Las Vegas wishes in March 2017.
Sports Betting Impact
Forbes says in its NFL report that team valuations have plateaued. The average franchise grew two percent in value over the last 12 months to $2.57 billion, the smallest increase since 2011.
Sports betting could stand to give more financial momentum to the franchises. With states now free to regulate gambling on pro and college events, some believe the expansion will grow interest and revenue for the leagues and owners.
Billionaire Mark Cuban said the value of his NBA Dallas Mavericks will double with sports betting legal in states outside Nevada. "I think everyone who owns a top four professional sports team just basically saw the value of their team double," Cuban told CNBC in May. "It can finally become fun to go to a baseball game again."
University of Southern California Marshall Business School Director David Carter says Cuban's a bit too optimistic. "It's going to vary by individual team," Carter told The Charlotte Observer. "I don't easily see a team over the immediate term generating a couple hundred million dollars more per year."