Oakland Raiders Booed Out of Town, Next Home Game Will Be in Las Vegas
Posted on: December 16, 2019, 12:09h.
Last updated on: December 16, 2019, 12:23h.
The Oakland Raiders have played their final game in the Bay Area, and the Silver & Black's swan song in California was drowned in boos.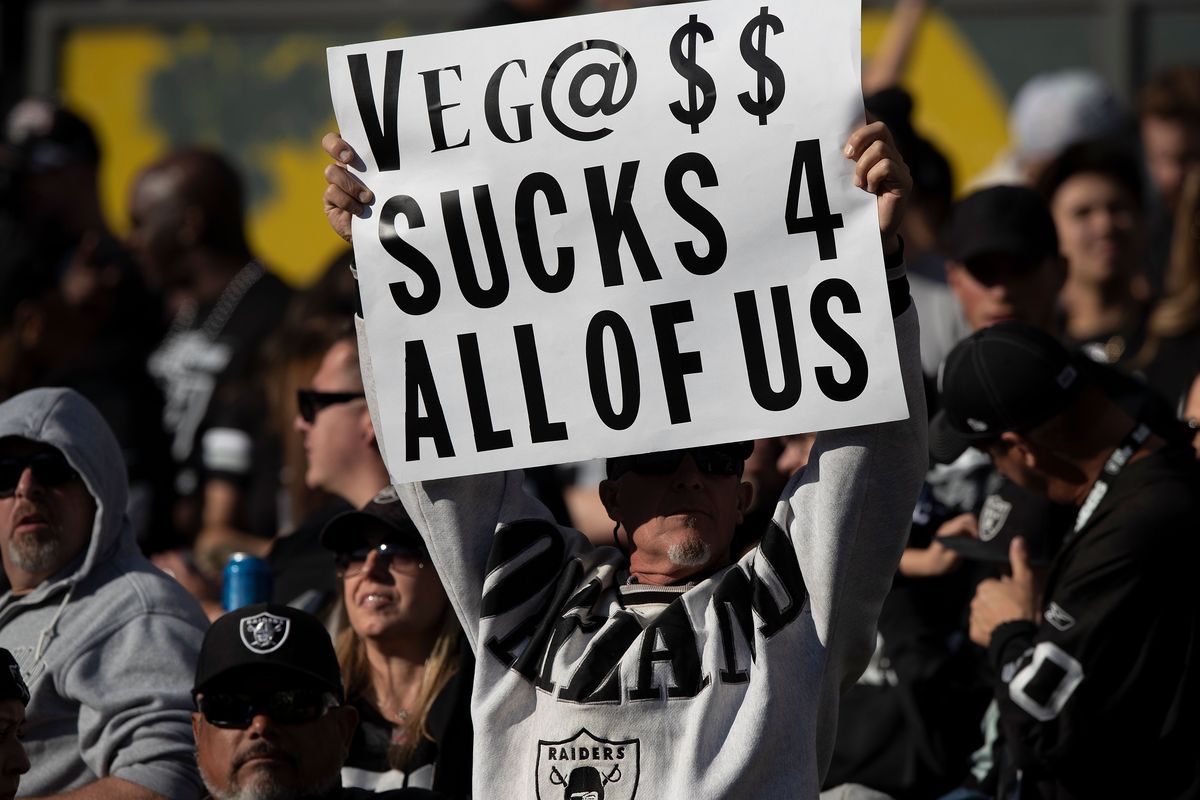 Through Week 11 of the NFL regular season, the Raiders stood at 6-4 and were in a tie for first place in the AFC West with the Kansas City Chiefs. A playoff appearance seemed plausible, which many thought would be a formidable conclusion to the team's second and final run calling the Oakland Coliseum home.
It wasn't to be. The Raiders lost their next four games, capped off with an embarrassing loss to the Jacksonville Jaguars last night. The Jags scored two touchdowns in the final five minutes to come back and top Oakland 20-16.
I wish we could've sent the Raider fans off with a lot better finish than that," Oakland coach Jon Gruden said afterwards. "I'd like to thank the fans. I'd like to thank the city of Oakland for supporting the Raiders and being faithful in all kinds of seasons."
"I'll miss them. I love them," Gruden concluded.
Fans perhaps won't miss this year's team, as boos were heard throughout the Coliseum Sunday evening. Debris was thrown onto the field, and isolated fights were broken up by a large security presence.
Viva Las Vegas
The Raiders' season is essentially done. The ESPN Football Power Index computer simulator gives Oakland a 0.4 percent chance of making the playoffs, and <0.1 percent of winning Super Bowl 54.
FanDuel has the Raiders at +70000 of winning the Vince Lombardi Trophy. That's implied odds of 0.14 percent, a $100 bet netting $70,000 should the unlikeliest of scenarios come true.
The Baltimore Ravens are the favorites at +215, New Orleans Saints second (+600), New England Patriots and San Francisco 49ers tied third (+650), and Kansas City Chiefs rounding out the top five (+750).
Super Bowl City
Las Vegas residents who plan to embrace the Raiders when they arrive in Sin City, as well as those Silver & Black faithful who will follow the team to Southern Nevada, are looking forward to 2020.
The $2 billion Allegiant Stadium being constructed just west of the Strip and I-15 is nearing completion. Earlier this month, NFL Commissioner Roger Goodell toured the domed, 65,000-seat venue.
This city, I expect it's going to be a Super Bowl city," the commissioner said, somewhat supporting rumors that Las Vegas will win the rights to host a Super Bowl in the coming decade.
Goodell added that fans no longer come to Super Bowl host cities simply for football. "They're not just coming to a game anymore. They're coming for days and events. This city has that. It has the infrastructure. It knows how to do big events like no other city," he explained.
The earliest Allegiant Stadium could win a Super Bowl would be for the 2024 regular season championship game, which will be played in early February 2025.
Similar Guides On This Topic