North Korea Casino Cruise Ship Invites Foreign Investors to Come Aboard
Posted on: March 23, 2017, 02:00h.
Last updated on: March 23, 2017, 11:55h.
A North Korea casino ship is trying to set sail from the Mount Kumgang tourist region to South Korea and other Asian nations. The Kumgang Special International Tourism Zone is a unique area of the reclusive totalitarian country that is charged with raising tens of millions of dollars for Kim Jong Un's government.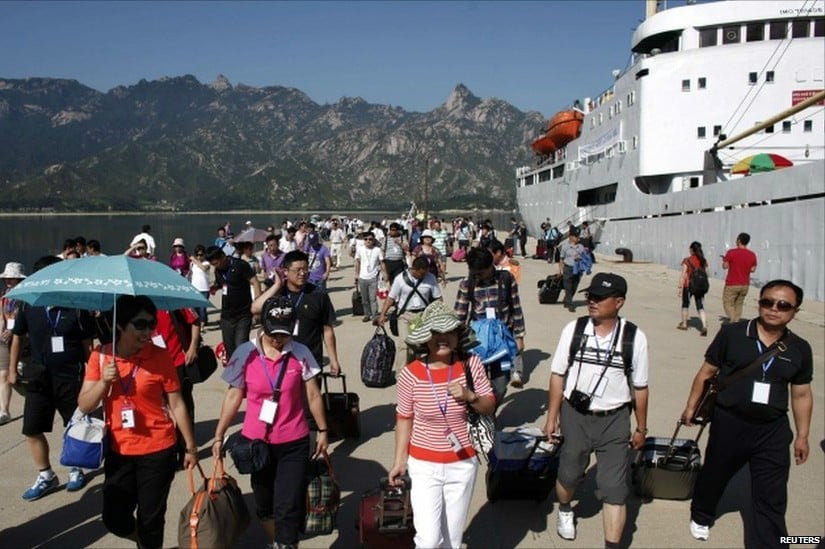 Tourism and outsider access to North Korea is heavily restricted, but each year a limited number of visitors are permitted under close supervision. Mount Kumgang is one such area foreigners can travel, and now the country is looking to debut a casino cruise to the destination.
But in order to do so, North Korea is appealing to foreign investors in trying to raise $20 million for the project.
In a proposal to potential investors in shoddy English, the country explains, "We are trying to diversify international tourism at the world-renowned Mount Kumgang. By using the cruise ship, we will diversify international tourism of Mount Kumgang, which is famous mountain of world."
"The passenger ship will be equipped with various facilities to allow 1,000 travelers to do cultural and safe travel in the sea," the notice hypes.
Don't expect billionaires Steve Wynn or Sheldon Adelson to come running.
"I strongly doubt there will be foreign investors who are willing to invest money in North Korea," Lim Eul-chul, a professor at South Korea's Kyungnam University, told London's Financial Times.
North Behind NY Fed Heist?
According to sources talking to the Wall Street Journal, the United States believes North Korea was behind the successful $81 million cyber bank heist from the Federal Reserve Bank of New York last year. The funds were swindled from the Bangladesh account, with some of the ill-gotten money being laundered through at least two casinos in the Philippines.
While the US remains under the impression that Chinese operatives carried out the hacking, the WSJ says federal authorities have reason to credit the theft to North Korea.
On February 5, 2016, hackers scheduled transfers totaling nearly $1 billion from the Bangladesh Central Bank for "international settlements" set to be deposited into various accounts around the world. After $81 million was successfully withdrawn, a spelling error caught the attention of Deutsche Bank and prompted the financial institution to confirm the transaction with Bangladesh officials.
Instead of "Shalika Foundation," the recipient was spelled "Shalika Fandation."
Headed Towards War?
The eyes of world leaders are fixated on North Korea, as the country is reportedly close to launching another nuclear test. Last month, Jong Un's military conducted its first ballistic missiles test since President Donald Trump took office.
US Secretary of State Rex Tillerson has said the Obama administration's "wait-and-see" approach is over in regards to North Korea. Jong Un has made no secret about his wishes to obtain or build a nuclear weapon capable of reaching the United States.
White House Press Secretary Sean Spicer said this week that the situation is "grave and escalating." Yet another reason why few foreigners aren't expected to be too keen on going in on a casino cruise ship in North Korea.
Similar Guides On This Topic