Norfolk Casino Delayed Over Construction Timeline
Posted on: July 26, 2023, 09:06h.
Last updated on: July 26, 2023, 12:24h.
This week's decision to pull the Norfolk casino project application from the city's Architectural Review Board was largely because of the developers' timeline to bring the full resort concept to reality.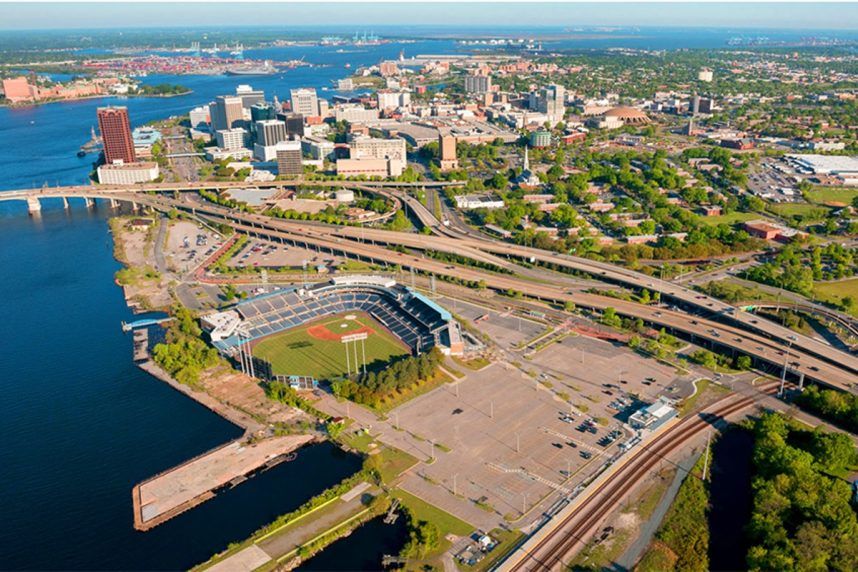 The City of Norfolk and a group led by the Pamunkey Indian Tribe signed a casino development agreement in 2020 for a resort located on the banks of the Elizabeth River.
The city agreed to sell about 13.5 acres of land, most of it a paved parking lot that has served the adjacent Harbor Park minor league baseball stadium, to the tribe for $10 million. The property is to become a $500 million integrated resort casino with a hotel, slot machines and table games, sports betting, shopping, and numerous restaurants and bars.
The tribe's most recent development timeline called for an initial construction phase to consist of a 90,000-square-foot building encompassing a 45,000-square-foot casino floor, lobby, restaurant, bar, and a 1,200-space parking garage. The second and larger construction phase was to include a 300-room hotel with resort-style amenities such as a pool.
The 2020 host agreement didn't specifically permit the tribe's development team, which includes billionaire gaming industry veteran Jon Yarbrough, from building the resort in phases.
City Concerns
Members of the Pamunkey development team met Tuesday with city officials after the two sides announced they needed to get on the same page. That meeting was said to be successful, with a joint statement stating that "both sides remain fully committed" to the casino and a new plan will be laid out in the coming weeks.
Mayor Kenneth Alexander, however, told reporters that the city is becoming increasingly concerned about the Pamunkey's ability to actually build the resort concept they agreed to in 2020.
We're not going to settle for anything less than the original plan," Alexander declared. "We just want to make sure they understand that. We intend to adhere to what the voters were told as it relates to what we're going to get."
Norfolk voters approved of the casino, as required by Virginia's 2020 commercial gaming law, through a local ballot referendum. Norfolk voters backed the casino question with 65% support.
Unlike other local referendums that detailed the physical location of where a casino would be built and certain aspects of what the resort would entail, Norfolk's gaming referendum was more vague.
"Shall casino gaming be permitted as a casino gaming establishment in the City of Norfolk as may be approved by the Virginia Lottery Board?" is how Norfolk's casino referendum read.
Phases Phased Out
Robert Gray, the chief of the Pamunkey Indian Tribe, said in a statement that the tribe "has not wavered" in its commitment to bring a world-class casino resort to Norfolk. The development group and city said they will work together over the next few weeks to "lay out a plan and schedule to develop the project as quickly as possible."
It's unclear if a temporary casino could be back in the cards. Temporary casinos are open in Bristol and Danville, two other cities where permanent casino resorts are being built. Temporary casinos allow developers to immediately begin generating gaming revenue as their full-scale properties are being built.
Virginia's 2020 gaming law allows licensed casino projects to operate a temporary casino for up to 12 months. The Virginia Lottery Board can extend a temporary casino license for another 12 months if the casino developer "has made a good faith effort to comply with the approved construction schedule."