New York DFS Bill Aims to Rescue DraftKings and FanDuel
Posted on: November 19, 2015, 02:08h.
Last updated on: November 19, 2015, 02:09h.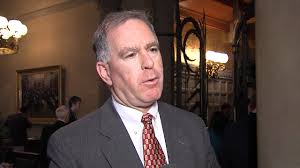 A new New York gambling bill introduced this week by Senator Michael Ranzenhofer (R-Erie County) seeks to classify daily fantasy sports as a game of skill, thus exempting the activity from the state's prohibition of gambling.
The bill, filed on Monday, appears to be in direct response to the cease and desist letters sent to DFS market leaders DraftKings and FanDuel last week by New York AG Eric Schneiderman.
The AG has said that the two companies' operations in the state constitute "illegal gambling."
DraftKings and FanDuel quickly launched separate lawsuits against Schneiderman seeking to protect their New York business.
DraftKing's filed a "petition and complaint" against the AG, which aimed to stop him from, according to the filing, "carrying out his threat to banish from this State a lawful industry beloved by hundreds of thousands of New Yorkers."
A New York judge on Monday denied DraftKings and FanDuel's joint request for a temporary restraining order that would have prevented any action being taken against them before the matter could be settled in the courts.
The AG acted swiftly and on Tuesday filed for an injunction to shut down the two operators.
DFS Carve-out
Into this legal maelstrom steps Senator Ranzenhofer, who believes DFS should be granted a legal carve out from New York's gambling prohibition, just as the racetracks and new casino operators have been.    
"Time and time again, New York has stood in the way, whether by over-regulation or outright banning, of activities that are legal and enjoyed in most states across the country," complained Ranzenhofer. "This bill further protects the rights of businesses and individuals who wish to engage in this type of commerce in the state of New York."
His bill seeks to amend New York's definition of a "contest of chance" as one that:
…shall not include participation in any fantasy or simulation in any fantasy or simulation sports game or educational game or contest in which (if the game or contest involves a team or teams) no fantasy or simulation sports team is based on the current membership of an actual team that is a member of an amateur or professional sports organizations…
Casino Lobby
The AG's office dismissed the bill as little more than a lobbyist's stunt. "DraftKings and FanDuel have hired a fleet of lobbyists to convince the Legislature to legalize their gambling operations," said AG spokesman Damien LaVera. "How does that square with these companies' insistence that their sites are presently legal?"
However, an article in the New York Post suggests that Schneiderman, himself, may not be immune to the influence of lobbyists.
According to the Post, New York's casino interests have contributed over $150,000 to his campaign funds since 2010.
The casinos themselves are unable to offer sports betting and are incensed that DFS companies are permitted to operate in the state with, until now, complete impunity.   
Most Read