New Jersey Pushes Forward With International Online Gambling Bill
Posted on: March 29, 2014, 05:30h.
Last updated on: March 28, 2014, 04:11h.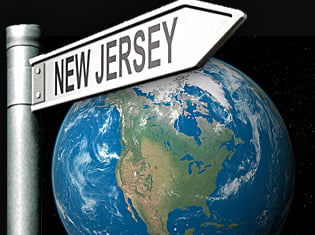 New Jersey might not be the first place you envision as the global center for Internet gambling activity. But that's the ultimate goal of a new piece of legislation currently working its way through the New Jersey Senate.
The bill – which would allow foreign companies to move to Atlantic City and have their gaming offerings endorsed and regulated by the state's casino authorities, started moving forward this week. On Monday, it gained the approval of the state Senate Government, Wagering, Tourism and Historic Preservation Committee, the first of several steps that could eventually lead to the bill being voted on by the entire Senate.
A New Online Gambling Hub
According to State Senator Raymond Lesniak (D-Elizabeth), the bill would turn New Jersey into a global hub for Internet casinos.
"This could help make New Jersey the leader in online gaming, across the country and around the world," Lesniak said. "We could be the 'Silicon Valley' for high-tech gaming. We should take advantage of this dynamic opportunity for a business sector with enormous growth potential."
Agreements Needed With Other Jurisdictions
The bill would allow Atlantic City casinos and their partners – which include some of the largest online gambling companies in the world – to be licensed by the New Jersey Department of Gaming Enforcement to offer games of chance in other jurisdictions around the world. However, New Jersey would have to enter into agreements with those jurisdictions before this could happen.
Reportedly, the companies that received such licenses would not be able to offer gaming to customers inside the United States. It is unclear as to whether this could change if other states were to enter into compacts with New Jersey. Such compacts seem likely in the future, as Delaware and Nevada have already signed off on one for the two states to share player pools for online poker.
Firms that were licensed this way would have to pay the same 15 percent tax that is currently paid by New Jersey casinos on Internet gaming revenue. However, firms would be able to take tax credits for whatever they paid in other jurisdictions to reduce their New Jersey tax burden.
Lawmakers did make one adjustment to the bill this week: a provision that would have required firms to contribute to a $20 million annual fund to help the state's horse racing industry was dropped.
State Senator Jim Whelan – (D-Atlantic City) who formerly served as Atlantic City's mayor – also leant his support to the bill.
"International Internet gaming is already taking place," Whelan said. "This gives Atlantic City the opportunity to build and expand on its casino business."
Early Estimates Are Optimistic
The possibility of having major Internet gaming operations in New Jersey has some officials seeing dollar signs – and some analysts making very optimistic projections.
According to Econsult Solutions, the legislation could generate an estimated $5 billion to $8 billion in revenue each year. That number seems reminiscent of similarly grand projections for the New Jersey online marketplace, which have since been revised sharply downwards. Econsult also estimates that the legislation could produce anywhere from 11,000 to 16,000 jobs for the state.
New Jersey Online Gambling
New Jersey began licensing online gambling for Atlantic City casinos and their partners in 2013. In November, the sites went live, offering Internet casino games and poker to adults located in New Jersey. Since then, nearly 250,000 accounts have been opened on New Jersey's online gambling sites, with casinos taking in $19.7 million from online gambling in the first two months of 2014.