New Jersey Mafia Bust Proof that Sports Betting Needs Oversight, Says State AG
Posted on: October 23, 2014, 04:50h.
Last updated on: October 23, 2014, 11:45h.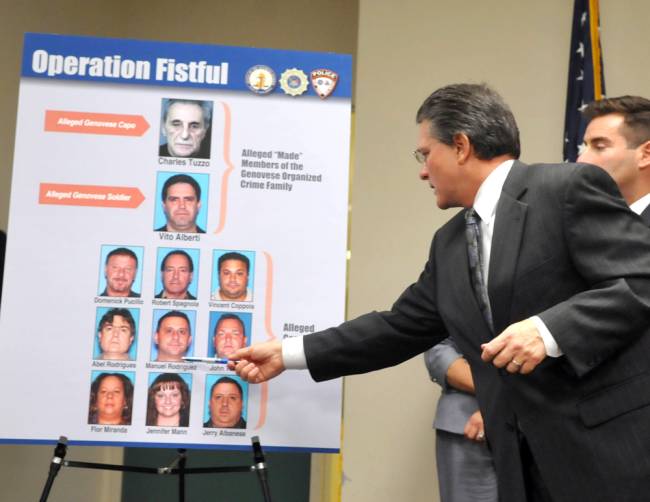 A New Jersey Mafia bust supports the idea that sports betting in the Garden State needs to be legalized in order to keep criminal elements out, according to the state's Acting Attorney General, John J. Hoffman.
Speaking at a press conference in Newark this week, Hoffman said that the recent break up of a sports betting and loan-sharking operation run by the notorious Genovese crime family highlights the need for sports betting to be dragged "out of the shadows."
"We have talked before at length about one of the primary efforts in our sports betting journey that we have been on is to try to bring it out of the black market shadows," said Hoffman. "The Mafia, the organized crime, controlled shadows. And this is exactly where it's happening."
His words echo those of former New Jersey Governor Brendan Byrne, the man who signed casino gambling into law in the state, who saw the implementation of rigorous gambling regulation as part of the fight against the New Jersey Mob, famously warning the Mafia to keep its "filthy hands off Atlantic City."
Multimillion Dollar Mafia Operation
Incumbent Governor Chris Christie last week approved a law that will permit sports betting in New Jersey at casinos and racetracks. Currently only four US states, Nevada, Delaware, Montana and Oregon, are able to offer sports betting legally under federal law. The Protection and Amateur Sports Protection Act of 1992 (PASPA) makes it a criminal offense elsewhere in the US; however, Christie's law seeks to repeal the prohibition, effectively decriminalizing sports betting within the state, which lawmakers see as a way a of revitalizing New Jersey's lagging economy.
New York Harbor Waterfront Commissioner Michael Murphy told the assembled press that the Mafia operation had been bringing in as much as $1.7 million a year from sports betting alone. The ring, it is believed, had been orchestrated by Vincent Coppola, the 37-year-old son of jailed Genovese capo Michael "Mikey Cigars" Coppola. Murphy said that Coppola used a wire room in Costa Rica to process gambling transactions, while his henchmen in New Jersey vetted new clients and enforced collections of gambling debts. While 11 people were arrested for involvement in the ring, Coppola remains at large.
Prohibition Not Working
"When the mafia, when organized crime, takes over and makes money on illegal gambling, where does it go?" asked Murphy. "It doesn't go to property tax relief, it doesn't go to senior citizens, and Medicare or prescription programs. It goes to money laundering, it goes to the importation of heroin, and there are kids dying today in New Jersey as a result," Murphy said.
Murphy also drew a parallel between the outlawing of sports betting and that of alcohol during the Prohibition era, which inadvertently allowed the Mafia to thrive through bootlegging operations. "People drink and people gamble," he said. "Some of the families that are still engaged in organized crime today, several generations ago enjoyed enormous profits during a time when drinking was illegal."
However, it seems that not everyone in New Jersey is persuaded by the arguments against the prohibition of sports betting. A poll this week conducted by Rutgers-Eagleton showed that while legalization is broadly supported by some 44 percent of New Jerseyans, another 31 percent said they thought it would make no difference, while 17 percent were staunchly against it.