New Hampshire House Rejects Casino Gambling
Posted on: April 30, 2015, 05:14h.
Last updated on: April 30, 2015, 05:14h.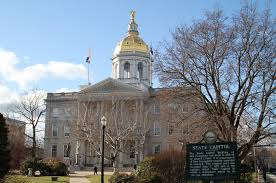 New Hampshire casino proponents thought that Wednesday was their day.
Time and time again, the state House of Representatives had beaten back efforts to pass casino gambling bills for New Hampshire, but this week could have been different.
Both supporters of the casino bill and opponents were unsure of what the result of a bill would be, and there was even talk about what Shawn Jasper, the House Speaker, would do if the vote ended in a dead tie.
Large Margin of Defeat Surprised Many
But all of that speculation was for naught, as the New Hampshire House once again voted against adding casino gambling to the state, once again defeating the bill by a fairly large margin.
In the end, there were just 156 votes in favor of the proposal against 208 against the idea of bring one or more casinos to the state.
"I don't think anyone who was opposed to this bill ever suspected that it was going to be that large of a margin," said Representative David Hess (R-Hooksett).
"I was kind of shocked by the vote, said State Senator Lou D'Allesandro (D-Manchester), who introduced the companion bill that passed in the New Hampshire Senate last month. "I thought we would do much better."
Governor Supports Casino Gambling 
Governor Maggie Hassan had been lobbying strongly for the bill, and expressed disappointment in the outcome of the vote.
"We know that right now, many people in the Granite State enjoy going to casinos, and right now, all the revenue that they spend goes over state borders and is invested in other states' priorities," Hassan said in reaction to the result.
Hassan supported the bill despite the fact that it would have allowed for up to two casinos in the state. The governor had previously lobbied for a single large casino in southern New Hampshire.
Opponents Say Casinos Would Hurt New Hampshire
Meanwhile, opponents celebrated their victory, saying that casinos are wrong for New Hampshire and the state's residents.
"Casino gambling will not be an asset to New Hampshire," said state Representative Patricia Lovejoy (D-Rockingham). "All New Hampshire can expect are hometown convenience casinos that pull money out of the pockets of our residents, not destination resorts attracting out-of-state residents."
Lovejoy also said that casino profits would not stay in New Hampshire, despite what supporters of the bill claimed.
"Casino gambling will cannibalize our local businesses and unlike our existing businesses the profits from casino gambling will not flow back to our state but flow out of the state to out-of-state and out-of-country owners," Lovejoy said.
Supporters of the casino bill said that the two casinos could bring in up to $135 million in revenue annually for the state, though opponents disputed whether those figures were realistic.
The first, larger casino authorized by the bill would also have raised a licensing fee of $80 million, while the state would have received a $40 million fee for the second, smaller venue.
The idea of bringing casino gambling to New Hampshire has been debated for about 15 years now, though no bill to do so has ever passed in the state House.
The proposal has picked up some momentum in recent years, as most states in New England and throughout the northeastern United States now have casinos or are in the process of building them. At the moment, Vermont and New Hampshire are the only two states in New England that do not offer casino gambling.