Nevada Regulators Give US Fantasy Thumbs Up, and DFS Is Back On Board, Sort Of
Posted on: June 9, 2016, 02:23h.
Last updated on: June 9, 2016, 02:28h.
A company named US Fantasy might conjure up all kinds of images, but this one proposes to offer fantasy sports betting to customers at Nevada casinos based on a parimutuel wagering system. Owner Vic Salerno, known as an innovator in the race and sports book industries, believes that daily fantasy sports (DFS) could be back on the menu in Nevada soon, at least in a slightly tweaked format.
That's because this week, the Nevada Gaming Control Board (NGCB) recommended licensing for the company newly formed by Salerno in US Fantasy.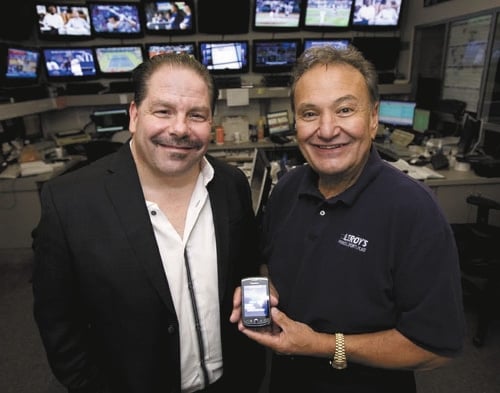 "It's so simple, I can't understand why anyone didn't think of this before," Salerno previously told the Las Vegas Review-Journal. "We know fantasy sports has proven to be an attractive offering for a broader audience. It's a unique opportunity for the industry."
Now, he's giving it a new twist, telling Gaming Today this week that "all we're doing is replacing horses with human athletes."
On Wednesday, the Gaming Control Board unanimously recommended the issue of an off-track, parimutuel sports system operator's license. The application will now be passed to the Nevada Gaming Commission (NGC) where it is expected to receive final approval.
Pointless Licensing
Nevadans have been without daily fantasy sports (DFS) since late last year, when operators pulled the plug following a ruling by Gaming Control Board Chairman A.G. Burnett that DFS constituted gambling under Nevada law. And that ruling was subsequently supported by the state's Attorney General Adam Laxalt, who backed up Burnett's decision.
"Because DFS involves wagering on the collective performance of individuals participating in sporting events, under current law, regulation and approvals, in order to lawfully expose DFS for play within the State of Nevada, a person must possess a license to operate a sports pool issued by the Nevada Gaming Commission," wrote Burnett at the time.
While operators like DraftKings and FanDuel were told to cease and desist with immediate effect, regulators emphasized that they would be welcomed back in Nevada provided they applied for a sports betting license. But since the state does not sanction online sports betting, limiting offsite betting to remote apps inside the state that are licensed by land-based casinos, the pursuit of online licensing has not been a priority for the market-leading DFS sites.
Fantasy Fulfilled
US Fantasy, meanwhile, will offer competitions in Nevada through brick-and-mortar casinos, but will also seek to work with regulators in other states, in order to link up with racetracks, off-track-betting parlors, casinos, and lotteries around the US. The goal will be to help build networked prize pools for the contests. It may also offer online contests in states where DFS has already been regulated, and is not considered to be sports betting.
Salerno was a co-founder of Leroy's House and Sports Place, which opened in downtown Las Vegas in the late seventies and grew into American Wagering, the company that operates the majority of Vegas sports books today.
American Wagering was acquired by British bookmaker William Hill in 2012, and Salerno was retained as chairman of the newly formed William Hill US. He is credited with introducing several innovations into the industry, including the self-service betting kiosk and the state's first mobile sports betting app.