Nevada and Delaware Sign First Online Interstate Poker Compact
Posted on: February 26, 2014, 05:30h.
Last updated on: February 25, 2014, 10:07h.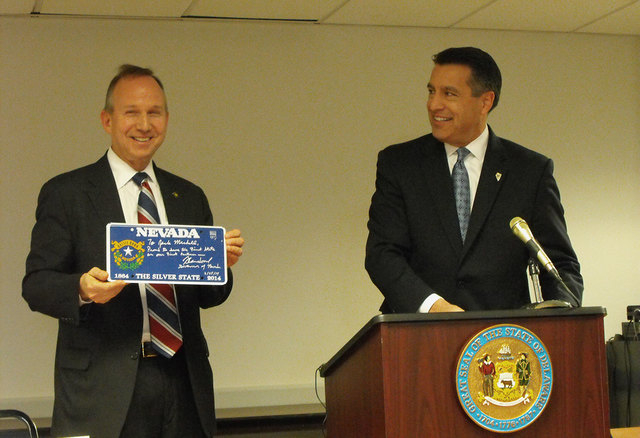 Nevada and Delaware have this week signed America's first Interstate online poker compact, paving the way for citizens of both states to play online poker with and against each other. It seems that while the federal government tiptoes and pussyfoots around the whole issue of legal online gambling, states are taking it upon themselves to handle the issues without any federal oversight whatsoever.
First Interstate Gaming Compact
The agreement – signed by Nevada's Governor Brian Sandoval and Delaware's Governor Jack Markell – establishes a legal framework for interstate Internet gambling. Both governors had been in Washington, D.C. at a meeting of the National Governors Association, and thus were in a position to sign the agreement in Wilmington, Delaware while there.
The object of such a compact is simple. While casino games like slots and blackjack don't necessarily need a large player base to be successful, poker is a bit different. Players need other real players to compete against, and with a variety of poker games and stakes levels out there, a small player base can make it difficult for live games to run – a problem that can make itself worse by reducing interest when players can't find opponents for the games they want to play themselves.
This may not be a big problem in the long run for larger states like New Jersey, that has a nearly 9 million population base, for example. However, Nevada and Delaware are both much smaller (Nevada has a population of just 2.76 million, and Delaware's is just over 917,000), making it much more challenging for these states to sustain online poker on their own.
According to reports from the signing, the governors were careful to emphasize the safety aspects of the compact. States that take part in the compact will be able to allow or disallow whatever games they want, meaning that sites could block certain tournaments or cash games in one state, while letting players in others take part in those games. They also pointed out that players in each state will be subject to the laws and regulation of that state, even as they compete against players elsewhere.
Maybe the regulators and overseers of these interstate games should be given an annual tranquilizer allowance to calm their frazzled nerves; this could potentially be the toughest job in America since trying to fix the Obamacare websites.
Room to Grow
But perhaps the most important part of the compact will be the ability to easily add additional states as opportunities open up. Both governors were said to have focused on the expansion of the agreement in the future, rather than making it just about Nevada and Delaware. After all, while the compact will help both states provide better online poker games for their residents, the situation will only get better as more states allow online poker and join the compact.
At the moment, there's only one other state that has approved online gambling: New Jersey. And while that state is not a part of this agreement yet, the largest state with Internet gaming (New Jersey's population is over 8.8 million) hasn't been forgotten when it comes to this compact.
"I have had conversations with New Jersey," said Governor Sandoval. "We'd love to have them as well."
While nothing is certain about the economic impact of the compact, it is likely to improve online poker revenues on both sides. In Nevada – where only poker is licensed for Internet play at the moment – there are no firm numbers yet, though the recent opening of the state's third online poker site, RealGaming, will trigger the reporting of specific online poker revenue figures going forward. Meanwhile, Delaware's online gambling marketplace has struggled, generating only about $253,000 in revenues during November and December 2013 combined.