NBA Partners with American Gaming Association for Responsible Gaming
Posted on: January 26, 2023, 02:00h.
Last updated on: January 26, 2023, 04:34h.
The National Basketball Association (NBA) is teaming up with the American Gaming Association (AGA) to improve its responsible gaming messaging across the league.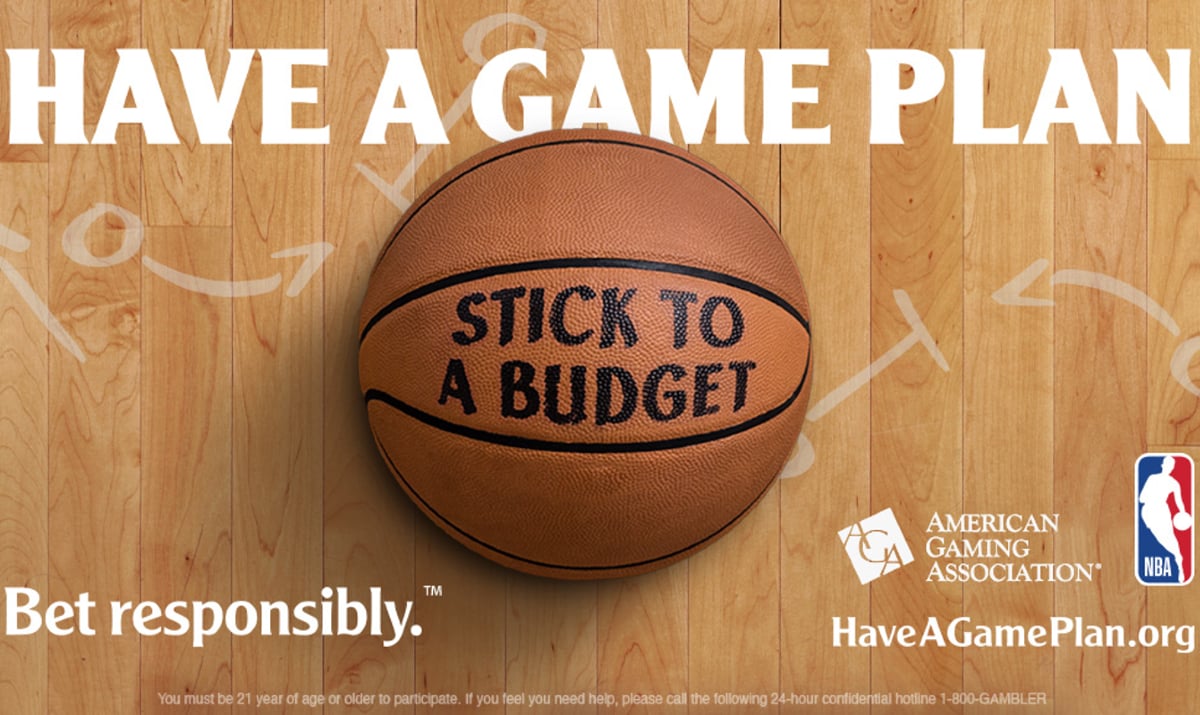 The AGA is the leading lobbying organization in DC, working on behalf of the legal US gaming industry. Launched in 2019 after the US Supreme Court said states should determine their own laws on sports betting, the AGA's "Have A Game Plan" program seeks to educate sports fans on gambling. The initiative provides tools and resources for bettors to play safely.
Responsible gaming is an integral component of the NBA's approach to legal sports betting," said Scott Kaufman-Ross, who leads the NBA's gaming and new business ventures department. "Working with the AGA on this initiative is an important part of our multifaceted approach to this critical topic and will provide our teams with tools to make a true impact on responsible gaming education in NBA markets across the US and Canada."
The AGA curriculum is centered around consumer education and four core principles. They are setting a budget and sticking to it, keeping betting fun and social, understanding how sportsbooks set odds and encouraging bettors to only utilize legal, regulated sportsbooks.
Program Resources
"Have A Game Plan" provides partners with educational materials on the fundamentals of responsible sports betting. The association says each of the NBA's 30 teams will be provided the tutorials.
The initiative is the latest measure the NBA is adding to its ongoing responsible gaming efforts. The league currently airs a public service announcement during all games featuring retired NBA superstar Ray Allen. The 30-second PSA is shown inside NBA arenas and broadcasts on television during commercial breaks.
If you're going to bet, have a game plan," Allen tells viewers in the message. "Bet legally, set limits, and keep it fun."
Allen directs those who feel their gambling and/or sports betting is becoming a problem to visit responsibleplay.org — the online home of the National Council on Problem Gambling.
Three of Big Four Partnered
With the NBA joining "Have A Game Plan," the AGA can count three of the four major professional sports leagues as campaign partners.
The National Hockey League was the first of the "Big Four" — the NFL, MLB, NBA, and NHL — to join the AGA initiative. The professional hockey league joined "Have A Game Plan" in October 2020.
Major League Baseball was the next of the four organizations. MLB announced it's partnering with the responsible gaming campaign last September. The responsible gaming campaign also calls the PGA Tour, NASCAR, and United States Football League as partners.
With the NBA now in the group, the NFL is now the only "Big Four" league not participating in "Have A Game Plan." However, the responsible gaming program does have partnerships in place with the NFL Washington Commanders and New York Jets.