NBA Finals Odds: Golden State Warriors Big Favorites After Tying Series
Posted on: June 3, 2019, 08:23h.
Last updated on: June 3, 2019, 08:23h.
The NBA Finals are all square after two games, and Las Vegas oddsmakers feel the two-time defending champion Golden State Warriors are the heavy favorites in what's become a best-of-five series against the Toronto Raptors.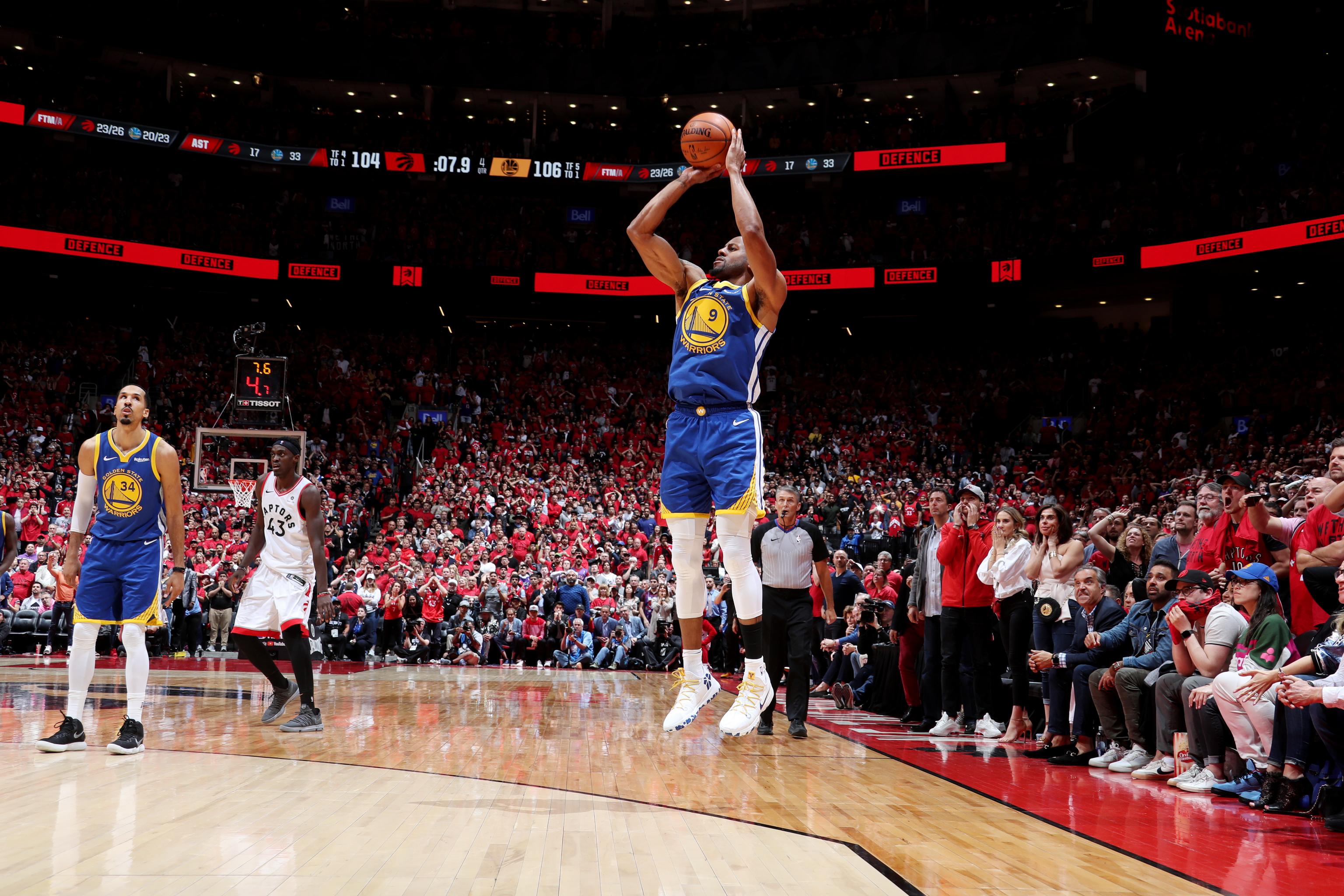 After trailing 59-54 at the half, the Warriors stormed back with a 34-point third quarter to take the lead. Klay Thompson and Steph Curry led the Kevin Durant-less champions, respectively scoring 23 and 25 points.
Despite a 34-point effort from star Kawhi Leonard – who went 16 for 16 from the free throw line and added 14 boards – Toronto couldn't take game two on their home floor. The series now goes west to the Bay Area for games three and four.
I think that when you get to this stage, our DNA shows up," Curry said afterwards.
Golden State is chasing its fourth title since 2015. Only the 2016 Cleveland Cavaliers have managed to put a small blunder in the franchise's recent dynasty.
Odds Favor Warriors
Despite the series being tied a game apiece, oddsmakers say the Raptors have little chance of pulling off the upset.
Heading into game three, the Westgate SuperBoook has Golden State at -300 to win the series. The odds imply a 75 percent chance, with bettors needing to put down $300 to net a $100. Toronto is at +240 – implied odds of 29.41 percent. A $100 bet nets $240.
The last thing oddsmakers want is to be rooting for Toronto. The Raptors had a slightly better winning percentage in the regular season (.707 to .695), which is actually just one single more victory.
But with a stacked team despite KD's absence, oddsmakers want to be rooting for Golden State. The Raptors are 4-4 in road playoff games this year. Oracle will be their most difficult test yet.
Worse for Toronto is that the Warriors hope Durant will be ready for game three on Wednesday night. Tipoff is scheduled for 9:00 pm ET. The Warriors are 5.5-point favorites, with the over/under at 213 points.
Curry MVP Odds
Here's a rather shocking fact: Curry has yet to win an NBA Finals MVP Award. Andre Iguodala won the Bill Russell trophy in 2015 prior to Durant's arrival.
LeBron James won it during the Cavs' 2016 triumph, and Durant has been given the award in each of the past two seasons.
Heading into the 2019 Finals, oddsmakers felt it was Curry's time. Caesars' sportsbook listed him at -150 – implied odds of 60 percent. Leonard was the No. 2 favorite at +275.
Caesars oddsmaker Alan Berg told ESPN that betting on the MVP outcome doesn't garner much public action. Instead, it's a market that professional gamblers often focus on, which is why oddsmakers "have to be very careful, especially when you first open markets, to not let yourselves get buried by particular bets."
Curry remains at -150 for MVP, but Leonard has shortened to +200 after games one and two.
Similar Guides On This Topic