Mixed Emotions as Judge Okays Atlantic Club Shutdown
Posted on: December 29, 2013, 05:30h.
Last updated on: December 25, 2013, 11:31h.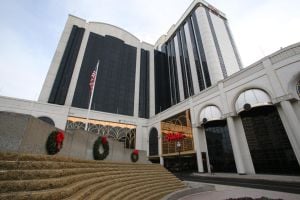 When a veteran casino closes down, for the buyers and sellers, it's just business. But for the casino's employees, it's the loss of a job, and sometimes, a life-long career. Such is the case for the Atlantic Club – open for the past 33 years in Atlantic City, and originally developed by iconic casino magnate Steve Wynn – which will be closing down for good come January 13, 2014, per Judge Gloria Burns' orders of the court.
Employees Weigh In
As she did so, the packed courtroom reflected the casino's large workforce, who filled every seat; many have been employed there almost since its inception. Take bartender Joe Blatcher, who says he is witnessing not only the loss of his own job, but what he sees as nefarious dealings between the city's power players.
"It's a matter of the entire city wanting to eliminate a few properties so that the rest can still exist," Blatcher decried. "It seems very suspicious that two casinos can team up to take down another one. It's like thinning out the herd to survive."
They say it's true in nature, so why not among the wildebeests of gambling as well?
While Judge Burns noted there was no concrete evidence of any collusion or fraud during the bankruptcy court hearing for Atlantic Club late last week, it's hard to miss the reality that purchaser Caesars Entertainment already owns four casinos in Atlantic City, snatched it up for a fire sale price, and will probably benefit somewhat by having one less casino to compete against in town.
Then again, the other properties in Atantic City probably won't be crying over losing one of their own, either.
Regardless, the Atlantic Club employee base in attendance was not convinced.
"The worst thing is they're doing it just to stop competition," said Fran Critch through tears; Critch has been a food server at the property for 29 years, and now fears she will have to put her home up for sale if she can't find another job quickly. She isn't holding out a lot of hope for that to happen, either.
"Who's going to hire a 59-year-old server?" Critch wondered aloud.
Some Severance; No Pension Add-Ons
For those facing no jobs in just a little over two weeks, the prospects are scary; the judge approved a deal that  gives each of some 1,600 workers at the casino just $1,500 in severance pay. And while their pension plans won't be dissolved,  they also will receive no further contributions to them; an unnerving reality for those nearing retirement, no doubt.
As for the rest of the game plan, Tropicana Entertainment has agreed to fork over $8.4 million for all the property's slots and gaming tables, while Caesars is paying $15 million – the lowest ever paid for an Atlantic City casino –  to own the 800-room hotel itself (although the company has no plans to keep it going), and a casino spokesperson said the intent is to divvy up most of the remaining equipment among Caesars' four Atlantic City properties.
The sale will bring Atlantic City's ailing casino market down to 11 properties. New Jersey's Division of Gaming Enforcement Director David Roebuck says this is just the reality of where the beachside resort town is at these days.
"We realize this is a difficult time for the employees of Atlantic Club and all those who have been part of the history of their operation," Roebuck said. "[But] competition is nothing new for New Jersey and it will be no different in 2014."
Most Read