MGM Resorts New York Casino Acquisition Not a Factor in Ongoing Bridgeport, Connecticut Push
Posted on: May 31, 2018, 11:30h.
Last updated on: May 31, 2018, 11:36h.
MGM Resorts says its $850 million purchase of Empire City Casino in Yonkers, New York will not impact its intention to build an integrated resort in Bridgeport, Connecticut as well.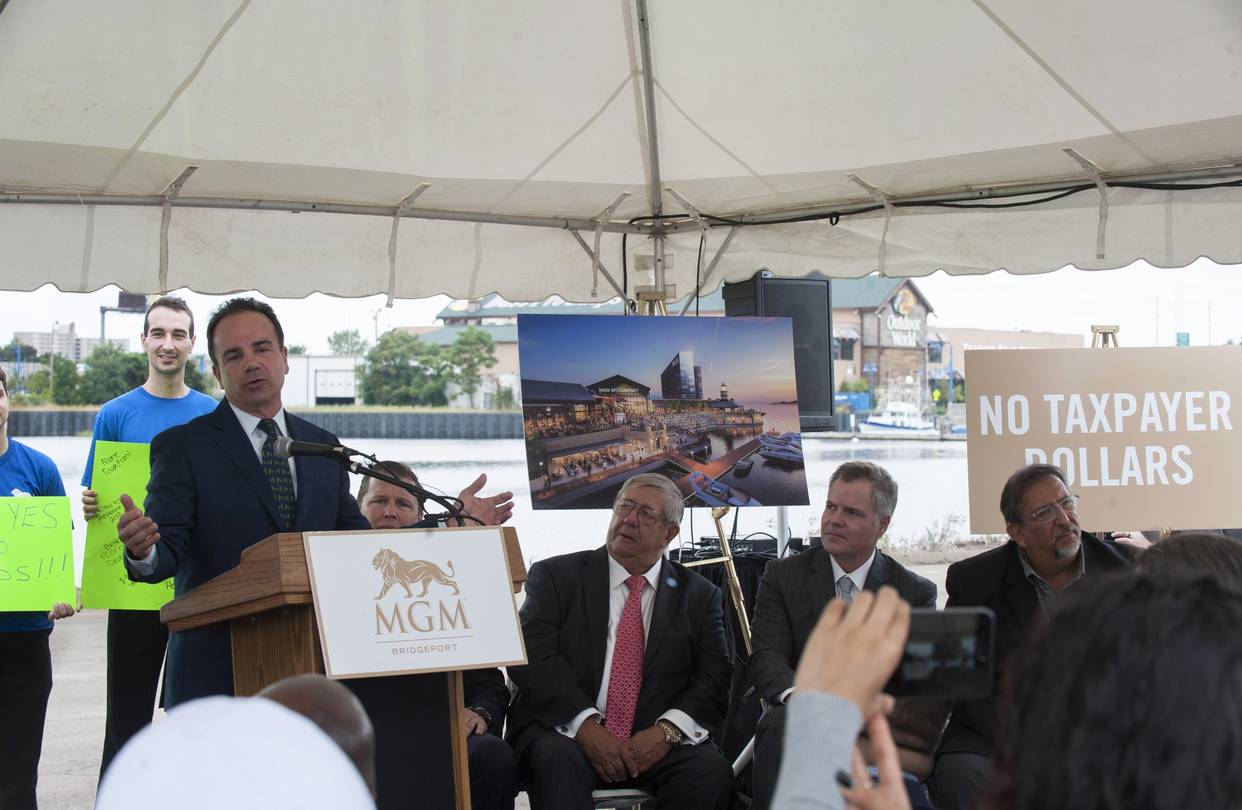 MGM has been spending millions of dollars in the Connecticut capital of Hartford in hopes of swaying lawmakers into supporting a competitive bidding process to expand gaming. Governor Dannel Malloy (D) signed a bill in 2017 that authorized the state's two Native American groups to jointly construct a $300 million satellite casino in East Windsor.
The Mashantucket Pequot and Mohegan Sun tribes, working together as an entity known as MMCT, are looking to prevent gaming dollars from flowing across the Connecticut-Massachusetts border to the nearby MGM Springfield, a $960 million integrated casino resort that's set to open this August.
MGM argues the state didn't get the best deal in deciding to expand gambling to non-sovereign land, and subsequently proposed building a $675 million waterfront resort in Bridgeport. 
A bill that would have revoked the MMCT East Windsor license in favor of accepting bids for a third casino from both tribes and commercial operators failed earlier this month.
Lucky Seven Not Enough
When the Empire City Casino deal closes in 2019, MGM Resorts will expand its domestic casino portfolio to seven states. The company has been concentrated on the northeast in recent years, as it acquired full ownership of the Borgata in Atlantic City, and spent $1.4 billion building MGM National Harbor near Washington, DC.
Adding Massachusetts and New York continues the casino operator's expansion focus, but doesn't negate MGM's Bridgeport aims.
"While we remain hopeful that Connecticut will build on this year's legislative progress and ultimately authorize a competitive process for a commercial casino license, the state's delay will not deter us from executing our company's comprehensive growth strategy," MGM said in a statement.
Rep. Christopher Rosario (D-Bridgeport), one of the authors of the legislation that sought to rethink how the state should expand gambling, said he saw this coming. The lawmaker tweeted an article six months ago that discussed Empire City's owners looking for "strategic partnerships."
"I saw this coming a mile away. If the Connecticut General Assembly doesn't do something about gaming in Bridgeport this is what's going to happen," Rosario declared to the Connecticut Post.
Connecticut Complexities
Critics to MGM Resorts' Bridgeport plan, which includes paying a $50 million licensing fee to the state as opposed to the $2 million MMCT paid, say it's all just a big bluff to stall progress in East Windsor.
Tribal spokesman Andrew Doba opined in January, "MGM has shown, month after month, year after year, that they are willing to spend ungodly amounts of money to prevent Connecticut from taking the logical and necessary steps to protecting jobs and revenue."
Complicating the matter is that Connecticut legalizing commercial casinos would violate the state's gaming compacts with the Mashantucket and Mohegan Sun tribes.
That means the 25 percent of gross gaming slot revenue the Foxwoods and Mohegan Sun casinos share with the government — which totaled $269 million last year — would be in jeopardy.
Latest Casino Stocks:
Retrieving stocks data...
Retrieving stocks data...
Retrieving stocks data...
Retrieving stocks data...
Retrieving stocks data...